April 29, 2014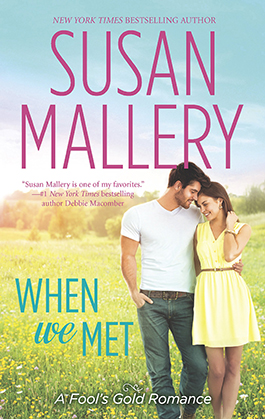 Fool's Gold, Book No. 14
Tough-talking Fool's Gold PR woman has met her match when a bodyguard trainer targets her for seduction.
Angel Whittaker earned his scars the hard way, but the scars that can't be seen are the ones that haunt him the most. Since he moved to Fool's Gold, California he's cobbled together a life for himself as a bodyguard trainer. If he's not exactly happy, at least his heart is safe.
Working with pro-football superstars taught tough-talking PR woman Taryn Crawford one thing – she can go toe-to-toe with any man. But then dark, dangerous former Special Ops soldier Angel targets her for seduction . . . and challenges her to resist his tempting kisses.
Even in 4-inch heels, Taryn never backs down. Unless, somehow, Angel can convince her that surrender might feel even better than victory.
"Heartwarming... Deft characterization and an absorbing story line will keep readers coming back."
Publishers Weekly
4½ Stars! "The ability to combine tender emotions, poignancy and humor, then spice it up with a sexy sizzle are the hallmarks of a Mallery book. The small town of Fool's Gold continues to be a hot spot for lovers to meet their romantic downfall. The courtship of Angel and Taryn is funny, touching and exciting -- a perfect way to spend readers' precious leisure hours."
RT Book Reviews
"The romance between Angel and Tamryn in WHEN WE MET is explosive at times, and sweet at others. I like that they both went into things without looking for love, but both fell hard. I think Susan Mallery does a wonderful job of keeping a balance between sizzling romance, great storytelling, and humor. I look forward to reading more fabulous character-driven stories in this series!"
Miranda Owen, Fresh Fiction
"Mallery's WHEN WE MET is a contemporary romance that did not disappoint from the first page to the last... heartfelt and sweet."
JoAnne, Romance Junkies
5 Stars! " Miss Mallery grabs the reader from chapter one, and keeps a good grip until the end. Even after it's over, she leaves you wanting more. Miss Mallery has always been at the top of my favorite authors list, but with this book, she has made it to the first spot."
Fire & Ice Book Reviews
"Fans will be delighted with the same strong storytelling and modern-day fairy-tale quality Mallery always brings to this magical town with its mysterious mayor.";
Kirkus
5 Stars! "The book was really sweet and sexy and very funny... WHEN WE MET was the perfect Romance!"
BJ's Book Blog
"The novelty of a new romance is so exciting, and Mallery conveyed the roller coaster of emotions just perfectly. From the witty banter to the teasing looks to the mysterious notes, Mallery created a romance that kept me on the edge of my seat."
Calliope, Random Book Muses
"Susan Mallery delivers another poignant love story... Taryn and Angel are strong, independent and powerful characters... some hilarious moments, some tender ones... a story about trust and letting go of your past."
Viki Ferrell, Fresh Fiction
"When We Met is another enchanting novel in Susan Mallery's Fool's Gold series. It is a sexy and playful romance between two wounded people who help one another recover from their painful pasts. Old and new fans are going to love this sweet yet saucy addition to the endearing and highly addictive series."
Book Reviews and More by Kathy
"Fast paced... plenty of humour to keep things light and fun. The setting of this series is excellent, with plenty of side characters from past novels bringing the town to life. The pacing was excellent with a tense and exciting climax to the story!"
The Reading Realm
"Taryn and Angel are very likable characters. They are confident yet also vulnerable. Determined to just enjoy dating, will they be able to keep it at that level? I enjoyed Susan Mallery's latest addition to the Fool's Gold series. I couldn't help but feel sympathy for both Angel and Taryn. Their reluctance to give themselves over to a chance for love was understandable yet I hoped for more. Mallery didn't disappoint."
Bookfan Mary
"This book was absolutely fabulous. I can't say how much I loved it... Susan Mallery is an absolutely fantastic author of feel good stories. Each book always makes me smile, which is awesome when I am going through a tough spot. I can always rely on a Susan Mallery book to perk me up."
Between the Pages
Grade: A- "...a romance that isn't overly angsty or complicated, but so passionate at the same time. The chemistry between Taryn and Angel is so well done, and I felt like they were constantly burning up the pages. Their romance was spicy and sweet at the same time, and I liked the fact that they danced around each other for awhile before falling into bed together... I think this might be my favorite Fool's Gold book to date."
The Book Pushers
"There are some very dark clouds in Angel's past, some of which brought me to tears. And the way Taryn responded to Angel's past, and how he handles it in present day, really illustrates what a great person she is... I loved Angel's role with the Future Warriors of the Máa-zib. There were some hilarious moments, as well as some tender ones."
The Book Vixen
"I'm swooning over [Angel's] bad boy persona like no one's business!! (He's got layers and layers to him, and Susan Mallery does a phenomenal job of pulling them back!)... it's near impossible to write a review of her work and not gush... while the books are all connected, you can jump in at anytime – just clear your calendar because you'll be anxious to go back and read the rest!"
For Love and Books
Grade: A "I keep expecting for this series to get old. This is the 13th book in it, but they don't...not at all. Fool's Gold keeps getting bigger and I fall a little more in love with it in every book.... I loved the two of them together. They are upfront and honest about what they want from each other. Their relationship is incredibly hot and fun."
Smitten with Reading
"It was crazy fun watching these two weave a path toward their HEA. Strong characters, sarcastic dialogue, flawless writing, and a clever seduction plan takes Fool's Gold in a new direction."
Books, Books, More Books
"If you enjoy fun, light romance, I recommend When We Met. I always add a caution, the sex is fairly graphic, so consider yourself forewarned."
Live Vi-Carrie-ous
"I love every book in the Fool's Gold series but this is one of my favorites... It has the humor that we love and the magic that we crave. And as always, the happy ending that they deserve. What a perfect beginning to summer!"
Lisa Leigh, Bodice Rippers, Femme Fatales, and Fantasy
"...a lot of charm, humor and is very entertaining."
Readalot Rhonda
"What do two distrustful people that are attracted to one another do? They get involved with the community, of course. I can't spoil it and tell you what Angel signs up for but he needs Taryn's help. As it turns out she needs his help with a client who is a major outdoors enthusiast - the exact opposite of Taryn. So they team up and the results are hilarious and heartwarming... Sparks between them fly off the page from the first sentence of the book. I completely love and adore them together."
Sheery Hall
4.5 stars! "...there is just something special in Susan Mallery's writing and characters that brings me back, book after book. It's my literary equivalent of comfort food. The town kind of feels like home at this point, considering we're thirteen novels in. But the characters still seem fresh and vibrant, never losing their sense of humor or charm... Don't let the fact that this is book thirteen in the series scare you away from this terrific romance. It can easily be read as a standalone. But I think you'll get hooked on these unique characters and make more than one trip to Fool's Gold."
Harlequin Junkie
4.5 stars! "If you have never read a Susan Mallery book before, do yourself a BIG favor and get your hands on When We Met (or any Fool's Gold book) you will be hooked! Fans of this series will love Angel and Taryn and will understand that Susan Mallery is truly the Queen of Happy Endings even if Fool's Gold has to change its slogan."
The Blushing Reader
The editors at Amazon.com have named WHEN WE MET a Best Book of the Month in Romance!
Amazon Editors
Grade: A "I think I fell a little in love with Taryn in this book... The steam was just about right, just a few not terribly graphic pages."
Hott Books
"The dialogue, a hallmark of Mallery's writing, is amusing and fast-paced... The story is engaging. Mallery deftly moves the reader through Fool's Gold."
Jean Brown, Fort Worth Star-Telegram
5 Stars HOT! "Ms. Mallery has done it again! She has an uncanny gift of weaving stories into intricate pieces of art... The direction of self-discovery this story takes and the contrast of hard and soft, tough and weak were very refreshing."
My Book Addiction
"When We Met is the 13th book in author Susan Mallery's Fool's Gold Series an admittedly the first in the series I have read. That being said, I never once felt lost while reading and I really appreciate authors who can write a book in that manner... a fabulous read!"
Read Love Blog
"I was hooked by the very first line in the book. I could not put the book down at all."
Mrs. Mommy Booknerd
"Lordy but Mallery can weave together a wonderful romance... I totally loved Angel. He's older--40ish--and established. He's rocking some confidence, is upfront and just sexy as hell. This is a man that knows exactly what he's doing and does it very well. As much as he has it together he's also scared and trying to move on from the loss of his family in a horrible accident."
Herding Cats and Burning Soup
"Mallery does an amazing job as always with her characters, you laugh, you cry, and you always want a happily ever after. Those who love contemporary romance and an amazing series has to read When We Met along with the entire Fools Gold series."
The Pen Muse
"Recommended for adult readers that like their stories with ACTUAL story, heart, romance...and a little spice just to kick things up a notch."
Insatiable Readers
(Audiobook) "Whether listeners are new to the series or longtime fans, they will be instantly drawn into Angel and Taryn's story, which is brought to life by narrator Tanya Eby. Verdict: Romance fans should not miss this."
Stephanie Charlefour, Library Journal
Rating: 9/10 "The way these two characters interact and evolve throughout the novel is beautiful, starting as a fling and then becoming more than they bargained for. But what I really loved was the way the reader gets to really embrace every aspect of the characters. I highly recommend this book – the skillfully written story of a small town love affair will immerse you in a wave of emotions."
From the Purple Matter
"Susan Mallery's writing is flawless. She weaves a beautiful and poignant tale of two strong but damaged souls that come together in search of connection, someone to belong to... I highly recommend this book to anyone that loves a good contemporary romance, especially if you like the ones where people get a second chance at a happily-ever-after."
It's a Reading Thing
Chapter One
"We both know where this is going."
Taryn Crawford glanced up at the man standing by her table and ignored the rush of anticipation when she saw who he was. He was tall, with broad shoulders and gray eyes. But the most compelling feature—the one she would guess people pretended didn't exist—was the scar on his neck. As if someone had once tried to slit his throat. Taryn idly wondered what had happened when that person had failed.
She supposed there were plenty of women who would be intimidated by the man in front of her. The sheer volume of muscles might make one apprehensive. Not her, of course. When in doubt she put on a power suit and killer heels. If that didn't work, she would simply work harder than anyone else. Whatever it took to win. Sure there was a price, but she was okay with that.
Which was why she was able to stare coolly back and ask, "Do we?"
One corner of his mouth curved slightly in a sort of pre-smile. "Sure, but if you're more comfortable pretending we don't, I can make that work, too."
"A challenge. Intriguing. You don't expect it to be enough to make me defensive so I start saying more than I had planned, do you?" She made sure she was plenty relaxed in her chair. She would guess the man was paying as much attention to her body language as her words. Maybe more. She hoped he wouldn't make things easy. She was tired of easy.
"I would hate for you to be disappointed," she murmured.
The smile turned genuine. "I'd hate that, too." He pulled out the chair opposite hers. "May I?"
She nodded. He sat.
It was barely after ten on a Tuesday morning. Brew-haha, the local coffee place she'd escaped to for a few minutes of solitude before she returned to the current chaos at her office, was relatively quiet. She'd ordered a latte and had pulled out her tablet to catch up on the latest financial news. Until she'd been interrupted. Nice to know this was going to be a good day.
She studied the man across from her. He was older than the boys, she thought. The three men she worked with—Jack, Sam and Kenny—aka the boys, were all in their early to mid-thirties. Her guest was nearer to forty. Just old enough to have the experience to make things interesting, she thought.
"We've never been introduced," she said.
"You know who I am."
A statement, not a question. "Do I?"
One dark eyebrow rose. "Angel Whittaker. I work at CDS."
Otherwise known as the bodyguard school, she reminded herself. For a small town, Fool's Gold had its share of unusual businesses.
"Taryn Crawford."
She waited, but he didn't make a move.
"We're not shaking hands?" she asked, then picked up her latte with both hers. Just to be difficult, because being difficult would make things more fun.
"I figured we'd save the touching for later. I find it's more interesting when that sort of thing happens in private."
Taryn had opened Score, her PR firm, eight years ago. She'd had to deal with unwelcome passes, assumptions she was an idiot, being asked who the boss was, pats on her butt, and people presuming that if she worked with three ex-football players that she must have gotten her job by sleeping with them. She was used to staying calm, keeping her opinions to herself and gaining victory through the unanticipated side run.
This time Angel had been the one to put the first points of the board. He was good, she thought, intrigued and only slightly miffed.
"Are you coming on to me, Mr. Whittaker? Because it's still a little early in the morning for that sort of thing."
"You'll know when I'm making my move," he informed her. "Right now I'm simply telling you how things are."
"Which takes us back to your comment that we both know where this is going. I'll admit to being confused. Perhaps you have me mixed up with someone else."
She uncrossed, then recrossed her long legs. She wasn't trying to be provocative, but if Angel got distracted, it was hardly her fault.
For a second she allowed herself to wonder how she would have been different if she'd been able to grow up in a more traditional home. One with the requisite 2.4 children and somewhat normal parents. She certainly wouldn't be as driven. Or as tough. Sometimes she wasn't sure if that was a good thing or not.
He leaned toward her. "I hadn't taken you for the type to play games."
"We all play games," she told him.
"Fair enough. Then I'll be blunt."
She sipped her coffee, then swallowed. "Please."
"I saw you last fall."
"How nice," she murmured.
When she'd been scouting locations. Moving a company required time and effort. They'd only truly settled in Fool's Gold a couple of months ago. But she had been in town the previous fall, and yes, she'd seen Angel as well. Found out who he was and had wondered about...possibilities. Not that she was going to admit that to him.
"I watched you," he continued.
"Should I be concerned you're a stalker?"
"Not when you were watching me right back."
He'd noticed? Damn. She'd tried to be subtle. She thought about lying, but decided to simply stay silent. After a second, he continued.
"So we've finished sizing each other up," he said. "Now it's time to move on to the next phase of a game."
"There are phases?" Which was an actual question. No point in mentioning the game. She knew what they were doing. Still, it was entertaining to pretend she didn't.
"Several."
"Do you provide instructions or a scorecard?"
His cool gray eyes stayed focused on her face. "You don't play that way."
"An interesting assumption."
"I'm not assuming."
He had an appealing voice. Low with a hint of... Not the deep south, she thought. But there was a cadence. Virginia? West Virginia?
She put down her mug. "If I buy into your assertion—which I'm not admitting I do."
"Of course not."
She ignored the words and the amusement tugging at his lips. "Where do you see this going?"
He leaned back in his chair. "This is a mating game, Taryn. Or didn't you know?"
Ah, his first mistake. She kept her eyes locked with his and didn't let her triumph show. "You want to marry me?"
A muscle in his jaw twitched. "Not that kind of mating."
"If you're not precise, it's difficult to be sure. So you want to sleep with me."
"Yes, but it's about more than that."
She let her gaze drift down his chest, then moved to his arms. Despite the cool late April temperatures, he wore a T-shirt and no jacket. She could see a tattoo of a rose, along with several scars on his arms. His hands were strong and equally battered.
She returned her attention to the scar on his neck and decided to ask the obvious. "What happened to him?"
He touched the side of his throat, then shrugged. "He had a very bad day."
Taryn lived in the world of business. She could talk finance and sales projections but her real gift was designing public relations campaigns that were innovative and successful. At Score the work was divided among the four partners. Kenny and Jack were the rainmakers. They found prospective clients and reeled them in. Sam handled the money. But Taryn was the creative engine that steered the ship.
She was used to executives, graphic artists, bankers and everything in between. In her sphere, she was a power player and no one crossed her. But that wasn't Angel. His clout didn't come from a boardroom or the right suit. He carried it in his body. It was part of who he was.
She knew a few odds and ends about him. People she respected and trusted liked him. But the details? They were still a mystery. One she would like to solve.
"What makes you think I'm the least bit interested?" she asked.
"You're still here."
A good point. She didn't want another executive—he would be too much like her. As for sports heroes, she worked with three and they exhausted her. Angel was different. Right now, different sounded like exactly what she needed.
"Effort will be required ," she told him.
"Ditto."
She laughed at the unexpected statement.
"You didn't think I'd be easy, did you?" he asked.
"Apparently not."
He stood. "Don't worry. I'm good at planning the right op for the right mission and then seeing it through." He crossed to the door, then turned back to her. "And I'm good at waiting."
He walked out, leaving her with her rapidly cooling coffee and an article on consumer confidence that had just gotten a whole lot less interesting than her encounter with an intriguing man name Angel.
#
Smug felt good, Angel thought as he crossed the street and headed for City Hall. He'd been waiting for the right moment to talk to Taryn and when he'd seen her having coffee by herself, he'd decided to act. She was as good as he'd hoped—intelligent, confident and sexy as hell. A combination he would have trouble resisting under the best of circumstances. But in this town, with her always around...he'd wanted to make his move the first day.
Waiting had been better, he told himself as he jogged up the stairs to the front of the government building. Now he could put his plan into action. The one that led them down a road of temptation, with an ultimate objective that should satisfy them both.
He took more stairs to the second floor and followed the signs to the mayor's office.
Mayor Marsha Tilson was California's longest serving mayor. She served the town well and seemed to know everyone's secrets. Angel had yet to figure out where she got her information, but from what he'd seen, she had a network that would put most governments to shame.
He entered her office exactly fifteen seconds before the time of his appointment.
Her assistant, an older woman in black blazer, looked up at him with red and puffy eyes. Angel immediately sensed bubbling emotion and glanced around to room to discover all available exits.
The woman, a full-figured brunette, sniffed. "You must be Mr. Whittaker. Go right in. She's expecting you."
Angel did as instructed, hoping to find a calmer atmosphere in the mayor's office. His cautious optimism was rewarded. Mayor Marsha looked as she always did—perfectly put together. She wore a light green suit, pearls and had her white hair neatly swirled up in some old-lady bun. She smiled and stood when she saw him.
"Mr. Whittaker. You made it."
"Angel, please." He crossed the room and shook hands with her, then settled in the seat across from hers.
Her office was large with several windows. Behind her desk were the flags of the United States and the State of California, along with a large seal he would guess represented the city of Fool's Gold.
"Your assistant's upset," he said.
"Marjorie's worked with me for years. But her twin daughters have settled in Portland, Oregon. They're both pregnant. Marjorie's husband retired, so they're going to move closer to family. While she's excited about being nearer her daughters and future grandchildren, she's sad about leaving all of us here."
More than he wanted to know, he thought, keeping his expression polite.
Mayor Marsha smiled. "Now I'll have to find someone new. Hiring staff is relatively easy, but an assistant is a different matter. There has to be chemistry and trust. One can't let just anyone know the town's secrets." The smile widened. "Not why you came to see me today." She leaned forward and picked up a file from the stack on her large desk.
"All right, Angel, let's see what we have here." She slipped on reading glasses. "You're interested in a project that will involve you with the community."
Angel had been to some of the most dangerous parts of the world in various capacities. He'd taken his sniper training into the private sector and now designed curriculum for people training to be professional bodyguards. Not much surprised him. But he would swear he hadn't told anyone his reason for making his appointment with Mayor Marsha, which begged the question. : How did the old lady know?
She glanced at him over her glasses. "Did I have that correct?"
He decided he had little choice but to simply nod and say, "Yes, ma'am."
The smile returned. "Good. You have a unique background and an unusual skill set. I've given the matter a lot of thought and I think you'd be a perfect grove keeper."
Grove what? "Ma'am?"
"Are you familiar with the history of the town?" she asked, then closed the folder. "This is California, so there was the expected exploration by the Spanish in the 1700s, but long before that, Fool's Gold was settled by the Máa-zib tribe."
Angel had heard something about that. "A branch of Mayans," he murmured. "Matriarchal."
"Yes." The smile returned. "I would guess you'd respect a group of women who only want to use a man for sex."
Angel wasn't sure if he should flinch or pat the old lady on the back. Instead he cleared his throat. "All right," he said slowly. "Interesting."
"It is. We have long celebrated our Máa-zib culture and that includes a youth group. Future Warriors of the Máa-zib. Young people start at the age of six with a two-month introduction to what it's like to be in the FWM. That's followed by four years of membership. We have Acorns, Sprouts, Saplings, Sky-Reachers and Mighty Oaks. Each group or troop is known as a grove and the person in charge is a grove keeper."
She put down her glasses. "There is a new grove starting in a couple of weeks. I think you would make an excellent grove keeper."
Kids, he thought with surprise. He liked kids. His goal had been to get involved with Fool's Gold because he'd decided to stay here and he'd been raised to give back to the community. He'd thought maybe he could volunteer on some advisory committee or teach a continuing ed class—although his skill set didn't exactly fit in the regular world. Still...kids.
He hesitated only a second, then realized it had been long enough since he'd lost Marcus. The pain was still there—would always be a part of him, like a scar, or his heart—but it had become manageable. He would be able to work with teenaged boys without wanting to argue with the heavens about how unfair it had all been.
"Sure," he said easily. "I can run a grove."
Amusement twinkled in Mayor Marsha's blue eyes. "I'm glad to hear it. I think you'll find the experience fulfilling on several levels. I'll make sure you get your material in the next few days, then meet with the Grove Council."
He grinned. "Seriously? There's a Grove Council?"
She laughed. "Of course. These are Future Warriors of the Máa-zib. What else would there be?"
She rose and he did as well. "Thank you, Angel. Usually I have to go out and convince new residents to pitch in. I appreciate that you came to me." She studied him. "I assume your interest in giving back is the result of your background. You grew up in a coal mining town, didn't you? West Virginia?"
While the information wasn't secret, it wasn't something he shared very often. "You're a spooky old lady," he told her. "You know that, right?"
The smile broadened. "Not many people have the courage to say it to my face, but I do hope that's what they're saying behind my back."
"They are," he assured her.
They shook hands and he left. Marjorie was still in tears, so he hustled out and hit the stairs at a jog. Maybe he would spend the afternoon looking for campsites, he thought cheerfully. He had plenty of survival skills he could pass on to his FWM grove. Ways to help them grow up to be confident men. Yeah—this was going to be good.