June 25, 2013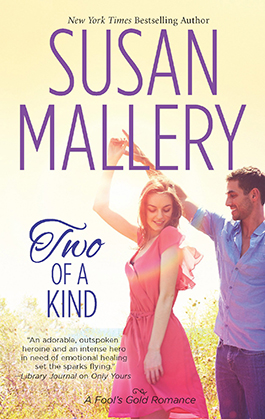 Fool's Gold, Book No. 11
Felicia may be freakishly smart, but she has a lot to learn about love.
Felicia Swift never dreamed she'd hear a deep, sexy voice from her past in tiny Fool's Gold, California. The last time Gideon Boylan whispered in her ear was half a world away…on the morning after the hottest night of her life. Her freaky smarts have limited her close friendships, and romance, but she came to Fool's Gold looking for ordinary. Gorgeous, brooding Gideon is anything but that.
Black Ops taught Gideon that love could be deadly. Now he pretends to fit in while keeping everyone at arm's length. Felicia wants more than he can give—a home, family, love—but she has a lot to learn about men…and Gideon needs to be the man to teach her.
As these two misfits discover that passion isn't the only thing they have in common, they just might figure out that two of a kind should never be split apart.
4 ½ Stars Top Pick! "Fresh off her charming June release, Just One Kiss, Mallery follows up with the moving story of a delightful misfit heroine and a man emotionally damaged by imprisonment and torture. Freaky smart Felicia Swift is refreshingly honest and determined to connect with people, whereas Gideon Boylan is hoping for isolation. Their bumpy road to romance is both smile and tear inducing. Mallery is one of a kind."
RT Book Reviews
"A Best Book of the Month in Romance!"
Amazon Editors
4.5 Romanticals! "Definitely one of my favorite books of the series... Susan Mallery has a great sense of humor and knows how to write a light, fun read that is sure to make you melt a little."
Let's Get Romantical
4½ Hearts! "[Two of a Kind] did wonders for whisking me away to a better place and keeping me calm! So once again, I am so incredibly thankful for Susan Mallery!!!... I have to say, now that we're on book 12? Fool's Gold is one of my favorite Series EVER!... So, if you're a Fool's Gold fan? You'll love this one!! If you're new to the series? I can't recommend it enough!"
For Love and Books
5 Stars! "Felicia's social awkwardness makes her such an appealing and entertaining character to read about. She is honest to a fault because she doesn't always understand when it might be more tactful to hold her tongue.... I adore Fool's Gold and I adore Susan Mallery's ability to continue to introduce us to new and interesting characters that have the ability to transport me to the pages of the book and the town of Fool's Gold."
Lynn, The Romance Reviews
"Felicia is wonderful, one of my favorite characters in the series. Her impressive intelligence is minuscule compared to the size of her heart and her eagerness to embrace life... Two of a Kind brought a tear to me eye and a smile to my face, my favorite kind of story."
Just Janga
"Susan Mallery welcomes us back to Fool's Gold with Two of a Kind, a poignant, heart-warming love story full of wit, tenderness and passion... Felicia and Gideon are sweet together and I love the emotionally charged interactions that Mallery very deftly creates for them. With Two of a Kind, like always, Mallery treats readers to humorous dialogue that pops, a strong story-line that touches the heart, and memorable characters so real you expect to run into them at the store."
Julie Johnson, Book Trib
Kelly: "These two are so perfect for each other. Throw in some twists and turns of life, the past and the possible future, you have an awesome story."
Kimberly: "Susan Mallery takes us to a place that not only do we love to visit but we wish we could live."
Books-n-Kisses
A+ "As a reader, there is so much angst in this book and it's done so incredibly well. There's a lot of emotion, but there were also a ton of laughs. Felicia makes comments throughout the book that will honestly just have you bursting out in giggles because they are so honest and so unexpected. She even got Gideon to laughing."
Smitten with Reading
"The Fool's Gold series continues to suck me in!... Two of a Kind is sweet, sexy, and fun just like a romance novel should be but it also has some great girlfriend moments, matchmaking little kids, and a sincere town mayor that really does have eyes behind her head. And in true Mallery style, she makes some new character introductions that made me even more enthused to pick up the next couple of books. The obsession grows..."
Estelle, Rather Be Reading
"I love this chick! Felicia's differentness, brilliance, and disarming humor are responsible for the slow decimation of Gideon's walls. I loved seeing him scramble to fill in the gaps, then scramble at the hard, unexpected things life throws at him. These two together are fun and great to watch navigate those murky waters familiar to men and women across the ages."
Paranormal Indulgence
"I think that each book in the series is better and better than the last and this is no exception. Felicia was a joy to read about and get to know, she was so open and honest and, again, literal, that I wanted to be her friend and help her to navigate the complexities of the world... So, yes, I loved this book, particularly Felicia, and I would definitely recommend it to people who like chick lit with a little hanky panky going on. The end was a little…fluffy and cheesy, but I didn't mind because I wanted Felicia and Gideon to have their happy ending."
Gone Pecan LA
4.5 Stars! "I do highly recommend TWO OF A KIND. Fans of small town romances, romances with characters who seem completely different, fans of lovers who are reunited and basically any reader of romance, I'd suggest you pick up TWO OF KIND today, you won't regret it! I finished it in one night, so be prepared to not want to put it down!"
My Book Addictions
"Susan Mallery manages to create another hit set in the friendly, festival-filled town of Fool's Gold. The sense of a strong community is very present in this installment in the series and readers get a chance to check in with favorite characters and meet new ones as Mallery continues to build her world. Mallery's characters exhibit very human faults and work through everyday problems to find what they are looking for in life."
Romance Reviewz
"This novel is full of hilarious misunderstandings, a vulnerable, yet strong heroine and plenty of real life problems. Readers who have never visited Mallery's Fools Gold, California will have no problem fitting into the small town with a big heart while they fall in love with this flawed-to-perfection couple."
Morgan Doremus, RT Website Director
"My favorite Fool's Gold book to date!... Two of a Kind just hit all the right contemporary romance spots for me: fun, sweet, quirky, original, and emotionally stunning. Felicia and Gideon's love story was the kind of bumpy ride that I enjoy reading about."
The Geeky Blogger's Book Blog
Chosen by readers at Fresh Fiction as a Fresh Pick!
Fresh Fiction
"Felicia is much stronger a person and much more normal than she thinks. You watch her blossom and grow in this book. Kent and Gideon's sons are hilarious in their quest to get Gideon to figure out he loved Felicia. My heart melted a little bit every time Gideon and Felicia had scenes together. You just want it to work out because they've been through so much in their lives they deserve some happiness. Another brilliant addition to the Fools Gold series."
Modokker Book Picks
Rating: 4.5 HOT "I love how honest and blunt Felicia and Gideon are with each other. Their honesty is almost soul-bearing and harsh at times... This book will leave you happy – an aching kinda happy."
A. Lyn, My Book Addictions and More
4.5 Stars! "Susan Mallery has once again brought magic to Fools Gold... Felicia is such a brainiac and Gideon such a loner... You could almost feel the changes the two main characters were making throughout the story. All of Susan Mallery's Fools Gold books can be read as a stand alone book, but it is such a wonderful series."
Reading in Pajamas
4.5 Stars! "Susan Mallery has once again brought magic to Fools Gold. Gideon and Felicia's story was refreshing. Felicia is such a brainiac and Gideon such a loner. A love story with all of the elements, with a twist thrown in the mix to make the story all that much more enjoyable."
Reading in Pajamas
"Two of a Kind is my favorite Fool's Gold novel yet! I absolutely loved Felicia. She was so honest and funny without even trying. As a character she was quite different than most female characters today."
Aubrey, Romancing the Book
Chapter One
Rational thought and a working knowledge of hand-to-hand combat were useless when faced with the villainous power of the American house spider.
Felicia Swift stood immobilized in the corner of the warehouse, aware of the web, of the arachnid watching her, no doubt plotting her downfall. Where there was one female American house spider, there were others and she knew they were all after her.
The still functioning logical part of her brain nearly laughed out loud at her fears. In her head, Felicia understood that spiders did not, in fact, travel in packs or scheme to attack her. But intelligence and logic were no match for a true arachnophobia. She could write papers, prepare flow charts and even do experiments from now until the next appearance of Haley's comet. She was terrified of spiders and they knew it.
"I'm going to back away slowly," she said in a soft, soothing voice.
Technically, spiders didn't have ears. They could sense vibration, but with her speaking quietly, there wouldn't be much of that. Still, she felt better talking, so she kept up the words as she inched toward the exit, always keeping her gaze locked firmly on the enemy.
Light spilled from the open door. Light meant freedom and spider-free breathing. Light meant—
The light suddenly blacked out. Felicia jumped and turned, prepared to do battle with the giant mother-of-all-spiders. Instead she faced a tall man with shaggy hair and a scar by his eyebrow.
"I heard a scream," he said. "I came to see if there was a problem." He frowned. "Felicia?"
Because the spiders weren't enough, she thought frantically. How was that possible?
Fortes fortuna adiuvat.
She tried to rein in her unwieldy brain. Fortune favors the brave? That was helpful how? She had spiders behind her, the man who took her virginity in front of her and she was thinking in Latin?
Felicia sucked in a breath and steadied herself. She was a logistics expert. She'd never met a crisis she couldn't organize her way out of and today would no exception. She would work from big to small and reward herself by doing the Sunday New York Times crossword in less than four minutes.
"Hello, Gideon," she said, bracing herself for the impact from her hormonal reaction to this man.
He moved closer, his dark eyes filling with emotion. She never been all that good at reading other people's feelings, but even she recognized confusion.
As he approached, she was aware of the size of him—the sheer broadness of his shoulders. His T-shirt seemed stretched to the point of ripping across his chest and biceps. He looked lethal, but still graceful. The kind of man who was at home in any dangerous part of the world.
"What are you doing here?" he asked.
By here, she assumed he meant in Fool's Gold and not in the warehouse itself.
She squared her shoulders—a feeble attempt to look larger and more in control. Similar to a cat arching its back and raising its fur. She doubted Gideon was going to be any more intimidated by her than he would be by a hissing tabby.
"I live in town now."
"I knew that. I meant what are you doing in this warehouse?"
"Oh."
An unexpected response, she thought, suddenly less sure of herself. A result of the spider encounter. Their powers were far-reaching. She'd planned to avoid any contact with Gideon for several months. Here it was less than five weeks into her plan and they'd run into each other.
"I'm working," she said, returning her attention to his question. "How did you know I was in town?"
"Justice told me."
"He did?" Something her business associate hadn't mentioned to her. "When?"
"A few weeks ago." Gideon's mouth curved into a smile. "He told me to stay away from you."
His voice, she thought trying not to get lost in the memories of what the sound meant to her. While olfactory recollections were thought to be the strongest, a sound or a phrase could also shift a person back to another time. Felicia had no doubt she could easily be transported by Gideon's scent, right now she was most concerned about his voice.
He had one of those low, sexy voices. As ridiculous as it sounded, the combination of tone and cadence reminded her of chocolate. Now his voice was a vibration she was sure the spiders could get behind. She should—
Her chin came up as her until-this-second impressive brain replayed his statement.
"Justice told you to stay away from me?"
Gideon raised one powerful shoulder. "He suggested it was a good idea. After what had happened."
Outraged, she planted her hands on her hips, then thought hitting Justice was a far better idea. Only he wasn't here.
"What happened between you and me isn't his business," she said firmly.
"You're his family."
"That doesn't give him the right to get in the middle of my personal life."
"I didn't see you trying to find me," Gideon pointed out. "I figured you were comfortable with his instructions."
"Of course not," she began, only to realize she had been avoiding Gideon, but not for the reasons he thought. "It's complicated."
"I'm seeing that," he told her. "So you're okay?"
"Of course. Our sexual encounter was over four years ago." She had no idea if he'd guessed she'd been a virgin or not and didn't see any reason to mention it now. "Our night together was...satisfying." An understatement, she thought, remembering how Gideon had made her feel. "I'm sorry Justice and Ford broke down the hotel room door the following morning."
Gideon's expression changed to one of amusement. It was a look Felicia was used to seeing and she knew it meant she'd somehow missed an obvious social cue or taken a joking comment literally.
She held in a sigh. She was smart. Scary smart, as she'd often been told. She'd grown up around scientists and graduate students. Ask her about the origins of the universe and she could give a fact-based lecture on the subject without having to study. But interpersonal interactions were harder. She was so damned awkward, she thought glumly. She said the wrong thing or sounded like a space alien with bad programing, when all she wanted was to be just like everyone else.
"I meant are you okay now," he said. "You screamed. That's why I came in."
She pressed her lips together. For possibly the thousandth time in her life she thought how she would gladly exchange thirty IQ points for just a small increase in social awareness.
"I'm fine," she said, offering what she hoped was a reassuring smile. "Couldn't be better. Thank you for coming to my rescue—however unnecessary that was."
He took a step toward her. "I'm always happy to help out a beautiful woman."
Flirting, she thought, automatically monitoring his pupil dilation to see if it was real or simply politeness. When a man was sexually interested, his pupils dilated. But it was too dark in the warehouse for her to be sure.
"What made you scream?" he asked.
She drew in a breath. "I saw a spider."
One eyebrow rose.
"It was large and aggressive," she added.
"A spider?"
"Yes. I have issues with them."
"Apparently."
"I'm not stupid. I know the rational argument."
Gideon chuckled. "You're many things, Felicia, but we're all aware that stupid isn't one of them."
Before she could figure out what to say to that, Gideon turned and walked away. She was so caught up in the way his jeans fit his butt, that she couldn't think of anything to say, and then he was gone and she was alone with little more than her mouth hanging open, a herd of American house spiders and their plans for her.
#
Gideon Boylan knew the danger of flashbacks. They could come on suddenly and disoriented him. They were vivid, engaging all his senses and when they were gone, a man had no way of knowing what was real and what was imagined. After being held captive for two years, he'd been ready to give in to madness. At least it would have been an escape.
His rescue had come just in time, although too late for the men who had been with him. But even being out of the hands of tormentors hadn't given him any sense of freedom. The memories were just as painful as the imprisonment had been.
Focus, he told himself as he loaded the CD and checked his playlist for the next three hours. He had put his past behind himself. Some days he even believed it. Seeing Felicia earlier had been a kick in the gut, but he would take a flashback of a beautiful woman in his bed every time. Still, he'd had to take a five mile run and then meditate for nearly an hour before he'd felt calm enough to head to the radio station.
"We're doing it the old fashioned way tonight," he said into the microphone. "Just like we always do."
Beyond the control room, the station was dark, the way he liked it. He didn't mind the dark. If it was dark, he was safe. They'd never come for him in the dark. They'd always turned the lights on first.
"It's eleven o'clock in Fool's Gold and this is Gideon. I'm going to dedicate tonight's first song to a lovely lady I ran into today. You know who you are."
He pushed the button and Wild Thing by the Troggs started.
Gideon smiled to himself. He had no way of knowing if Felicia was listening or not, but he liked the idea of playing a song for her.
A red light flashed on the wall. He glanced at it, aware someone was ringing the front bell. After hours, the signal flashed back in the control room. An interesting time for visitors. He walked to the front of the radio station and unlocked the door. Ford Hendrix stood in front of the door, a beer in each hand.
Gideon grinned and waved his friend in. "I heard you were in town."