August 27, 2013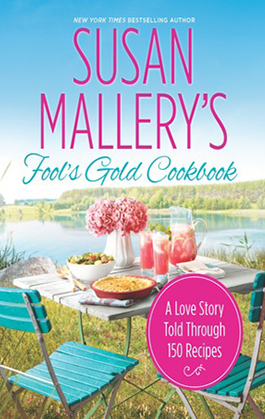 Fool's Gold, Book No. 12.25
150 delicious recipes, plus a love story that will win your heart!
Ana Raquel's greatest passion is food: she's a gifted chef with the experience to prove it. Armed with an Airstream trailer-turned-mobile kitchen, she's back in her hometown of Fool's Gold, California, ready to make her dreams of running her own kitchen come true. There's just one problem—one tall, dark-eyed, utterly exasperating problem: Greg Clary, her arch-nemesis.
Greg has always one-upped her at everything. He even has a restaurant in Fool's Gold that's wildly successful. And when the mayor asks Ana Raquel to collaborate with Greg on a cookbook, she's forced to confront her unresolved feelings for him. Ana Raquel can craft the most delicate soufflé, but can she navigate the desire of her own heart?
"The 150 recipes are straightforward, gimmick-free home cooking... you don't need to be familiar with the [Fool's Gold] books to appreciate happy endings in the form of Guinness Gingerbread or Coconut Vanilla Snowball Cupcakes."
Rebekah Denn, The Seattle Times
"...a work of happenstance and culinary delight, a love story woven into a collection of delectable seasonal recipes... Each recipe moves Ana Raquel and Greg closer and closer together, freeing them of their past and offering them an opportunity to rediscover one another. Mallery invites readers to try out mouthwatering creations as their serendipitous love story unfolds."
Publishers Weekly
"WOW!... Love how the recipes I was interested in are made from scratch as that is how I cook also. Fresh ingredients to make the food taste the best it can... For my party I will be making the sweet potato biscuits or the carrot muffins. Love how the index not only has the names of the recipes in alphabetical order but major ingredients are also indexed."
Julie Barrett
"[A] wonderful cookbook and it is full of delicious, easy to make recipes and the photos are amazing. I'm a little fussy that way because I love a cookbook that has photos to go along with the recipe. I love to see the finished product! Every time I look through and see all the good recipes I get so hungry and I can't wait to try quite a few...
Peeking between the Pages
"I think that it is so cool that this is a cookbook, as well as a fiction book! A story within a cookbook! How cool! And lots of really yummy recipes for all year round!"
Hanging Off the Wire
"With a heartwarming love story woven among tasty, easy to make recipes for every occasion and every season, this is a must-have collection for cooks and romance lovers alike."
The Romance Dish
Buy it! "I'm really impressed with the easy to understand instructions and the variety of food contains in Susan Mallery's newest venture. (Plus it's adorable that the included novella lends a backstory to the fictional existence of the cookbook too!) For fans of the Fool's Gold series and foodies, I definite suggest adding this to your wish list immediately."
Estelle, Rather Be Reading
"There is additional treasure to enjoy while perusing the pages and marking your favorite recipes....an actual story. *gasp* Yes, you read that right....there's a special novella type story told throughout the book that actually features the cookbook in it as well, in a cool little twist. We learn the story behind Ana's food truck business and her constant battle to be number one since grade school when a particular little boy snagged the spotlight and just wouldn't give it back."
Insatiable Readers
"Delightful!! I loved reading though Susan Mallery's cookbook and seeing the recipes capture her lovely Fool's Gold series. The recipes are simple and look delicious, I also enjoyed how each recipe reflected a character or place from the novels."
Tina's Book Reviews
"This year I fell in love with this series and this is a very special book because we can see all those character we met in the previous books and even more got to also create the amazing recipes that we listened so much about."
Book Travels Romance
Pick of the litter! "Seriously I cannot stop smiling. Mallery was absolutely genius in putting The Fool's Gold Cookbook together. I wasn't sure how it was all going to work with the whole cookbook/romance combo but it was utterly and deliciously perfect."
Herding Cats and Burning Soup
"This was an utterly charming and adorable cookbook and the food was good to boot. While the love story would definitely be categorized as short but sweet, I love that the characters were creating a town cookbook together and this is apparently the result... Overall, I gave this cookbook 4 1/2 out of 5 roses. It will definitely be one of my favorite cookbooks."
Seduced by a Book
5 Willies! "I don't have a lot of time to spend in the kitchen... Susan Mallery had women like me in mind when she made this cookbook. I've made a few of her recipes and they turned out really good... I would definitely recommend this cookbook to anyone and everyone. It's full of yummy recipes and a heartwarming story!"
2 Read or Not 2 Read
"When I found out Susan had written her first cookbook with recipes from Fool's Gold, I thought it was just brilliant. To make this book even better, she wrote a love story within the cookbook... Trying to decide what recipe to make was not easy, they are all wonderful!"
Cafe Terra
"Mallery's romance intertwined with food recipes is genius!"
The Pen Muse
Chapter One
Ana Raquel Hopkins knew for certain that Greg Clary was the most annoying man on the planet. He was the kind of annoying that got under your skin and made you want to scream. It was like being in the mood for the perfect guacamole only to discover that someone had taken all your deliciously ripe avocados. Or worse, taken them and made their guacamole out of those avocados and now people were saying it was better than yours. That's how annoying Greg Clary was.
Ana Raquel stared at the sign hanging from the rustic building at the Condor Valley Winery. The hand-carved square of wood said only Café. So simple, so right. While she'd been off studying the art of cooking, Greg had been working his way up the kitchen ranks right here in Fool's Gold. Six months ago he'd opened Café in his uncle's winery and the restaurant was getting rave reviews. Everyone was talking about it. And Greg.
After graduating from culinary school, she, too, had worked in restaurants, but hers had been in San Francisco. After a couple of years, she'd discovered that while she loved making delicious food for people, she didn't love working in a restaurant. A visit to a street fair had introduced her to the magic that was street food. Delectable concoctions made in a mobile kitchen. She'd saved her money, bought an old Airstream and had it refurbished to be her traveling kitchen. Then she'd brought it home to Fool's Gold where she planned to take the culinary world by storm.
Only Greg was the one everyone was talking about.
Seventeen years ago, when Ana Raquel was in the second grade, she'd been chosen to be Cinderella in the school play. Greg had been picked to play Prince Charming and in the end, he'd gotten all the applause. In junior high, they'd both run for student council president. Greg had won, leaving her with the runner-up vice-president position. In high school, she'd been nominated for homecoming queen and he'd been nominated for homecoming king.
You can probably guess who won and who didn't.
All of which she could live with except for what happened the night of their senior prom.
The fancy dinner and dance had been held at The Gold Rush Ski Lodge and Resort, just like it was every year. There had been a band and good food. Most of the teens went in groups, rather than with dates—one of those town traditions, she supposed. For reasons she still couldn't explain, Ana Raquel had chosen that night to confront Greg about all his transgressions.
But instead of going up to him and yelling, she'd found herself mesmerized by his dark eyes and easy smile. And maybe a little by how good he looked in a tux. Still, she'd had righteous indignation on her side and she knew she really should be telling him off. Only what should have been yelling somehow turned into kissing. And kissing turned into, well, you know.
She could have lived with biggest mistake of her life, only partway through he'd figured out it was her first time which mean it wasn't his. Humiliated, she'd run all the way to culinary school in San Francisco.
Now she was back in Fool's Gold and all grown up. She was a nice person, she told herself. Friendly. She liked people and she adored making them happy with her food. If not for Greg, her life would be perfect.
But she had a solution for that problem and an appointment with the town's mayor to discuss her brilliant idea. One that would help her make a name for herself and get over Greg Clary once and for all.
#
Mayor Marsha Tilson was the longest serving mayor in California. She was a well-dressed, white haired woman who loved her town, idiosyncrasies and all. She welcomed Ana Raquel warmly and led her over to her desk.
"We're so happy to have you back in Fool's Gold," Mayor Marsha said with a smile. "You were missed."
"Thanks. I'm glad to be here," Ana Raquel told her. "I learned a lot in San Francisco, but it's not the same as being home."
Ana Raquel was one of three girls. Fayrene, her twin, had a temp agency and pet sitting service in town, while Dellina, their older sister, had a party planning and decorating business. The Hopkins women were self-starters.
The mayor picked up a flyer for Ana Raquel's street cart from her desk. "We're getting excellent feedback on what you've been serving. The locals appreciate another place to go for lunch, while the tourists love both the food and the convenience."
"I've been experimenting a lot with different foods," Ana Raquel told her. "Now that we're heading into fall, everyone is missing the food served at the festivals. I created an Elephant Ear Pull-Apart Bread. It suits the season, but gives us a taste of what we miss."
"I've heard your Carrot Cake Muffins are creating a stir. There was something close to a riot over them last week."
Ana Raquel laughed. "I ran out and there were still people in line. It got a little loud there in the park." She clasped her hands together and leaned forward. "I want to take what I've learned and use it in a larger context. I want to create a cookbook based on the town and what we like to eat here. I thought I could collect recipes from locals who want to share them. I'll also create some of my own. I was thinking the recipes should be delicious but not too complicated. People are busy and not everyone wants to spend all day in the kitchen. We could call it A Fool's Gold Cookbook."
She squeezed her fingers, hoping she could hide her sudden nerves. She wanted the mayor to be excited about the cookbook idea.
Mayor Marsha leaned back in her chair. "That's very interesting," she murmured. "I like the concept. Ironically, someone else thought up the cookbook idea, as well. I hope you don't mind that I've invited him to join us."
Even as she spoke, Mayor Marsha was standing and motioning for someone to enter the room. Ana Raquel knew who it was before she bothered to turn around. Because there was only one person who would invade her meeting and steal her idea.