Posted November 11, 2020
Dear Reader,
I'm all about feel-good. I write feel-good books with a guaranteed happy ending. It's what I like to read, and what I like to write. I love being able to promise my readers that you can relax into my stories because you know that no matter what the characters have to go through, they're going to end up in a good place. I love putting positive energy into the world.
Happily This Christmas is just that kind of feel-good read. Wynn has a crush on the cop next door. Warm cookies, good-but-not-perfect-kids, and a little Christmas magic conspire to bring together these two lonely souls. I promise, this book will make your world a happier place.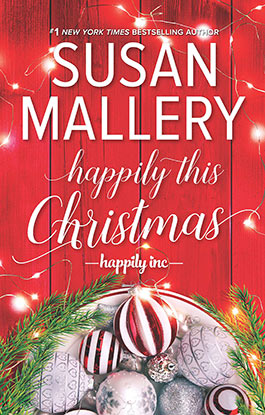 There's no place like Happily Inc for the holidays…
Wynn Beauchene has a thriving business, a great kid, and a mildly embarrassing crush on the guy next door—local cop Garrick McCabe. She's a strong, independent woman who can't help dreaming what-if about a man she barely knows. Until he needs her help…
Garrick's pregnant daughter will be home for Christmas, and his house needs a woman's touch. Garrick and his little girl were tight once and he's hoping a small-town Christmas will bring her back to him. But thawing his daughter's frosty attitude will take more than a few twinkle lights. Maybe sharing the holiday with Wynn and her son will remind her of the joy of family.
As the season works its magic on these wounded souls, Wynn realizes it's time to stop punishing herself for a painful secret, while Garrick remains haunted by the ghosts of past mistakes. Will he allow Wynn to open the only gift she truly wants: his heart?
BUY THE PAPERBACK: Amazon | Barnes & Noble | BAM | Target | Bookshop
BUY THE EBOOK: Kindle | Nook | Google Play | Apple Books | Kobo
BUY THE AUDIOBOOK: Audible
MILLIE THE GIRAFFE BRASS BOOKMARK GIVEAWAY
Christmas is still six weeks away, but I'm celebrating early—with gifts for you. 180 lucky readers will each win a Millie the Giraffe brass bookmark! It's so cute to see Millie's little head peeking out from the top of the book I'm reading. Enter now on the Contest page at SusanMallery.com.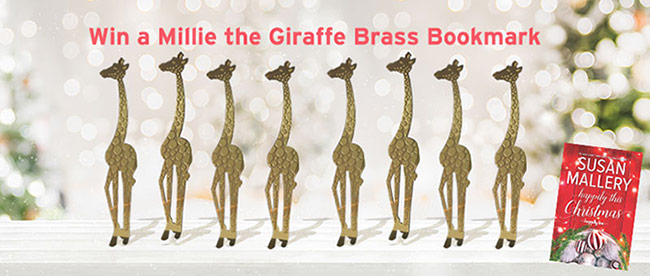 How to Access the Contest Page
1. Go to susanmallery.com.
2. Click/tap on SHOW MENU. Under the MEMBERS ONLY menu, select CONTESTS.
3. Partway down the page, you should see two boxes, either side by side or stacked on top of each other. One box says "Sign in," and the other says, "Sign up." If you're already a member of my mailing list, you should sign in. (Note: If you visited my website recently, you might already be signed in. In this case, skip to number 4.) Non-members will need to sign up first and then sign in.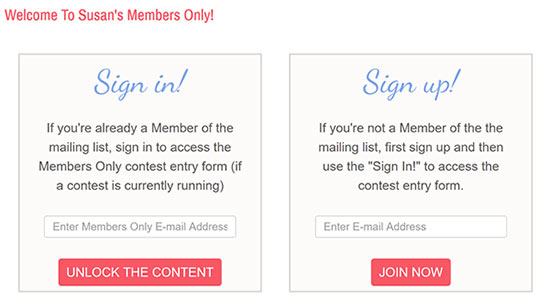 4. After you sign in, then you'll see the contest entry form. Hold your breath, cross your fingers, and enter the giveaway.
Good luck!
---