Posted February 20, 2020
Dear Reader,
In this Newsletter:
• Susan's New Book
• Fresh Beginnings Giveaway
• Coming Soon
I'm so moved by all of the emails I received after my last newsletter. Thank you so much for all of your kind words about Sisters by Choice. Seems like this book has touched a lot of hearts already. I can't tell you how honored that makes me feel. My books are sort of like a conduit between my heart and yours. They connect us in a very profound way, and I'm so grateful.
Sisters by Choice is a USA Today bestseller! I'm so grateful for the enthusiasm of my readers. Thank you so much for loving my characters and my storytelling, and for allowing me to take you on these emotional journeys. After just one week on the shelves, Sisters by Choice already has more than 200 5-star reviews on Goodreads. My heart is full.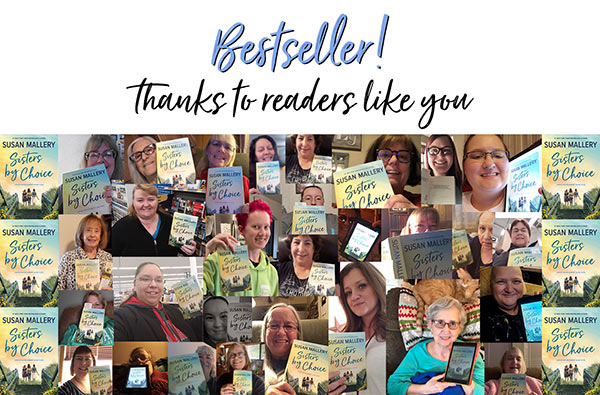 Cousins by chance, sisters by choice…
After her cat toy empire goes up in flames, Sophie Lane returns to Blackberry Island, determined to rebuild. Until small-town life reveals a big problem: she can't grow unless she learns to let go. If Sophie relaxes her grip even a little, she might lose everything. Or she might finally be free to reach for the happiness and love that have eluded her for so long.
Kristine has become defined by her relationship to others. She's a wife, a mom. As much as she adores her husband and sons, she wants something for herself—a sweet little bakery just off the waterfront. She knew changing the rules wouldn't be easy, but she never imagined she might have to choose between her marriage and her dreams.
Like the mainland on the horizon, Heather's goals seem beyond her grasp. Every time she manages to save for college, her mother has another crisis. Can she break free, or will she be trapped in this tiny life forever?
Told with Mallery's trademark humor and charm, Sisters by Choice is a heartfelt tale of love, family, and the friendships that see us through.
CLICK HERE TO READ AN EXCERPT!
FRESH BEGINNINGS GIVEAWAY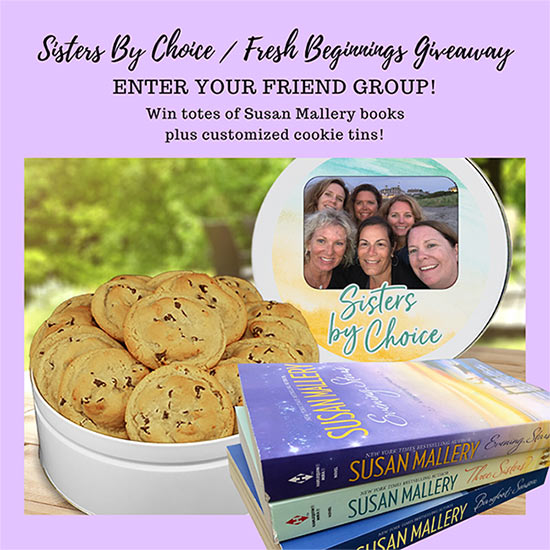 You know the old phrase "your friends are the family you choose?" If we're lucky, we all have a friend or group of friends who feel like family. Well, we want to hear all about your sisters from another mister, your sisters by choice! Enter for your chance to win this amazing prize pack from me and Fresh Beginnings. One lucky friend group (of up to six people total) will win tote bags filled with signed copies of the first three Blackberry Island books, plus a keepsake cookie tin custom-printed with your friend group photo and packed with 20 delicious fresh-baked cookies from Fresh Beginnings. No, you don't have to share the books and cookies, silly. (Although we know that's what best friends are for!) Each friend in your group (up to six total) will get your own tote and cookie tin.
Enter to win by midnight EST on Thursday, February 27, 2020. We will choose one winning friend group at random (to be announced Fri 2/28/20). One entry per person, so tell your friends to enter, too, to improve your chances of winning. Good luck! ENTER NOW: http://bit.ly/BooksCookies
Please note: Sisters by Choice is not part of the prize. The books included in the prize are Barefoot Season, Three Sisters and Evening Stars.
Fresh Beginnings has a special treat exclusively for my readers—20% off any purchase from now through March 31. Just enter code SISTERS to claim your discount. Cookies? Yes, please!
NEXT UP: THE FRIENDSHIP LIST
Two best friends jumpstart their lives in a summer that will change them forever. . .
Single mom Ellen Fox couldn't be more content—until she overhears her son saying he can't go to his dream college because she needs him too much. If she wants him to live his best life, she has to convince him she's living hers.
So Unity Leandre, her best friend since forever, creates a list of challenges to push Ellen out of her comfort zone. Unity will complete the list, too, but not because she needs to change. What's wrong with a thirtysomething widow still sleeping in her late husband's childhood bed?
The Friendship List begins as a way to make others believe they're just fine. But somewhere between "wear three inch heels" to "have sex with a gorgeous guy," Ellen and Unity discover that life is meant to be lived with joy and abandon, in a story filled with humor, heartache and regrettable tattoos.
CLICK HERE TO READ AN EXCERPT!
---