August 4, 2020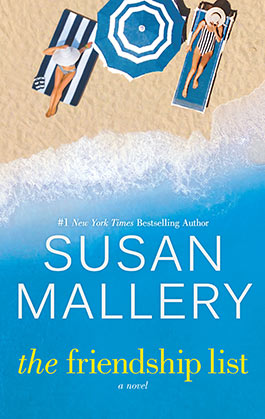 Standalone Women's Fiction
Two best friends jumpstart their lives in a summer that will change them forever. . .
Single mom Ellen Fox couldn't be more content—until she overhears her son saying he can't go to his dream college because she needs him too much. If she wants him to live his best life, she has to convince him she's living hers.
So Unity Leandre, her best friend since forever, creates a list of challenges to push Ellen out of her comfort zone. Unity will complete the list, too, but not because she needs to change. What's wrong with a thirtysomething widow still sleeping in her late husband's childhood bed?
The Friendship List begins as a way to make others believe they're just fine. But somewhere between "wear three inch heels" to "have sex with a gorgeous guy," Ellen and Unity discover that life is meant to be lived with joy and abandon, in a story filled with humor, heartache and regrettable tattoos.
"Mallery's authentic characters and their refreshing summer escapades are sure to resonate. The emphasis on the power of friendship and the joy of new romance make this sparkling novel a sure hit with women's fiction fans."
Publishers Weekly
"VERDICT This engaging story explores the power that lifelong friendship and unconditional love have to help us through life's challenges. Told with a style as authentic as it is entertaining, this book is for the author's many fans as well as those who enjoy Debbie Macomber and Susan Wiggs."
Library Journal
"Each woman goads the other to venture out of her restrictive comfort zone, daring the other to take on a list of challenges, ranging from singing karaoke to wearing sexy clothes, skydiving, getting a tattoo, and having sex. Summer brings big changes. . . [W]omen's fiction master Mallery orchestrates community connections, friendships, and fulfilling romances."
Booklist
"The Friendship List is a sassy, sensuous tale about two women who discover their femininity for the first time. Along with the joys and heartaches that accompany this, they realize there is much more to life than working, raising kids, and settling for the mediocre.""
New York Journal of Books
"A delightful escape."
Audiofile Magazine (on audiobook edition, narrated by Tanya Eby)
"Uplifting, hilarious, and heartfelt. . . a complete joy to read."
Harlequin Junkie
"The Friendship List by Susan Mallery is the type of book you'll be laughing and crying over with the gang at book club! A heartwarming and hilarious story about two BFFs, more like sisters, who find themselves at a crossroads in their lives and decide to do something about it. Who doesn't want to ditch the comfortable flats and wear three inch heels, at least once? And don't get me started on tattoos…! But it's so much more than ticking items off a list, it's about what they find along the way, including new versions of themselves."
Rebecca Raisin, author of Aria's Travelling Book Shop
"Witty, heartwarming, memorable, and thought-provoking."
Linda's Book Obsession
5 Stars "Every time I read one of Susan Mallery's books, I am reminded why she is one of my favorite authors. This book has characters to love and some you occasionally want to smack in the head. But it portrays so much about friendship, parenting ups and downs, and dealing with sexual situations with your teen, it is a must-read."
The Novel Lady
"If you are going to pack a great read for your summer vacation or beach time, THE FRIENDSHIP LIST is a must. Susan Mallery is at the top of her game."
Sandra Wurman, Fresh Fiction
Escape Rating: A- "Ellen and Unity may need to step out of their comfort zones, but in picking up this book I stepped right into mine. This was just the kind of friendship story that this author does so well, and reading it was a terrific pick-me-up for these troubled times."
Reading Reality
"Great summer read! (Then you'll be able to say you're fanning yourself due to the heat and not because the book is making you, ahem, overheated.)"
Life Fully Booked
5 Stars! "The Friendship List is definitely a hit. . . Mallery imbues each of these characters with depth and layers that make their humanity that much more powerful. . . Some parts of their stories are heart-wrenching, others are humorous, and still others are lessons necessary to move forward in life. All are required for these characters to open their hearts, accept joy, and live their lives to the fullest."
The Romance Dish
"A great summer read!"
Writer at Play
"A ton of fun, super easy to read, and a wonderful distraction. . . I loved just how messed up both of them were and how their histories contributed to it, from Ellen's teenage pregnancy to Unity's early widowhood. I loved that it always seemed like one or both were about to unravel at the seams and that they were making mistakes left and right, but owning them."
The Lily Cafe
"With wry humor and realistic issues, The Friendship List is an uplifting and entertaining novel. Ellen and Unity are vibrantly drawn characters. . . I highly recommend this beautifully written story to readers of contemporary fiction."
Book Reviews and More by Kathy
"This delightful story is sure to be a 2020 beach read favorite."
Once Upon a Page
5 Stars "I adored this story. . . I sensed and connected to the deep emotion behind their feelings."
Robin Loves Reading
"Amazing. . . This book will leave the reader wanting to write their own list or simply give them courage and drive to fulfill their bucket list. Whether the list is made or still needs to be written, this book will give you the courage to make the changes or simply step out of your comfort zone."
Lemon Nail Fiend
10 out of 10! "The writing style is witty and light. The characters are multilayered, quirky, and endearing. And the plot is a heartfelt, delightful mix of friendship, family, introspection, parenthood, sorrow, support, forgiveness, love, loss, drama, community, and new beginnings."
Whats Better Than Books
4.5 Hearts "Mallery brings real life to paper."
Kimberly, Books n Kisses
"The Friendship List explores friendship of different kinds as well as romantic love. It's great to see how the two women seriously discuss things, as well as the friendships they have with other women, too. Putting themselves out there and changing things can be scary, but they have a huge support network, and that makes the difference for them to continue to grow."
Girl Who Reads
"While [Ellen and Unity] start to pursue activities on the list, what they don't realize is how much more complicated it is to really move beyond what you're used to emotionally, and what to expect. How do you know when you're ready to change? How much is enough, or too much? Are you changing for change's sake, or because you really want and need to? This was a sweet, steamy, emotional book. The characters—particularly Unity—were more complex than I expected."
It's Either Sadness or Bookphoria
"The Friendship List is a great combination of feels and humor. . . Susan Mallery mixes the emotion with the humor almost seamlessly, and the story has great pacing and flow."
Mommy Says to Read or Not to Read
"The Friendship List is about two female friends who try to get out of their comfort zone by making a list of new things to do- skydiving, getting a tattoo, and having sex with a hot guy. It's the last one that has long lasting consequences for both women. It's funny, sweet, and sometimes a little heartbreaking."
Book Chick Di
"I loved their friendship 'bucket list' and all their adventures. This book was a really fun read--perfect for an afternoon in the hammock."
Palmer's Page Turners
"Ellen and Unity have been stuck in emotional ruts and they realize they aren't getting any younger so they challenge each other with writing a list of things each woman wants/needs to do. It was fun to see them start to come out of their shells as they crossed items off and courageously moved toward a new phase of life. Susan Mallery balanced the serious subjects with a light tone and humor."
Book Fan Mary
"Sometimes in life you have to want more for yourself, and sometimes you have to rely on your friends to show you what you truly deserve. If you love stories about friendship, family, and life, then this is a must read! You never really can go wrong with a book by Susan Mallery!"
Books n Bites
Grade: A "[An] emotionally charged journey full of joy, sadness, and love. . . a great story."
The Good, the Bad and the Unread
"A fun ride about living life joyfully!"
Woman's World
5 Stars "The perfect story of friendships and relationships and the up and the downs. . . an enjoyable, sweet and fun read."
Cheryl's Bookworm Reads
"A heartwarming and honest look at friendships and how nobody has to navigate life on their own. I thoroughly enjoyed every minute of this book. . . The author also tackled some fairly serious issues (teen pregnancy, single parenting, grief, allowing the past to control the present, aging) with a keen eye but also with a sense of humor. It was serious when it needed to be, but never got preachy."
Fireflies and Free Kicks Fiction Reviews
"An engaging story with the perfect balance of friendship and romance, whimsy and charm, smiles and sobs. Susan Mallery is a masterful storyteller who always manages to brighten my day. . . The audiobook was narrated by Tanya Eby Who is one of the absolute best. She did a remarkable job with giving each of these characters their own unique voice and personality. A lovely feel good story!"
Audio Killed the Bookmark
"I love a good read about friends in the summer, and this heart-warming story about two friends learning to discover all that life has to offer was just the thing I needed! . . . a fun read, at times laugh-out-loud funny, and both these characters reminded me of myself when I was single at 35."
Beth's Book-Nook Blog
"Unity comes up with a list of challenges that will force both of them out of their ruts. They'll wear bikinis in public. Get a tattoo. Sing karaoke. . . The friendship between the women is genuine. . . Susan Mallery is one of my favorite authors and this book is as good as I've come to expect. I enjoyed it a great deal and I'll buy a copy for my friend who loves her, too."
Carrie Padgett
"Mallery does a great job creating these characters and imbuing them with the innocence that their backgrounds make possible. As they complete the challenges they give one another, they are growing and learning about themselves. . . a lovely escape from reality, and I was sorry to turn the last page."
Stacy Alesi
"The Friendship List is such a fun read by Susan Mallery, it's filled with adventure, it's sexy and romantic but it also deals with some serious life issues. I didn't want this story to end and felt like Ellen and Unity had become part of my very own inner circle of friends. A gorgeous sun filled read full of fun, love, laughter and tears."
The Krafti Reader
"A light-hearted, often funny summer beach read, perfect for these summer afternoons."
Memories from Books
"From the off I completely loved (and identified with) Ellen Fox, who was our primary MC. My gosh was she sincere, direct and hilarious. . . This is the first book by Susan Mallery that I have read, but it won't be my last! I recommend this book for something feel-good this summer."
Mummy Is Reading Books
"Full of Mallery's quirky humour and the strong bonds of friendships, this was a book that celebrated self-awareness, growth, and romance. . . You'll be pulled in cover to cover and the ending will leave you feeling pretty content!"
Life Love Laughter Linds
"Susan Mallery is one of my favorite authors and she writes beautiful stories about friendship, relationships, and women supporting and empowering each other. . . an awesome summer read."
Arpita Shrivastava
"A wonderfully heartwarming tale of friendship and second chances at happiness."
Female Friendship in Fiction
"The Friendship List is a perfect feel-good read for anyone who has ever wanted the courage to change."
Book Read 2Day
"The Friendship List is a celebration of friendships. An absolutely delightful read about strong friendships and relationships, a mother's unconditional love and how, when we stretch out of our comfort zones, there can be magic. It was also about how hard it can be to let go of the status quo."
Vidya Sury
'The Friendship List' Is the Perfect Lighthearted Summer Read.
BookBub
"Susan Mallery has an uncanny knack for writing about female relationships. . . once again she created wonderful characters that felt so damn real."
Novel Gossip
"It was warmth and love wrapped in tears and laughter. It was real and beautiful. It was everything I wanted in that moment of time."
Book Reviews by Shalini
"A wonderfully crafted story of two friends, helping each other move forward in their lives by way of a "to-do" list created for the summer. . . The characters were relatable, flawed and all around like an average person. I was totally engaged and entertained throughout the entire book."
The Open Book Society
"The Friendship List will have you laughing, covering your eyes, and crying. It's a novel you do not want to miss and one of Susan Mallery's best yet."
Hey It's Carly Rae
"We recommend adding this frivolous and touching book to your end of summer to-do list."
E! Online
Chapter One
"I should have married money," Ellen Fox said glumly. "That would have solved all my problems."
Unity Leandre, her best friend, practically since birth, raised her eyebrows. "Because that was an option so many times and you kept saying no?"
"It could have been. Maybe. If I'd ever, you know, met a rich guy I liked and wanted to marry."
"Wouldn't having him want to marry you be an equally important part of the equation?"
Ellen groaned. "This is not a good time for logic. This is a good time for sympathy. Or giving me a winning lottery ticket. We've been friends for years and you've never once given me a winning lottery ticket."
Unity picked up her coffee and smiled. "True, but I did give you my pony rides when we celebrated our eighth birthdays."
A point she would have to concede, Ellen thought. With their birthdays so close together, they'd often had shared parties. The summer they'd turned eight, Unity's mom had arranged for pony rides at a nearby farm. Unity had enjoyed herself, but Ellen had fallen in love with scruffy Mr. Peepers, the crabby old pony who carried them around the paddock. At Ellen's declaration of affection for the pony, Unity had handed over the rest of her ride tickets, content to watch Ellen on Mr. Peepers's wide back.
"You were wonderful about the pony rides," Ellen said earnestly, "And I love that you were so generous. But right now I really need a small fortune. Nothing overwhelming. Just a tasteful million or so. In return, I'll give back the rides on Mr. Peepers."
Unity reached across the kitchen table and touched Ellen's arm. "He really wants to go to UCLA?"
Ellen nodded, afraid if she spoke, she would whimper. After sucking in a breath, she managed to say, "He does. Even with a partial scholarship, the price is going to kill me." She braced herself for the ugly reality. "Out-of-state costs, including room and board, are about sixty-four thousand dollars." Ellen felt her heart skip a beat and not out of excitement. "A year. A year! I don't even bring home that much after taxes. Who has that kind of money? It might as well be a million dollars."
Unity nodded. "Okay, now marrying money makes sense."
"I don't have a lot of options." Ellen pressed her hand to her chest and told herself she wasn't having a heart attack. "You know I'd do anything for Coop and I'll figure this out, but those numbers are terrifying. I have to start buying lottery scratchers and get a second job." She looked at Unity. "How much do you think they make at Starbucks? I could work nights."
Unity, five inches taller, with long straight blond hair, grabbed her hands. "Last month it was University of Oklahoma and the month before that, he wanted to go to Notre Dame. Cooper has changed his mind a dozen times. Wait until you go look at colleges this summer and he figures out what he really wants, then see who offers the best financial aid before you panic." Her mouth curved up in a smile. "No offense, Ellen, but I've tasted your coffee. You shouldn't be working anywhere near a Starbucks."
"Very funny." Ellen squeezed her hands. "You're right. He's barely seventeen. He won't be a senior until September. I have time. And I'm saving money every month."
It was how she'd been raised, she thought. To be practical, to take responsibility. If only her parents had thought to mention marrying for money.
"After our road trip, he may decide he wants to go to the University of Washington after all, and that would solve all my problems."
Not just the money ones, but the loneliness ones, she thought wistfully. Because after eighteen years of them being a team, her nearly grown-up baby boy was going to leave her.
"Stop," Unity said. "You're getting sad. I can see it."
"I hate that you know me so well."
"No, you don't."
Ellen sighed. "No, I don't, but you're annoying."
"You're more annoying."
They smiled at each other.
Unity stood, all five feet ten of her, and stretched. "I have to get going. You have young minds to mold and I have a backed-up kitchen sink to deal with, followed by a gate repair and something with a vacuum. The message wasn't clear." She looked at Ellen. "You going to be okay?"
Ellen nodded. "I'm fine. You're right. Coop will change his mind fifteen more times. I'll wait until it's a sure thing, then have my breakdown."
"See. You always have a plan."
They walked to the front door. Ellen's mind slid back to the ridiculous cost of college.
"Any of those old people you help have money?" she asked. "For the right price, I could be a trophy wife."
Unity shook her head. "You're thirty-four. The average resident of Silver Pines is in his seventies."
"Marrying money would still solve all my problems."
Unity hugged her, hanging on tight for an extra second. "You're a freak."
"I'm a momma bear with a cub."
"Your cub is six foot three. It's time to stop worrying."
"That will never happen."
"Which is why I love you. Talk later."
Ellen smiled. "Have a good one. Avoid spiders."
"Always."
When Unity had driven away, Ellen returned to the kitchen where she quickly loaded the dishwasher, then packed her lunch. Cooper had left before six. He was doing some end-of-school-year fitness challenge. Something about running and Ellen wasn't sure what. To be honest, when he went on about his workouts, it was really hard not to tune him out. Especially when she had things like tuition to worry about.
"Not anymore today," she said out loud. She would worry again in the morning. Unity was right—Cooper was going to keep changing his mind. Their road trip to look at colleges was only a few weeks away. After that they would narrow the list and he would start to apply. Only then would she know the final number and have to figure out how to pay for it.
Until then she had plenty to keep her busy. She was giving pop quizzes in both fourth and sixth periods and she wanted to update her year-end tests for her two algebra classes. She needed to buy groceries and put gas in the car and go by the library to get all her summer reading on the reserve list.
As she finished her morning routine and drove to the high school where she taught, Ellen thought about Cooper and the college issue. While she was afraid she couldn't afford the tuition, she had to admit it was a great problem to have. Seventeen years ago, she'd been a terrified teenager, about to be a single mom, with nothing between her and living on the streets except incredibly disappointed and angry parents who had been determined to make her see the error of her ways.
Through hard work and determination, she'd managed to pull herself together—raise Cooper, go to college, get a good job, buy a duplex and save money for her kid's education. Yay her.
But it sure would have been a lot easier if she'd simply married someone with money.
*
"How is it possible to get a C- in Spanish?" Coach Keith Kinne asked, not bothering to keep his voice down. "Half the population in town speaks Spanish. Hell, your sister's husband is Hispanic." He glared at the strapping football player standing in front of him. "Luka, you're an idiot."
Luka hung his head. "Yes, Coach."
"Don't 'yes, Coach' me. You knew this was happening—you've known for weeks. And did you ask for help? Did you tell me?"
"No, Coach."
Keith thought about strangling the kid but he wasn't sure he could physically wrap his hands around the teen's thick neck. He swore silently, knowing they were where they were and now he had to fix things—like he always did with his students.
"You know the rules," he pointed out. "To play on any varsity team you have to get a C+ or better in every class. Did you think the rules didn't apply to you?"
Luka, nearly six-five and two hundred and fifty pounds, slumped even more. "I thought I was doing okay."
"Really? So you'd been getting better grades on your tests?"
"Not exactly." He raised his head, his expression miserable. "I thought I could pull up my grade at the last minute."
"How did that plan work out?"
"No bueno."
Keith glared at him. "You think this is funny?"
"No, Coach."
Keith shook his head. "You know there's not a Spanish summer school class. That means we're going to have to find an alternative."
Despite his dark skin, Luka went pale. "Coach, don't send me away."
"No one gets sent away." Sometimes athletes went to other districts that had a different summer curriculum. They stayed with families and focused on their studies.
"I need to stay with my family. My mom understands me."
"It would be better for all of us if she understood Spanish." Keith glared at the kid. "I'll arrange for an online class. You'll get a tutor. You will report to me twice a week, bringing me updates until you pass the class." He sharpened his gaze. "With an A."
Luka took a step back. "Coach, no! An A? I can't."
"Not with that attitude."
"But, Coach."
"You knew the rules and you broke them. You could have come to me for help early on. You know I'm always here for any of my students, but did you think about that or did you decide you were fine on your own?"
"I decided I was fine on my own," Luka mumbled.
"Exactly. And deciding on your own is not how teams work. You go it alone and you fail."
Tears filled Luka's eyes. "Yes, Coach."
Keith pointed to the door. Luka shuffled out. Keith sank into his chair. He'd been hard on the kid, but he needed to get the message across. Grades mattered. He was willing to help whenever he could, but he had to be told what was going on. He had a feeling Luka thought because he was a star athlete he was going to get special treatment. Maybe somewhere else, but not here. Forcing Luka to get an A sent a message to everyone who wanted to play varsity sports.
He'd barely turned to his computer when one of the freshman boys stuck his head in the office. "Coach Kinne! Coach Kinne! There's a girl crying in the weight room."
Keith silently groaned as he got up and jogged to the weight room, hoping he was about to deal with something simple like a broken arm or a concussion. He knew what to do for those kinds of things. Anything that was more emotional, honest to God, terrified him.
He walked into the weight room and found a group of guys huddled together. A petite, dark-haired girl he didn't know sat on a bench at the far end, her hands covering her face, her sobs audible in the uneasy silence.
He looked at the guys. "She hurt?"
They shifted their weight and shook their heads. Damn. So it wasn't physical. Why didn't things ever go his way?
"Any of you responsible for whatever it is?" he asked.
More shaken heads with a couple of guys ducking out.
Keith pointed to the door so the rest of them left, then returned his attention to the crying girl. She was small and looked young. Maybe fifteen. Not one of his daughter's friends or a school athlete—he knew all of them.
He approached the teen, trying to look friendly rather than menacing, then sat on a nearby bench.
"Hey," he said softly. "I'm Coach Kinne."
She sniffed. Her eyes were red, her skin pale. "I know who you are."
"What's going on?" Don't be pregnant, don't be pregnant, he chanted silently.
More tears spilled over. "I'm pregnant. The father is Dylan, only he says he's not, and I can't tell my m-mom because she'll be so mad and he said he l-loved me."
And just like that Keith watched his Monday fall directly into the crapper.
*
Keith left work exactly at three fifteen. He would be returning to his office to finish up paperwork, supervise a couple of workouts and review final grades for athletes hovering on the edge of academic problems. But first, he had pressing personal business.
He drove the two short miles to his house, walked inside and headed directly for his seventeen-year-old daughter's room.
Lissa looked up from her laptop when he entered, her smile fading as she figured out he was in a mood. Despite the attitude, she was a beauty. Long dark hair, big brown eyes. Dammit all to hell—why couldn't he have an ugly daughter who no guy would look at twice?
"Hi, Dad," she said, sounding wary. "What's up?"
"Spot check."
She rolled her eyes. "Seriously? There is something wrong with you. I heard what happened at school today. I'm not dumb enough to date a guy like Dylan who would tell a tree stump he loved it if it would have sex with him. I'm not sleeping with anyone and I'm not pregnant. I told you—I'm not ready to have sex, as in I'm still a virgin. You're obsessed. Would you feel better if I wore a chastity belt?"
"Yes, but you won't. I've asked."
"Da-ad. Why are you like this? Pregnancy isn't the worst thing that could happen. I could be sick and dying. Wouldn't that be terrible?"
"You can't win this argument with logic. I'm irrational. I accept that. But I'm also the parent, so you have to deal with me being irrational."
He pointed to her bathroom. She sighed the long-suffering sigh of those cursed with impossible fathers and got up. He followed her to the doorway and watched as she pulled the small plastic container out of the bathroom drawer and opened it.
Relief eased the tension in his body. Pills were missing. The right number of pills.
"You are a nightmare father," his daughter said, shoving the pills back in the drawer. "I can't wait until I'm eighteen and I can get the shot instead of having to take birth control pills. Then you'll only bug me every few months."
"I can't wait, either."
"It's not like I even have a boyfriend."
"You could be talking to someone online."
Her annoyance faded as she smiled at him. "Dad, only one of us in this house does the online dating thing and it's not me."
"I don't online date."
"Fine. You pick up women online, then go off and have sex with them for the weekend. It's gross. You should fall in love with someone you're not embarrassed to bring home to meet me."
"I'm not embarrassed. I just don't want complications."
"But you do want to have sex. It's yucky."
"Then why are we talking about it?" He pulled her close and hugged her, then kissed the top of her head. "Sorry, Lissa. I can't help worrying about you."
She looked up at him. "Dad, I'm taking my pills every day, not that it matters because I'm not having sex. I'm not. I've barely kissed a guy. Having you as my father makes it really difficult to date. Guys don't want to mess with you and risk being beat up."
"Good."
She smiled even as she hit him in the arm. "You're repressing my emotional growth."
"Just don't get pregnant."
"You need to find a more positive message. How about 'be your best self?'"
"That, too. Gotta go."
"I'm having dinner with Jessie tonight. Remember?"
"No problem. Be home by ten."
He got back in his truck but before starting the engine, he quickly texted Ellen. I need a couple of beers and a friendly ear. You around tonight?
The response came quickly. Only if you bring fried chicken. I have beer and ice cream.
You're on. See you at six.