Posted April 1, 2020
Dear Reader,
I'm holding my readers close as I write. You're in my heart, every day. I know this is one of the most challenging times the world has gone through, and we're living through it. I hope you'll keep reminding yourself that there are better days ahead. Nurture yourself, and stay connected with the people you love, even if you're not able to see them face-to-face right now. Find reasons to smile, and to laugh. This would be an excellent time to keep a gratitude journal, to help focus your thoughts on the blessings in your life.
The book I'm working on right now will be out in the summer of 2021. It's about two women who used to be stepsisters. Their parents married when they were in elementary school, and then divorced when they were in high school. They never got along as kids and now, twenty years later, they're brought together when the little sister they have in common needs them both. The story is filled with lots of very intricate emotional relationships, the kind I love to write. When I get into the flow of a book, I'm immersed in the characters and their emotions, and it takes me away from all of my stress and worries. I hope that my books provide the same escape for you.
Because we're living in unprecedented times, I'm holding an unprecedented giveaway. Every day, I'm giving away six books until all of my extra books are in readers' hands. Now, more than ever, you need uplifting books, and this is my small way of bringing light into your lives. The giveaway is taking place daily in the Susan Mallery All Access group on Facebook.
SISTERS BY CHOICE QUILT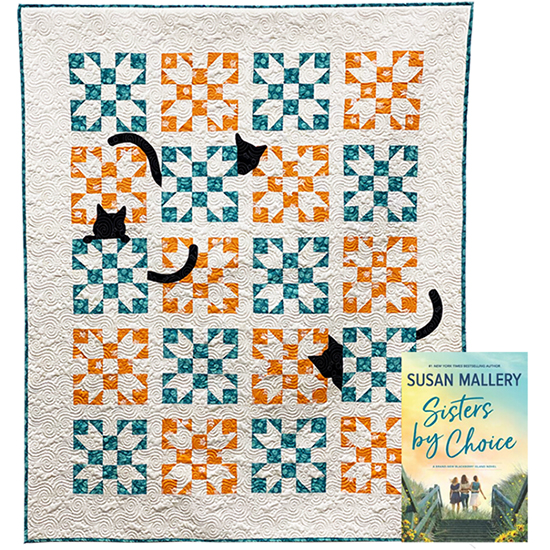 I'm completely honored to share with you that Debby Luttrell of Stitchin' Heaven quilt shop was inspired by my book, Sisters by Choice, to design a gorgeous quilt. Isn't it beautiful??? A quilt is the perfect pairing for this book because Heather, one of the main characters, is a quilter whose personal and professional growth is directly linked to a quilt she designs in the book. It's her first step toward freedom and creating the life of her dreams. And Sophie's business, Clandestine Kitty, is represented by the adorable cats peeking out from behind the quilt blocks. I love this so much! The finished project measures 58" x 70", the perfect size for snuggling in with a good book.
The Sisters by Choice quilt kit comes with everything you need to make this beautiful quilt—all the fabrics (quilt-shop quality), including the laser-cut cat shapes that you can simply iron on and sew, borders, backing, and binding. And it also includes a copy of the book! What a wonderful way to entertain yourself while staying home, or an amazing gift for someone you love.
THE FRIENDSHIP LIST, COMING SOON. . .
Two best friends jumpstart their lives in a summer that will change them forever. . .
Single mom Ellen Fox couldn't be more content—until she overhears her son saying he can't go to his dream college because she needs him too much. If she wants him to live his best life, she has to convince him she's living hers.
So Unity Leandre, her best friend since forever, creates a list of challenges to push Ellen out of her comfort zone. Unity will complete the list, too, but not because she needs to change. What's wrong with a thirtysomething widow still sleeping in her late husband's childhood bed?
The Friendship List begins as a way to make others believe they're just fine. But somewhere between "wear three inch heels" to "have sex with a gorgeous guy," Ellen and Unity discover that life is meant to be lived with joy and abandon, in a story filled with humor, heartache and regrettable tattoos.
CLICK HERE TO READ AN EXCERPT!
HAPPY APRIL FOOL'S GOLD DAY
This month marks the tenth anniversary of Fool's Gold—Chasing Perfect was first released in April of 2010! Ever since then, I've thought of April 1 as April Fool's Gold Day. Harlequin is celebrating this milestone by reissuing Chasing Perfect in July with a brand-new bonus story, A Fool's Gold Wedding. Check out these gorgeous covers! You can preorder Chasing Perfect in print or you can get A Fool's Gold Wedding on its own in ebook format. Remember Liz's nieces from Almost Perfect? Well, they're all grown up now. Melissa is getting married, and little Abby is about to meet the One.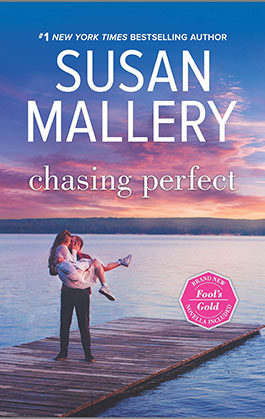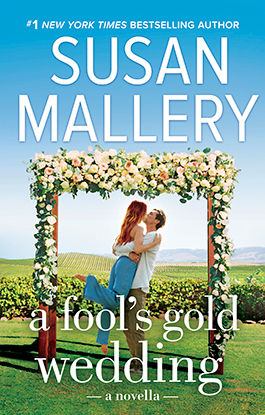 Please take care of yourself and the people you love, and know that even though we're far apart, we're in this together.
---