Posted April 15, 2019
Dear Reader,
The countdown has begun! In less than 60 days, The Summer of Sunshine and Margot will be out in hardcover, ebook, and audiobook. My webmaster has put a fun countdown clock on the home page at SusanMallery.com, so check in anytime you're wondering, "How long now? How long now?"
Give a gift to future-you by preordering today. The book comes out on June 11, just in time for summer vacations!
---
The Baxter Sisters have only ever had one another—until one fateful summer when Sunshine and Margot turn disastrous luck into destiny…
Etiquette coach Margot Baxter knows precisely how to manage wayward clients…until she comes face-to-exquisite-face with Bianca, an aging movie star notorious for her shock-and-awe tactics. Schooling Bianca on the fine art of behaving like a diplomat's wife is the greatest challenge of Margot's career. Soon, secrets unravel that bring them closer together and force Margot to confront the truth: Change doesn't just happen. She has to be brave enough to demand the life—and love—she's always wanted.
For years, Sunshine has been the good-time sister, abandoning jobs to chase after dreams that will never come true. No more. She refuses to be "that girl" again. This time, she'll finish college and dedicate herself to her future. And she 100 percent will not let her life get derailed by a man again…no matter how tempting that man may be.
Master storyteller Susan Mallery weaves threads of family drama, wit, heart, and a wish-you-were-there setting into one of the most satisfying books of the year!
---
WIN AN ORIGINAL PIECE OF ART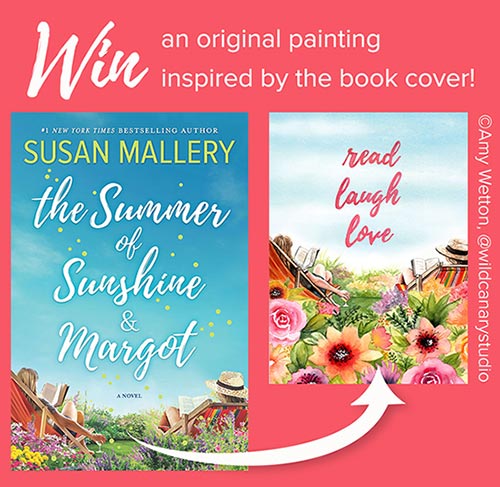 To help get you revved up for the new book, Harlequin commissioned an original watercolor painting by artist Amy Wetton of Wild Canary Studio, inspired by the gorgeous cover of The Summer of Sunshine and Margot! A lucky reader will win this one-of-a-kind piece of art, signed by me. I'll confess, I'm going to be a little jealous of the winner.
---