September 26, 2017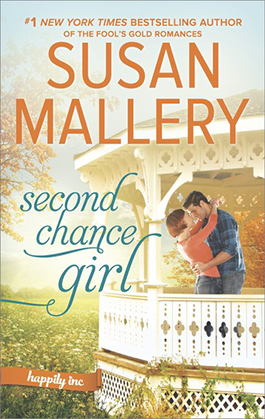 Happily Inc, Book No. 2
A touching modern fairy tale that won't let go of your heart, from the #1 New York Times bestselling author of the Fool's Gold romances!
Mathias Mitchell's easy smile hides a world of hurt. After the worst kind of family betrayal, he moved to Happily Inc, California. The wedding destination town supplies a steady stream of bridesmaids, perfect for his "no promises, no pain" lifestyle, yet he can't stop watching for his beautiful, elusive neighbor on the animal preserve behind their homes.
Gamekeeper Carol Lund knows she's not special enough to attract an alpha male like Mathias, so his offer to help her adopt a herd for her lonely giraffe is surprising—and his determined seduction, even more so. Although she'll welcome him into her bed, he'll have to work harder to win her trust. Will she give him a second chance to prove she'll always come first in his heart?
"[D]elightful...a heartfelt and genuine friends-to-lovers story fraught with emotional trauma that makes the happily-ever-after satisfyingly sweet...sharp, well-drawn characters, a lonely giraffe, and a naughty beagle add depth to the story."
Publishers Weekly
"Mallery's second title in the new Happily Inc series (You Say It First, 2017, etc.) features her typical mastery of the romance format, with another quirky small town and a set of characters for her fans to love, complete with a mascot animal. The potent and prolific Mallery delivers again."
Kirkus Reviews
4.5 Stars! TOP PICK! "You can always count on Mallery to deliver warm-hearted and quirky stories featuring emotionally dented individuals doing their best to survive and hopefully thrive. . . a truly unforgettable read! Mallery is one of a kind!"
RT Book Reviews
4.5 Stars! "[Mathias's] charm and looks and talent may seduce readers as quickly as these features seduce Carol, but it is his vulnerability along with his generous heart that makes him a memorable hero. As individuals and as a couple, these characters are likable, believable, and sympathetic. . . I highly recommend Second Chance Girl for Mallery fans, for readers who love a good friends-to-lovers story, or for any contemporary romance reader looking for a read that is sweet and sexy with a touch of humor and some heart-twanging touches."
The Romance Dish
"Susan Mallery definitely turned on the charm for this latest installment [of Happily Inc]...Emotions ran high and there was a fair amount of soul-searching in Second Chance Girl, but as you would expect of a Susan Mallery novel, it was all done with heart, a touch of humor, and with a focus on friendship and family."
Harlequin Junkie
"Sweet! I love this story!...another great book from Susan Mallery!"
Rachel Loren's Love of Reading
"It's romance at its best and Susan Mallery knows just how to bring out the best and worst in each of her characters...She's not afraid to write men who are susceptible to hurt and show it."
Guilty Pleasures Book Reviews
"The chemistry between them is very strong, but each of them needs to overcome their fears - and their dilemmas - if they want to be together...Fun, lots of romance, but also a pinch of subjects to make you think. "
The Butterfly Reads
"[T]he most adorable story ever...The ending of this book was just amazing and I felt so darn happy! Overall this book was amazing."
Little Bookworm Reviews
5 Stars! "...a delightful and entertaining romance...filled with witty dialogue."
Write-Escape
"Their love story will soften even the hardest heart...5 lovely kisses - highly recommended reading!"
Jacquie Biggar
"Susan Mallery has once again created some loveable and delightful characters in a town I wish really did exist. I'd be packing my bags to go there right now! Even the dog, Sophie, was adorable!"
The Novel Lady
"Welcome back to Happily Inc., the adorable little town saved by a massive PR stunt... I do hope there are future books in this series, because Happily Inc is a lovely place and the people we've met (with the exception of the Mitchell parents) are marvelous and great fun. I want to see everyone get their HEA. It looks like Matthias' "twin" brother Ronan might be next. I certainly hope so, because he really needs it."
Author's note: Ronan's story is next, tentatively titled Why Not Tonight, scheduled for release in the fall of 2018.
Reading Reality
4.5 Stars! "Carol and Mathias are an unlikely pair, but somehow their easy friendship and fun banter makes them the perfect match. They have a connection and they want to deny it, but it's stronger than they are...there is something about Carol that calls to his heart and the artist within him."
Two Book Pushers
4.5 Hearts! "...another great trip to Happily Inc...quirky and friendship/family based like Fool's Gold."
Kimberly, Books n' Kisses
5 Stars! "What an amazing second book in this new series by Susan Mallery...there is something about a slow burn romance that I just love. Susan Mallery did a really great job grabbing the emotions of these two characters and putting them into words. I loved this book and I cannot wait for the next one!"
Crazii Bitches Book Blog
5 Stars! "Another amazing read by Susan Mallery. I can never get enough of her sweet romance that always makes me laugh, swoon and smile."
Fire and Ice Book Reviews
5 Stars! "Carol and Mathias start out as friends even though they are both attracted to each other. He is not interested in a relationship so he resists her, while she doesn't think he could ever be interested in someone like her. I loved their journey to happily ever after."
Jen's Reading Obsession
5 Stars! "The second book in the Happily Inc. series...was just as good as the first book in there series."
Penni's Perceptions
Grade: A "Like a true fairy tale, we get to meet the wolf and see the darker underbelly under all the sparkle and light... Sophie the beagle and Millie the giraffe bring in a nice touch of laughter and charm... Ms. Mallery gives full rein to her artistic talent with the emotional intensity of the Mitchell family relationships and the toll that it's taken on each one of the members."
Veena, The Good, the Bad and the Unread
5 Butterflies "[A] heartwarming story from start to finish...Once again, Ms. Mallery weaves the main characters, previous characters, the town and lots of unique little details into a very satisfying read."
Buried under Romance
"I have found a new favorite town in Happily, Inc and I never want to leave!...I loved every page of this book. I laughed out loud so many times, and I got choked up. Susan Mallery never fails to send me on the wild ride of emotion."
Miss Riki's Reviews
"In their own, special ways these characters find their second chance at love, which will just melt your heart. Add in the adorable beagle Sophie and Millie the giraffe, and you'll be reading this book with a smile."
My Nook Books and More
"[W]hat I love about Mallery is that her characters are real people and they respond to their situations like real people... Matthias ends up taking care of his mom's beagle, Sophie, for most of the book. She gets into trouble and generally ends up leaving a trail of mayhem behind... charming and fun."
Live Vi-Carrie-ous
5 Cupcakes! "This story hits you right in the feels... If you enjoy a romance that will leave you with a happy heart I highly recommend giving Second Chance Girl a chance and one clicking this wonderful story."
Forget the Housework, I'm Reading
"...behind the careless playboy exterior is a lonely, wounded, but fundamentally good man...A lovable but accident-prone beagle, a campaign to buy companions for Millie [the giraffe], and a family wedding — Mathias's brother Del and his fiance Maya (Thrill Me) add both complications and fun, and a just-barely-secondary romance featuring Carol's sister and a duke rounds out this pleasing, warmhearted romance. There's humor and real emotion and that touch of whimsy that characterizes some of Mallery's romances."
The Bookwyrm's Hoard
"A quirky town keeps bringing happily ever afters when people least expect it! With the second book in her Happily Inc series, Susan Mallery brings us another Mitchell brother romance along with lots of fun and laughs as wedding fever continues to reign! The main characters were a joy to watch get together."
Thoughts of a Blonde
"Mallery creates a somehow believable fairy tale world in her books, and that speaks to her writing. Her characters are flawed and real and her plotlines always interesting. And occasionally steamy! This is another terrific read in what is becoming one of my favorite series."
Stacy Alesi
"I loved this book. Mathias and Carol were fantastic characters. They really drew you in and wouldn't let go. Not to mention the animal sidekicks in Sophie and Millie."
The Book Maven
SECOND CHANCE GIRL is nominated for a 2017 RT Book Reviews Reviewers' Choice award in the Contemporary Romance Love & Laughter category!
RT Book Reviews
Chapter One
GETTING KICKED IN the stomach by a gazelle was never pleasant, but at one-thirty in the morning, it was especially hard to take. Carol Lund glared at Bronwen and the gazelle glared right back.
"You don't get to have attitude, young lady," Carol told her. "I'm not the one who insisted on going out by the rocks. I'm not the one who got scraped up, yet here I am, in the middle of the night, checking on your leg to make sure you don't have an infection."
Bronwen was notably unimpressed by Carol's presence and dedication. She stomped her front hooves and turned away.
"You say that now," Carol grumbled. "But just wait until feeding time. Suddenly I'm your best friend. You're incredibly fickle."
Carol packed up her supplies. Bronwen's leg seemed to be healing nicely. With luck she wouldn't require a second night's visit tomorrow and Carol could catch up on the sleep she was missing.
She left the gazelle barn and started for her Jeep. The night was clear and cool and there were a million stars in the sky. While Carol would have preferred that Bronwen hadn't been injured and that they'd both been able to sleep through the night, she had to admit that staring at the perfect sky was a very cool compensation. If she didn't look at the horizon, or try to pick out individual constellations, she could be anywhere in the world—literally. Because the night sky was a constant.
Oh, sure, there were differences between the hemispheres and at certain times of the year, but still…stars!
She climbed in her Jeep and drove toward her small bungalow, then pulled onto the shoulder before she got there and cut the engine and lights. She got out of the Jeep, sank down onto the ground and gave herself over to the nighttime view.
It was October in the desert which meant warm days and pleasant nights. Rain was an unlikely possibility—that was more a spring-summer thing. The closest town was Happily Inc and it wasn't all that huge, so it wasn't hard to get away from the streetlights and into true darkness. Here, on the road, she was flanked by the mountains and the golf course, with the rolling hills of the Happily Inc Animal Preserve just behind her. And the stars.
She draped her jacket on the ground so she could lie down and get the best view of the wonder overhead. She had no idea how long she'd been lying there when a pair of headlights cut through the darkness and briefly illuminated her.
Carol sat up as a swoopy midnight-blue Mercedes sedan pulled in behind her Jeep.
Of all the gin joints in all the world, she thought. She watched a tall, dark-haired man step out of his car and walk toward her. It had to be after two in the morning, yet Mathias Mitchell looked more alert than sleepy. No doubt the lingering effects of the hunt, takedown and getting laid.
He stopped a few feet from her. It was too dark for her to read his expression, but if she had to guess, she would say he was amused. Mathias seemed to find the world a delightful place. She supposed given who he was, with his combination of good looks, easy charm and career success, there was no reason he should think otherwise. To mix metaphors and clichés, the world was his oyster and Mathias dined well.
She, on the other hand, was simply a woman with looks and a personality as ordinary as her name.
"Lose a contact lens?" he asked drily.
"Bronwen hurt herself, so I had to go check on her. On my way back, I stopped to look at the stars."
He sank down next to her and raised his gaze to the sky. "Why not wait until you got home?"
"This is the best view in the area."
"Because you've tried them all?" He sighed. "You're an odd woman, Carol Lund. Who's Bronwen? One of the zebras?"
"Gazelle."
"Fancy name for a cow."
Carol felt her lips twitch and was grateful he couldn't see her trying not to smile. The conversation was familiar. Unlike most of the citizens of Happily Inc, Mathias had no romantic notions about the animals grazing just outside of town. "Gazelles aren't cows."
"They're close. Oh, I'll give you that they're more elegant, probably faster, too, but still, under their pretty outsides, they're cows. Just like your precious Millie."
Carol glared at him. "Don't you say that. Millie's wonderful."
"I'm not saying anything about her character, just pointing out that despite her being adorable and very tall, she is, in fact, a ruminant." He leaned close enough for her to smell the perfume clinging to his body. "Which makes her just like a cow," he added in a stage whisper.
She waved her hand in front of her face. "There's a smell."
Mathias nodded. "Yeah, she did get a little heavy with the scent."
"Did the big boobs compensate?"
"I'm not actually a breast man. My requirements are more about general appeal."
"If she's slutty, you're in?" She cleared her throat. "So to speak?"
"You wound me. There's a process."
"Not a very good one. You really need to shower before you go to bed tonight or your sheets are going to reek."
"Excellent advice. Thank you."
"My neighbor, the man whore."
She made the statement without a whole lot of energy—mostly because there was no point. Almost nothing ruffled him. Despite what he did for a living, he was the opposite of a brooding artist. Except for his questionable taste in sexual partners, there was little not to like about Mathias and she had to admit that in her heart of hearts, she was a fan.
"Have you considered that nearly all the derogatory terms about a person being promiscuous are directed at women?" He glanced at her. "Slut, whore. We have to modify them to make them apply to a man."
"What about a player or a sugar daddy?"
"No guy minds being called a player and I'm not sure any human has used the term 'sugar daddy' since 1979."
She chuckled. "That's not true. People say it all the time."
He looked at her, but didn't speak.
"Okay, maybe not all the time, but lots."
"Carol, Carol, Carol, you are such an innocent."
"That must be refreshing after a night with one of your women."
"It is, although I have to say, I don't understand your dislike of bridesmaids."
"I don't dislike them. I simply don't understand what you see in them. Or what they see in you."
The last was a lie. Mathias was funny enough to be charming and sexy enough to be irresistible. She would admit that even she had had the odd fantasy or two about him. Not that she would ever bother to act—she knew her place in the world. She was the plain peahen, while Mathias was the classic peacock. There was no reason for him to notice her and even if he somehow did, he only did one-night stands and that had never been her thing. She was much more a fall in love first kind of girl.
"What I see in them is that they'll be gone in the morning," he said as he stood. "As for what they see in me, isn't that obvious?"
He held out his hand. She reached for it and he pulled her to her feet. As soon as she found her balance, he released her, then reached down and grabbed her jacket. He put it around her shoulders.
"Come on, my little animal warden friend. We need to get you into bed. Morning comes early and cows expect to be fed."
"I should slug you really hard in the stomach," she grumbled as they walked to her Jeep.
"Such violence. You're not embracing the cow mantra of being one with nature."
"If you say cow one more time, I swear I'm going to—"
He held open the driver's door and she slid onto the seat. They were nearly at eye level.
"You're going to what?" he asked.
The dome light illuminated his features. His eyes were dark and his smile nearly blinded her with its brightness. He had broad shoulders and the honed body of a man who used muscles every day in his work.
As happened every now and then around him, she remembered that she was a healthy woman in her twenties who hadn't been with someone in way too long. Mathias had to know what he was doing—he certainly had enough practice.
Not that he would be interested in her. Not only didn't she fit his "You must be leaving town" criteria, she wasn't, you know, special. Or at least not special enough to tempt the likes of him.
"I'm going to start training the zebras to poop in your yard. Have you smelled zebra poo? It's going to make that perfume seem like nothing."
He flashed her a smile. "Time to say good-night, Carol."
"Good night, Carol."
He closed the door and walked to his sedan. She started down the road, the Mercedes following closely. A couple of miles later, she pulled into her driveway. Mathias flashed his lights, then kept going. For a second, his car disappeared as he rounded a small hill, then she saw him as he came out the other side. The lights turned as he drove onto his property, flashed twice again before disappearing into his garage.
She continued to stand in the darkness until more lights appeared, this time in his massive house on the edge of the animal preserve. There was humor in the fact that her twelve-hundred-square-foot bungalow could fit comfortably in his five-car garage with room to spare, yet he was her closest neighbor. There she was—living on the edge of the world of the "haves" and more than happy to stay on her side.
Carol unlocked her front door and went inside. She toed off her boots, then went directly to her bedroom and barely pulled off her jeans before sinking onto the mattress and sighing.
Morning would come way too early, thanks to Bronwen. Unlike some people who lived in big mansions with views, she had to get up with the sun. Her herd didn't like to wait for breakfast.
Carol quickly fell asleep only to find herself tangled in a strange dream of flying cows and Mathias begging her to kiss him. She woke to the insistent sound of her alarm and the knowledge that of the two scenarios, flying cows were by far the more likely to happen.