February 24, 2015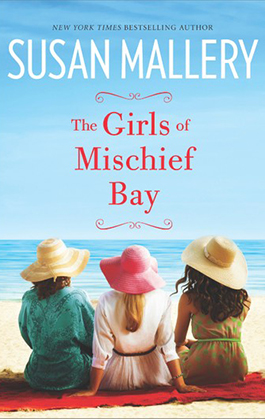 Mischief Bay, Book No. 1
Reissued: November 29, 2016
Through laughter and tears, the girls of Mischief Bay discover that life is richer with friends.
New York Times bestselling author Susan Mallery is world renowned for her "insightful, funny, and poignant" stories (Booklist). With her brand-new Mischief Bay series, she brings vivid color to the story of three friends on the brink of a new life.
Nicole Lord wants to be a good wife, but there's a difference between being supportive and supporting her husband. He quit his job to write a screenplay she's never seen, leaving Nicole to run the house, work full-time, and care for their young son. Can she say enough is enough without losing the man she loves?
Sacrificing a personal life for her career is how Shannon Rigg became V.P. at her firm, but she wonders whether she made the right choice. An exciting new love convinces her it's not too late—until he drops a bombshell that has her questioning whether she can have it all.
Although Pam Eiland adores her husband, she feels restless now that the kids are grown. Finding sexy new ways to surprise her man brings the heat and humor back to their marriage, but when unexpected change turns her life upside down, she'll have to redefine herself. Again.
Through romance and heartbreak, laughter and tears, the girls of Mischief Bay will discover that life is richer with friends at your side.
"Once again, Susan Mallery has created an inviting world that envelops her readers' senses and sensibilities. It's not just a tale of how true friendship can lift you up, but also how change is an integral part of life...Fans of Jodi Picoult, Debbie Macomber, and Elin Hilderbrand will assuredly fall for THE GIRLS OF MISCHIEF BAY."
Bronwyn Miller, BookReporter
"Mallery skillfully depicts three very different women in different stages of their romantic relationships who enter into unbreakable friendships... will appeal to fans of women's fiction, especially such friendship books as Karen Joy Fowler's The Jane Austen Book Club."
Shelly Mosely, Booklist
"Romance superstar Mallery begins a new women's fiction series with a novel that is both heart-wrenching and warmhearted... A discerning, affecting look at three women facing surprising change and the powerful and uplifting impact of friends."
Kirkus Reviews
"Fresh and engaging… There's a generational subtext that mirrors reality and the complexities of adult relationships…filled with promise of a new serial that's worth following."
Jean Marie Brown, Fort Worth Star-Telegram
THE GIRLS OF MISCHIEF BAY is a Best Book of the Month in Romance!
Amazon Editors
4.5 stars! "Mallery's series debut is an emotional lesson in triumphs and tragedies told in her iconic eloquent style...Her exceptional handling of the climactic hard knocks and joyful events, and her tiny canine co-star, rocked."
Debbie Haupt, RT Book Reviews
"You will become totally invested in each of these characters and their struggles and root for a happy ending. Can't wait for the next installment from Ms. Mallery and THE GIRLS OF MISCHIEF BAY!"
Viki Ferrell, Fresh Fiction
"...readers will experience a number of 'I totally get that' moments as the story unfolds...Each woman learns, in her own way, that change brings with it growth and resilience."
Julia Tagan, Romance at Random
4.5 Stars! "If you are a fan of women's fiction novels that feature characters who evoke affection and sympathy, you should definitely add this one to your list... Susan Mallery is one of my auto-buy authors; The Girls of Mischief Bay joins my extensive collection of Mallery keepers."
Janga, the Romance Dish
Grade: A "...a beautiful story about life and love and choices set in a beautiful part of Southern California... I find myself transported into the different stages of my own life as I rejoiced with them, cried with them, and laughed with them."
Veena, The Good, the Bad, and the Unread
"Heartwarming and poignant, this first installment in Susan Mallery's Mischief Bay series is a very emotional story that is sure to appeal to readers of all ages... a very endearing and heartfelt novel that will leave readers impatiently the next book in this delightful new series."
Book Reviews and More by Kathy
"The Girls of Mischief Bay was a poignant and realistic view of life. It involves three good friends, Nicole, Shannon, and Pam, who are all dealing with different trials and challenges in their lives. Yet, through all of their ups and downs, they know that they can always lean on each other. This story made me think of my own close friends, and how important it is to not take them for granted.'
A Bookish Escape
"A wonderful journey of life's trials and tribulations, and the friendships that will hold the pieces together. The Girls of Mischief Bay is a wonderful start to a new series by Susan Mallery.'
The Reading Cafe
"I loved this book – every page. I was so drawn into the lives of these women that I literally felt the joy and pain that each of them felt. The Girls of Mischief Bay will take you on an emotional journey with three women who you won't soon forget. Highly recommended!"
Peeking between the Pages
5 Flowers! "I love Susan Mallery. She creates characters that you really want to know. The friends in this book are the kind we all wish we had. They are lovable and flawed. Sometimes you love them and sometimes you want to shake them... if you don't get a few chuckles out of the weekend getaway [Pam] has with her hubby, well, you have no sense of humor!"
A Chick who Reads
4.5 stars! "At times I wanted to shake one or two of them, but like in real life it all takes time and things begin to change as time goes by. For each of these women it was a facing of the end of one way of life and the beginning of something new. Another stage in life - and with that comes loss and grief, insecurity and being totally thrown. It also makes way for something new."
Book Date
"If you have not read any of Susan Mallery's books you really need to... Things don't end up like any of them think they will and they become better friends and stick together through all of the changes. When this comes out in February make sure you pick up a copy of it."
Kaisy Daisy's Corner
"Great first book in a new series!"
Mysteries Etc
"This is the first book in Susan Mallery's newest series, Mischief Bay and I loved it!!!...It's more of an emotional read than just that happily-ever-after read that I find with the Fool's Gold series. That's not to say that there aren't some humorous scenes in the book, because of course there are - quite a few, in fact. But the balance it just perfect."
Always with a Book
Kat's pick of the week! "terrific...a three-fold story braided into something strong."
ARe Cafe
"The Girls of Mischief Bay was my first experience with Susan Mallery's writing and boy am I hooked...[Mallery] is in a league of her own—her writing flows effortlessly and her characters are smart, relatable and easy to root for. Female readers are likely to find many parallels between their own friendships and the bonds that unite Nicole, Pam and Shannon."
Vera Pereskokova, Luxury Reading
4.5/5 stars! "This book was such an emotional, realistic roller coaster ride, and I certainly had to wipe my tears away throughout a good portion of the book. The characters are wonderfully written and well-fleshed out, and the situations they go through are heart-wrenchingly real. I'd definitely recommend this book to anyone who loves contemporary women's fiction that is well written and deftly plotted."
Bewitched Bookworms
Rating: absolutely loved it and want a sequel "Overall, this book made me appreciate the female friendships in my life and how often the women that I surround myself with help me get through some of life's speedbumps; sometimes they have the best solutions!"
Kritters Ramblings
4.5/5 stars! "Real, emotional, and engaging...equally heartwarming and heartbreaking. Great for readers who love an emotional journey and characters who stick with you."
Mom in Love with Fiction
Grade: A+ "With the wit and compassion always displayed in a Susan Mallery experience, The Girls of Mischief Bay will have you laughing and crying throughout."
Hott Books
"It was at times a sad tale but in the end managed to become a truly inspiring story of perseverance and the true power of friendship."
Bonnie, For the Love of Words
"...a wonderful and touching story that I enjoyed from beginning to end."
Read-Love-Blog
"Full of laughter, tears and love, The Girls of Mischief Bay is a memorable, must read."
Andrea Kennedy, Buzz Feed
5 Ravens! "LOVED IT! Susan Mallery is a mastermind at penning compelling, heart-wrenching stories with complex, engaging characters who draw you into their world so completely that by the time you reach the end of the book, you feel like old friends... The Girls of Mischief Bay by Susan Mallery is an amazing story and definitely one of the best I've read so far in 2015."
AJ, Blackraven's Reviews
"This book. Oh I loved it...I was able to identify with each woman and to really feel her pain...Definitely an A in my book!"
Why Girls Are Weird
4.5 stars! "Loved it! I've been craving another heartfelt series...Susan Mallery has a knack for writing women's friendships, real women with heartaches, insecurities, strengths and flaws."
The Eclectic Reader
5 out of 5 apples! "Mallery did a great job of portraying the friendship that can exist between women, while also showing readers that you can redefine your life at any age...A great start to a new series!"
Debbie's Book Bag
"Did I need tissues--you bet I did but there were fun times portrayed as well. This book is definitely well worth the read."
Miki's Hope
"With a great cast of characters, a story that will have you laughing one minute and crying another, Susan Mallery shows you that no matter what life throws at you, it's always easier to tackle when you have good friends by your side. An absolute must read! I can't think of a better book to start off 2015 than The Girls of Mischief Bay."
Marlene Engel, Book Mama Blog
"The biggest impression that The Girls of Mischief Bay left on me is that we don't have to do it all, alone. Our girlfriends are there for us, and will be there for us if (or when) we need to admit that everything isn't all hunky-dory, which somehow makes it a little bit easier to bear the load... Drey's rating: Excellent!"
Drey's Library
"[A] story centered on three unlikely friends as they journey through some of life's toughest trials together against the backdrop of a California coastal town...A 2015 Must Read Book for Spring!"
Girl Talk TV
"This book will grab hold and make you think deep thoughts like; I have been there before or I can see something like that happening to me. I have no doubt that women everywhere will relate to at least one of these ladies and maybe even all of them in some way or another."
A Few of My Favorite Reads
The Girls of Mischief Bay was named by the editors at Amazon.com as one of the Best Books of the Year So far: Romance!
Amazon Editors
"Susan Mallery masterfully has created a realistic noel that brings out life's tragedies and how real women deal with such situations... a must-read for all."
Danielle Urban, Tulsa Book Review
"[An] emotional, gut-wrenching story that tore me apart but ultimately left me satisfied. It ended on a hopeful note."
Bea's Book Nook
Chapter One
"Did Tyler make that for you?"
Nicole Lord turned to look at the picture she'd posted on the wall of Mischief in Motion, her Pilates studio. Three large red hearts covered a piece of pink construction paper. A handprint had been outlined over the hearts. The hearts were wobbly and highly stylized, but still recognizable. Not bad, considering the artist in question was not yet five. The handprint had been traced by one of his teachers.
"He did," Nicole said with a smile. "I promised him I would bring it to work and show everyone."
Her client, a thirtysomething fighting her way back from a forty-five-pound pregnancy weight gain, wiped sweat from her face and smiled. "He sounds adorable. I look forward to when my daughter can do more than eat, poop and keep me up all night."
"It gets better," Nicole promised.
"I hope so. I'd always assumed once I started having kids, I'd want six." The woman grimaced. "Now one is looking like more than enough." She waved and walked toward the exit. "See you next week."
"Have a good weekend."
Nicole spoke without looking, her attention already back on her computer. She had her noon class, then a three-hour break before her late afternoon classes. Which sounded nice until she thought about all she had to get done. Grocery shopping for sure—they were out of everything. Her car needed gas, there was dry cleaning to pick up and somewhere in the middle of all that, she should eat lunch.
She glanced at the clock, wondering if she should text Eric to remind him to pick up Tyler from day care at four. She reached for her phone, then shook her head and sagged back in her chair. No, she shouldn't, she told herself. He'd only forgotten once and he'd felt awful about it. She had to trust him not to forget again.
Which she would, she told herself. Only these days he was forgetting a lot of things. And helping less around the house.
Marriage, she thought ruefully. It all sounded so romantic until you realized that hey, you not only had to live with someone else, but there would also be days when they actually thought you were wrong about things.
She was still trying to figure out in which order she was going to run her errands when the door to her studio opened and Pam Eiland strolled in.
"Hey, you," Pam called cheerfully, an oversized tote hanging off one shoulder.
Anyone who didn't know Pam would assume she had a clutter problem if she needed to haul around that much stuff in her bag. Those who did know Pam were privy to the fact that her actual handbag was fairly small and that most of the space in the tote was taken up by a soft blanket and a very weird-looking dog.
Right on cue, Lulu poked her head out of the tote and whined softly.
Nicole stood and approached them both. After giving Pam a hug, she reached for Lulu. The dog leaped into her arms and snuggled close.
"I see you're in pink today," she said, stroking Lulu's cheek, then rubbing the top of her head.
"We both felt it was a pink kind of day," Pam told her.
Lulu, a purebred Chinese crested, had white hair on the top of her head, by her ears and on her tail and lower legs. The rest of her spotted body was pretty much naked and an unexpected shade of grayish pink with brown spots. Her health issues were legendary and what with having no fur, she was chronically cold. Which meant Lulu had a collection of sweaters, jackets and T-shirts. Today's selection was a lightweight, sleeveless pink sweater trimmed with shiny gray ribbon. With money tight and her own clothes threadbare, Nicole found herself in the embarrassing situation of envying a dog's wardrobe.
Lulu gave her a quick puppy-kiss on the chin. Nicole held onto the warm dog for a few seconds more. Her relationship with Lulu was the least emotionally charged moment in her day thus far, and she was determined to enjoy it.
Pam, a pretty brunette with an easy smile, wore a loose short-sleeved dress over her leggings and workout tank. Unlike the other clients who came in for the noon class, Pam didn't walk over from an office. Nicole knew the other woman had held a job at her husband's company years ago. She understood how a small business worked and often gave Nicole sound advice. Aside from that, Pam seemed to have her days to herself. Right now that sounded like a dream come true.
"Who's coming today?" Pam asked as she pulled the blanket out of the tote and folded it before setting it in a corner of the room. Lulu obligingly curled up, with her long legs tucked gracefully under her body. Nicole knew the dog wouldn't budge until class was over. She supposed the sweet temperament and excellent manners made up for Lulu's odd and faintly sci-fi appearance.
"Just you and Shannon," Nicole said, clicking on her computer's scheduling program to confirm. She was actually relieved to have a smaller class. Lately she was so damned tired all the time. Pam and Shannon could have run the workout themselves, so there wouldn't be pressure to stay on top of every move.
Even better, all three dropouts had come in early that morning. The studio had a strict twenty-four-hour cancellation policy, which meant she was going to be paid for five students regardless. She accepted her momentary pleasure even though the thought made her a bad person, and vowed she would work on her character just as soon as she figured out how to fix what was going on with her marriage and got more than four hours of sleep on any given night.
Pam had slipped off her sandals in preparation for class. But instead of putting on her Pilates socks, she turned to Nicole and grinned.
"Want to go to lunch?"
Pam's smile was infectious. Her hazel-green eyes crinkled at the corners and her mouth curved up.
"Come on," Pam teased. "You know you want to."
"Want to what?" Shannon Rigg asked as she walked into the studio. "I've had a horrible morning dealing with a misogynistic idiot from the bank who insisted on continually asking to speak to my supervisor. When I explained I was the CFO of the company, I think he had a seizure." She paused, her blue eyes dancing with amusement. "I offered to send him a scanned copy of my business card, but he declined. Then I told him that if he didn't get his act together, I would be moving the company's four-hundred-million-dollar account to another bank." She paused for dramatic effect. "I think I made him cry."
Pam held out her arm, hand raised, for a high five. "You both constantly impress me. Nicole juggles her husband, her five-year-old son and her growing business. You're busy frightening men who really should know better. I, on the other hand, will pick out my dog's wardrobe for tomorrow and make biscuits from scratch. It's sad."
"I don't even know what you put in the bowl to make a biscuit," Shannon admitted as she gave her friend a high five, then turned to Nicole. "Do you?"
"Flour, water, something else."
Shannon laughed. "Yeah, that's where I would get lost, too. It's the something else that always gets you."
Nicole thought about how Pam had described her. Juggling sounded so perky and positive. Unfortunately most days she found herself cleaning up what had fallen and shattered rather than keeping her plates spinning in the air.
Okay, that was a confused and slightly depressing analogy. She really needed to think more positively. And maybe learn how to make biscuits.
Shannon had on a tailored sleeveless dress and three-inch pumps. Her legs were bare and tanned, her hair a glorious tumbling mass of auburn waves that fell past her shoulders. She wore expensive watches and elegant jewelry. She drove a BMW convertible. If Nicole could pick, she would want Pam for her mother and to be Shannon when she grew up. Only at thirty, Nicole had a feeling she was about as grown-up as she was going to get.
"Wait," Pam said as Shannon headed for the small dressing room next to the restroom. "I thought we'd go to lunch instead of working out."
Shannon already had her exercise clothes out of her gym bag. She turned back to Pam. "Not exercise?"
"Sure. We're the only two today. It's Friday, my friend. Live a little. Have a glass of wine, mock your uninformed banking friend and unwind."
Shannon looked at Nicole and raised her eyebrows. "I'm in," she said. "What about you?"
Nicole thought about her to-do list and the fact that she was behind on the laundry and had a stack of bills to pay and a husband who had walked away from a successful career in computer software to write a screenplay. She thought of the spinning and falling plates and how she spent her life exhausted.
She pulled the tie from her blond ponytail, shook her hair loose, grabbed her keys and her handbag and stood. "Let's go."