July 12, 2016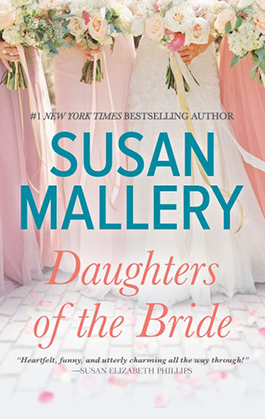 Los Lobos, Book No. 3
The daughters of the bride invite you to the most emotional wedding of the year…their mother's!
With Joy, Love and a Little Trepidation, Courtney, Sienna and Rachel, Invite You to the Most Emotional Wedding of the Year…Their Mother's!
COURTNEY, The Misfit ~ As the awkward one, Courtney Watson may not be as together as her sisters, but she excels at one thing—keeping secrets, including her white-hot affair with a sexy music producer. Planning Mom's wedding exposes her startling hidden life, changing her family's view of her—and how she views herself—forever.
SIENNA, The Free Spirit ~ When Sienna's boyfriend proposes—in front of her mom and sisters, for crying out loud—he takes her by surprise. She already has two broken engagements under her belt. Should she say "I do" even if she's not sure she does?
RACHEL, The Cynic ~ Rachel thought love would last forever…right up until her divorce. As Mom's wedding day draws near and her ex begs for a second chance, she's forced to acknowledge some uncomfortable truths about why her marriage failed, and decide if she'll let pride stand in the way of her own happily-ever-after.
Starred review! "The multilevel plot is rich with assumptions, expectations, and classic family dynamics, plus exceptionally well-developed and appealing characters. VERDICT: Funny, tender, moving, and shot through with enough emotional drama to resonate with anyone who's survived a family wedding, Mallery's hardcover debut is pure delight and a rewarding read for romance and women's fiction fans alike."
UPDATE DECEMBER 2016: DAUGHTERS OF THE BRIDE is one of the Best Romances of 2016, according to Library Journal! Congratulations to the other four romance authors on the list: Mary Balogh, Loretta Chase, Christine Feehan, and Sabrina Jeffries! I'm honored to be in your company. And special thanks to all the librarians who nominated me!
Library Journal
"Mallery (the Fool's Gold series) enthralls readers with this introduction to the small seaside community of Los Lobos, Calif., as she follows the lives of a bride's three daughters...[She] thoroughly involves readers in the lives of her characters as they face realistic, believable problems and search for their own happy endings."
Publishers Weekly
"Susan Mallery never disappoints and with Daughters of the Bride she is at her storytelling best."
Debbie Macomber, #1 New York Times bestselling author
"Heartfelt, funny, and utterly charming all the way through!"
Susan Elizabeth Phillips, USA Today and New York Times bestselling author
"Four women find true love in best-selling and prolific Mallery's heartwarming sisters' tale. Mallery's strong talent for revealing the dynamics of the different relationships in a woman's life makes for a resonant story."
Shelly Mosley, Booklist
4.5 Stars TOP PICK! "If you love your romance with plenty of family dynamics and drama, you're going to adore this book!"
RT Book Reviews
"[Daughters of the Bride] is at its best when focusing on their family bond. Readers looking for sister relationships, wedding details, and steamy scenes will enjoy Mallery's latest."
Kirkus Reviews
Daughters of the Bride is a Best Book of the Month in romance!
Amazon.com
"Daughters of the Bride is a delightful book that contains four separate, yet interconnected love stories, all of which have a satisfying happy ending... recommended for anyone who likes mother-daughter books and enjoys complicated heroines learning themselves as they learn love."
All About Romance
5 of 5 stars! "With a little bit of romance and a great deal of heart Susan Mallery has created an emotional masterpiece."
Isha Coleman, I Love Romance
"I really enjoyed this book...Each relationship was fascinating to read as it came together...with several HEA's at the end."
Kitty's Book Spot
4.5 Stars! "I don't know how she does it, but Susan Mallery always amazes me with her ability to write fresh and addictive novels that I absolutely devour...What a great read!"
Steph and Chris's Book Review
5 Stars! "Susan Mallery has delighted me once again with her magical words woven into an engrossing story! I did not want to put it down once I started reading, and I thoroughly enjoyed it! Great characters, great family drama, and nice plot development that has us rooting for good things to happen to each of them, even though we might not have liked one or two in the beginning!"
Thoughts of a Blonde
5 Stars! "I really loved this story and how each chapter told the point of view from each of the sisters without it being too weird or too complicated to follow. It was the perfect story that you could easily get lost in for a couple of hours...I didn't have much respect for Sienna in the beginning but by the end, she was one of my favorite characters."
Country Girl Bookaholic
"A wonderful tale... an intriguing look into love and family dynamics, and how each can change in the blink of an eye."
To Be Read Stack
"[Mallery] is a master at creating honest family dynamics, complicated relationships, empowering female friendships and infusing it all with lighthearted humor...a thoroughly enjoyable experience."
Harlequin Junkie
5 Stars! "This was such a good book. I liked that the characters were so realistic especially Courtney who reminded me of myself because I grew up feeling awkward in my own skin. So it was refreshing to read about a character that I could actually relate to…and one that a handsome music producer found hot."
Penni's Perceptions
"It simply isn't summer without a Susan Mallery book in your beach bag, so don't miss out on this heartwarming novel about family bonds and the power of love."
Bookish
"4 marvelous stories within one book... Each character has the same history of a mother left by the death of their father to raise the sisters on her own. There is no money and very little time for extra attention. Yet, each sister reacts in their own way. Their reactions vary from fear of commitment, to the need of control, or to the need to keep everything a secret to prove to everyone they are worthy."
A Soccer Mom's Book Blog
Grade: A+ "Every time I think Susan Mallery has reached the epitome of excellence she rewards me with yet another, even better, novel. I absolutely loved Daughters of the Bride... plenty that is heart-wrenching and even more that is heart-mending."
Hott Books
5 Stars! "Daughters of the Bride was a delightful surprise and a treat – from start to finish. I did not expect to find such a beautifully packaged, well crafted, multi-layered, clever, and keenly insightful study of family dynamics. The characters were well drawn, endearing, and while deeply flawed and at times disappointingly so, they remained likable – for the most part. The writing was smart, amusing, endlessly entertaining, and totally engaging."
Books and Bindings
"There is just something about the way that Mallery writes that draws you in from the very first sentence and you find yourself not wanting to stop reading... meeting these great sisters was wonderful!"
Kimberly, Books-n-Kisses
5 Stars! "Susan Mallery has done it once again[The characters] feel so real and they appear more three-dimensional, rather than just words on a page...I highly recommend Daughters of the Bride to all readers."
Danielle Urban, Manhattan Book Review
"Daughters of the Bride is a delightful tale about love, courage, forgiveness, and redemption."
Peg Glover, Write-Escape
"It is an engrossing story that delves into the family's dynamics as each of the women examines how issues from their childhood still continue to define them... Susan Mallery once again delivers a family-oriented story that is quite heartwarming, emotionally gratifying and incredibly uplifting."
Book Reviews and More by Kathy
5+ Stars "I cannot explain how well written Daughters of the Bride is. Susan Mallery has really outdone herself in this newest novel of family, love, and new adventures. I loved how she tied all of these elements all together, and created a masterpiece. One that I will go back and reread often."
Cruising Susan Reviews
"I love how Mallery seamlessly melds comedy with emotion, tough decisions with the joys of everyday life. This novel definitely packed an emotional punch... wraps up in an ending that definitely made me smile. This is definitely a tale well worth reading."
Pure Jonel
5 Stars! "A beautiful and touching story about a mother who, after the loss of her husband, is now given the chance to start a new life with someone she loves and her three daughters who learn more about their mother, each other, and themselves and discover that love, when truly given a chance, could change their lives forever...Daughters of the Bride may be my very first Susan Mallery novel but it certainly won't be the last."
Dog-Eared Daydreams
"If you're headed to the beach this summer and need a good book to take along, this one will not disappoint. It's a nice balance of romance, relationships, reflection and (of course) wedding planning."
Colleen Bierne, The Free-Lance Star
"Thanks to Susan Mallery's pure genius the interaction between the three sisters is so real you fully identify with them... Be prepared to take sides, form opinions and alliances and most definitely develop friendships with Sierra, Rachel and Courtney. The three of them manage to shake off the consequences of a less than comfortable childhood and develop the strength to move on. Cheers!!! I absolutely did not want this beautiful story to end. And although the ending was lovely and exquisitely crafted I wanted more. I did not want to leave these wondrous characters. DAUGHTERS OF THE BRIDE is destined to be dog eared."
Sandra Wurman, Fresh Fiction
"DAUGHTERS OF THE BRIDE is a fabulous story about being brave enough to face life, about living with past hurts, yet moving on emotionally. It's a story about forgiveness, strange family dynamics and keeping secrets... filled with sarcastic humor that will have you chuckling as you read... a great summer read; you do not want to miss it."
Viki Ferrell, Fresh Fiction
"What a lovely story...a feel-good family story on the surface, but Mallery brought her signature spice to one of the couples' romance. In the family relationships and in the romantic ones, love abounded."
Calliope, Random Book Muses
"Susan Mallery has done it again. She has made me fall in love with fictional characters that I wish were my sisters. Daughters of the Bride, Susan Mallery's newest, stand-alone novel is a hit....Susan Mallery has a unique way of writing each and every character in her novels, even the non-human characters. She makes you feel a connection with each of them."
Life, Army Wife Style
Escape Rating: A-, 4.5 Stars "Everyone has to re-evaluate who they are, and who they are to each other. And that's a difficult thing to do. As a reader, I felt for each of them, they represent many women at different points in their lives in a way that definitely struck a chord for me. If you like stories of love and sisterhood (whether that is blood-sisterhood or sisterhood of the heart) I bet that Daughters of the Bride will strike a chord with you, too."
Reading Reality
"A great read that will lift your spirits."
Christy, the Book Sirens
"...on my day off today I went out to the deck and read this book in one setting. It was exactly what I needed...a good book with fun characters trying to figure out the same stuff I am. I am a bit envious of the ending, but I kind of needed the HEA (Happily Ever After) today. I would recommend this book for a summer read."
My Novelesque Life
5 Stars! "Daughters of the Bride is a story of love, forgiveness and healing. There are moments that made me laugh, cry and swoon."
My Nook Books and More
5 Stars "It's refreshing to read a novel that is fun and yet so true to life as well, especially when the stories are so well interwoven and told. This was a lovely novel, difficult to put down and one that stands out as truly memorable."
Devastating Reads
"...entertaining as well as inspiring."
Oh My Shelves
"To say I completely love Daughters of the Bride, that might be an understatement! But I give it a very well deserved 5 stars!"
Cara's Book Boudoir
"As the three girls juggle their own lives and help their mother plan her wedding, it brings them closer together as a family. Susan Mallery has written a fun story about a wedding and all of the good things and the bad things that can come with it."
Denise Ladd, Journal-Advocate
"Daughters of the Bride by Susan Mallery is one of those books that makes me glad I cross all genres when reading. I never know where that hidden gem will come from. And this was definitely a gem...great writing is great writing, no matter the subject or the genre."
Fundinmental
Chapter One
ONE OF THE advantages of being freakishly tall was easy access to those upper kitchen cabinets. The disadvantages…well, those were probably summed up by the word freakishly.
Courtney Watson folded her too-long legs under her as she tried to get comfortable in a chair incredibly low to the ground. Adjusting the height wasn't possible. She was only filling in at the concierge desk while Ramona hurried off for yet another bathroom break. Apparently, the baby had shifted and was now reclining right on her bladder. From what Courtney could tell, pregnancy was a whole lot of work with an impressive dash of discomfort. The last thing she was going to do was change anything about the chair where Ramona spent a good part of her day. Courtney could pretend to be a pretzel for five minutes.
Late on a Tuesday evening, the lobby of the Los Lobos Hotel was quiet. Only a few guests milled around. Most were already up in their rooms, which was where Courtney liked the guests to spend their time at night. She wasn't a fan of those who roamed. They got into trouble.
The elevator doors opened and a small, well-dressed man stepped out. He glanced around the lobby before heading directly to her. Well, not to her, she would guess. The concierge desk at which she sat.
Her practiced smile faltered a bit when she recognized Milton Ford, the current president of the California Organization of Organic Soap Manufacturing, aka COOOSM. Mr. Ford had arranged for the annual meeting to be held in town, and everyone was staying at the Los Lobos Hotel. Courtney knew that for sure—she'd taken the reservation herself. But the meetings, the meals and all the income that flowed from them were taking place at the Anderson House.
"Hello." He looked at the name plate on the desk. "Uh, Ramona. I'm Milton Ford."
Courtney thought about correcting him on her name, but figured there wasn't much point. Despite his giving all that pretty catering money to one of their competitors, she would still do her job—or in this case, Ramona's—to the best of her abilities.
"Yes, Mr. Ford. How may I help you this evening?" She smiled as she spoke, determined to be pleasant.
Even if Mr. Ford had decided to hold his stupid awards luncheon at the Anderson House instead of in the hotel's very beautiful and spacious ballroom, Courtney would do her best to make sure his stay and the stays of his colleagues were perfect.
Her boss would tell her not to be bitter, so Courtney returned her smile to full wattage and promised herself that when she was done with Mr. Ford, she would head to the kitchen for a late-night snack of ice cream. It would be an excellent reward for good behavior.
"I have a problem," he told her. "Not with the rooms. They're excellent as always. It's the, ah, other facility we've booked."
"The Anderson House." She did her best not to spit the words.
"Yes." He cleared his throat. "I'm afraid there are…bees."
Now the problem wasn't a lack of smiling but the issue of too much of it. Joyce, her boss, would want her to be professional, she reminded herself. Glee, while definitely called for, wasn't polite. At least not to Mr. Ford's face. Bees! How glorious.
"I hadn't heard they were back," she said sympathetically.
"They've had bees before?"
"Every few years. They usually stay outside of town, but when they come into the city limits, they like the Anderson House best."
Mr. Ford dabbed his forehead with a very white handkerchief, then tucked it back into his pocket. "There are hundreds of them. Thousands. Entire hives sprung up, practically overnight. There are bees everywhere."
"They're not particularly dangerous," Courtney offered. "The Drunken Red-nosed Honeybee is known to be calm and industrious. Oh, and they're endangered. As a maker of organic soap, you must be aware of the issues we're having keeping our honeybee numbers where they should be. Having them return to Los Lobos is always good news. It means the population is healthy."
"Yes. Of course. But we can't have our awards luncheon in the same house. With the bees. I was hoping you'd have room for us here."
Here? As in the place I offered and you refused, telling me the Anderson House was so much better suited? But those thoughts were for her, not for a guest.
"Let me check," she told him. "I think I might be able to make room."
She braced herself to stand. Not physically, but mentally. Because the well-dressed Mr. Ford, for all his dapperness, was maybe five foot six. And Courtney wasn't. And when she stood…well, she knew what would happen.
She untangled her long legs and rose. Mr. Ford's gaze followed, then his mouth dropped open a second before he closed it. Courtney towered over Mr. Ford by a good six inches. Possibly more, but who was counting?
"My goodness," he murmured as he followed her. "You're very tall."
There were a thousand responses, none of them polite and all inappropriate for the work setting. So she gritted her teeth, thought briefly of England, then murmured as unironically as she could, "Really? I hadn't noticed."
***
Courtney waited while her boss stirred two sugars into her coffee, then fed half a strip of bacon to each of her dogs. Pearl—a beautiful, blond standard poodle—waited patiently for her treat, while Sarge, aka Sargent Pepper—a Bichon-miniature poodle mix—whined at the back of his throat.
The dining room at the Los Lobos Hotel was mostly empty at ten in the morning. The breakfast crowd was gone and the lunch folks had yet to arrive. Courtney got the paradox of enjoying the hotel best when guests were absent. Without the customers, there would be no hotel, no job and no paycheck. While a crazy wedding on top of every room booked had its own particular charm, she did enjoy the echoing silence of empty spaces.
Joyce Yates looked at Courtney and smiled. "I'm ready."
"The new linen company is working out well. The towels are very clean and the sheets aren't scratchy at all. Ramona thinks she's going to last until right before she gives birth, but honestly, it hurts just to look at her. That could just be me, though. She's so tiny and the baby is so big. What on earth was God thinking? Last night I met with Mr. Ford of the California Organization of Organic Soap Manufacturing. Bees have invaded the Anderson House, and he wants to book everything here. I didn't mock him, although he deserved it. So now we're hosting all their events, along with meals. I talked him into crab salad."
Courtney paused for breath. "I think that's everything."
Joyce sipped her coffee. "A full night."
"Nothing out of the ordinary."
"Did you get any sleep?"
"Sure."
At least six hours, Courtney thought, doing the math in her head. She'd stayed in the lobby area until Ramona's shift had ended at ten, had done a quick circuit of the hotel grounds until ten-thirty, studied until one and then been up at six-thirty to start it all again.
Okay, make that five hours.
"I'll sleep in my forties," she said.
"I doubt that." Joyce's voice was friendly enough, but her gaze was sharp. "You do too much."
Not words most bosses bothered to utter, Courtney thought, but Joyce wasn't like other bosses.
Joyce Yates had started working at the Los Lobos Hotel in 1958. She'd been seventeen and hired as a maid. Within two weeks, the owner of the hotel, a handsome, thirty-something confirmed bachelor, had fallen head over heels for his new employee. They'd married three weeks later and lived blissfully together for five years, until he'd unexpectedly died of a heart attack.
Joyce, then all of twenty-two and with a toddler to raise, had taken over the hotel. Everyone was certain she would fail, but under her management, the business had thrived. Decades later she still saw to every detail and knew the life story of everyone who worked for her. She was both boss and mentor for most of her staff and had always been a second mother to Courtney.
Joyce's kindness was as legendary as her white hair and classic pantsuits. She was fair, determined and just eccentric enough to be interesting.
Courtney had known her all her life. When Courtney had been a baby, her father had also died unexpectedly. Maggie, Courtney's mother, had been left with three daughters and a business. Joyce had morphed from client to friend in a matter of weeks. Probably because she'd once been a young widow with a child, herself.
"How's your marketing project coming along?" Joyce asked.
"Good. I got the notes back from my instructor, so I'm ready to move on to the final presentation." Once she finished her marketing class, she was only two semesters away from graduation with her bachelor's degree. Hallelujah.
Joyce refilled her coffee cup from the carafe left at the table. "Quinn's arriving this week."
Courtney grinned. "Really? Because you've only mentioned it every morning for the past two weeks. I wasn't completely sure when he was getting here. You're sure it's this week? Because I couldn't remember."
"I'm old. I get to be excited about my grandson's arrival if I want to."
"Yes, you do. We're all quivering."
Joyce's mouth twitched. "You have a little attitude this morning, young lady."
"I know. It's the Drunken Red-nosed Honeybees. I always get attitude when they take over the Anderson House. Gratitude attitude."
"Quinn's still single."
Courtney didn't know if she should laugh or snort. "That's subtle. I appreciate the vote of confidence, Joyce, but let's be honest. We both know I'd have a better shot at marrying Prince Harry than getting Quinn Yates to notice me." She held up a hand. "Not that I'm interested in him. Yes, he's gorgeous. But the man is way too sophisticated for the likes of me. I'm a small-town girl. Besides, I'm focused on college and my work. I have no free boy time." She wanted her degree within the next year, then a great job and then men. Or a man. Definitely just one. The one. But that was for later.
"You'll date when you're forty?" Joyce asked humorously.
"I'm hoping it won't take that long, but you get the idea."
"I do. It's too bad. Quinn needs to be married."
"Then you should find him someone who isn't me."
Not that Quinn wasn't impressive, but jeez. Her? Not happening.
She'd met him a handful of times when he'd come to visit his grandmother. The man was wildly successful. He was in the music business—a producer, maybe. She'd never paid attention. On his visits, he hung out with Joyce and her dogs, otherwise kept to himself then left without making a fuss. Of course the fuss happened without his doing a single thing other than show up.
The man was good-looking. No, that wasn't right. Words like good-looking, or handsome, should be used on ordinary people with extraordinary looks. Quinn was on a whole other plane of existence. She'd seen happily married middle-aged women actually simper in his presence. And to her mind, simpering had gone out of style decades ago.
"You really think he's moving to Los Lobos?" she asked, more than a little doubtful.
"That's what he tells me. Until he finds a place of his own, I've reserved the groundskeeper's bungalow for him."
"Nice digs," Courtney murmured. "He'll never want to leave."
Although to be honest, she couldn't imagine the famous, Malibu-living music executive finding happiness in their sleepy little central California town, but stranger things had happened.
"I'll check his arrival date and make sure I'm assigned to clean it," she told her boss.
"Thank you, dear. I appreciate the gesture."
"It's not exactly a gesture. It's kind of my job."
While she was considered a jack-of-all-trades at the hotel, her actual title was maid. The work wasn't glamorous, but it paid the bills, and right now that was what mattered to her.
"It wouldn't be if you'd—"
Courtney held up her hand. "I know. Accept a different job. Tell my family about my big secret. Marry Prince Harry. I'm sorry, Joyce. There are only so many hours in a day. I need to have priorities."