March 27, 2012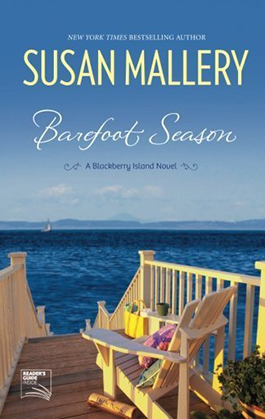 Blackberry Island, Book No. 1
Reissued: December 2014
With a little luck and a beautiful summer on Blackberry Island, Michelle and Carly may rediscover the friendship of a lifetime.
Michelle Sanderson may appear to be a strong, independent woman, but on the inside, she's still the wounded girl who fled home years ago. A young army vet, Michelle returns to the quaint Blackberry Island Inn to claim her inheritance and recover from the perils of war. Instead, she finds the owner's suite occupied by the last person she wants to see.
Carly Williams and Michelle were once inseparable, until a shocking betrayal destroyed their friendship. And now Carly is implicated in the financial disaster lurking behind the inn's cheerful veneer.
Single mother Carly has weathered rumors, lies and secrets for a lifetime, and is finally starting to move forward with love and life. But if the Blackberry Island Inn goes under, Carly and her daughter will go with it.
To save their livelihoods, Carly and Michelle will undertake a turbulent truce. It'll take more than a successful season to move beyond their devastating past, but with a little luck and a beautiful summer, they may just rediscover the friendship of a lifetime.
"Gritty and magical, angst-ridden and sweet, this coming-home story by bestseller Mallery (Only His) pulls no punches... Mallery adds layer upon layer to the women's history, while revealing the raw core of each with expert pacing guaranteed to keep a reader up way past bedtime to see how it all works out."
Publishers Weekly
"With a compelling twist on the wounded war hero story and an intense exploration of what makes up a family, Mallery has set the bar high for the books to follow in her new Blackberry Island series. The characters — both furry and human — come to life in their small-town setting and will touch readers' hearts and funny bones."
RT Book Reviews
"BAREFOOT SEASON will appeal to book clubs (great discussion topics abound!) and fans of Barbara Delinsky and Jodi Picoult. Susan Mallery weaves a tale of broken friendship with enough twists and turns to keep even the most seasoned reader of commercial women's fiction guessing about where the story will lead."
Book Reporter
"With this debut volume in her new series, best-selling author Mallery (Already Home) skillfully reveals insights into each woman's life to create a poignant tale of forgiveness, friendship renewed, and family. For Mallery and Debbie Macomber fans."
Library Journal
"A character-driven tale of complex relationships, the costs of forgiveness, and the abiding security we can find, lose and rediscover within the complexity of feminine friendships... With strong characters, a vivid sense of place and intricate relational dynamics Barefoot Season will hold its own against best-selling women's fiction titles and please fans of mainstream romance as well. The first book in Susan Mallery's new Blackberry Island series, Barefoot Season is a well-written story of healing, letting go, and making room in your heart for hope."
USA Today
"I thought this was a beautiful story about growth between friends."
Single Titles
"Barefoot Season is a story about friendships and hardships, about letting go and moving forward. It's about overcoming obstacles that seem unimaginable. And guess what? It even had some romance in it after all. :) It turned out to be more contemporary romance than I expected, which I was kind of really happy about."
Gone with the Words
"Mallery never disappoints and in this book, she does an excellent job of creating two characters that in childhood have a common path, but have taken separate forks in adulthood... a very emotionally charged story that will stick with you for a long time, and Barefoot Season earns 5 hearts."
The Romance Reader
"Barefoot Season is a complex tale of betrayal and hurt... but love and trust finds its way to the forefront with a heartwarming read."
Reader to Reader
| | |
| --- | --- |
| | "Mallery creates another delightful story with emotion and depth readers are bound to fall in love with... belongs on the keeper shelf, to be read over and over again." |
Long and Short Reviews
A- "A really fantastic read... There are so many poignant, moving scenes in this book as well as minor romance story lines for the both girls. The scene when the dog comes on the scene with Michelle... bawling! Such an amazing scene. This is a book that makes you feel good to read it... It's about real emotions and real feelings and real life situations....set in a fictional book."
Smitten with Reading
"Barefoot Season is the only book I've read that's about a female Army vet. Susan wrote Michelle's part so well that I felt like hugging her at times and comforting her. I also enjoyed Carly's character, she was spunky just like Michelle. When both Carly and Michelle were on the same page together, I knew someone was going to blow up! That's what you get when you put two strong minded women together in one room or should I say one page... A definite Good Choice for reading!"
Good Choice Reading
"Michelle and Carly are both layered characters with complicated histories and imperfections... It's a measure of Mallery's skill that she could peel away the protective guises to reveal the hurting teenager who remained part of the tough, experienced soldier. And in Jared Tenley Mallery gives Michelle a hero perfect for her in every way."
Just Janga
Five Heels! "Susan Mallery ... has NEVER let me down; I have loved every book of hers that I've read, and Barefoot Season is NO exception! It may be, in fact, my favorite book by her to date... great setting, great characters, great story!"
Shoe Girl
5 out of 5 stars! "Barefoot Season is a wonderful book... about finding oneself and freeing yourself from the past and learning to move on and finding love along the way."
Sexy Book Nerds
"A great start for this series... [BAREFOOT SEASON] was a beautifully written story and left me wanting to know what will happen next at Blackberry Island Inn."
Lisa's World of Books
Grade: A "A beautiful novel that explores the complexities of friendship and exposes the unseen toll that war takes on soldiers. Carly and Michelle are engaging and sympathetic characters that are amazingly true to life. Their struggles and emotions are realistic and oftentimes, heartbreaking. Easily Ms. Mallery's best work to date, I highly recommend this heartwarming and moving novel."
Book Reviews and More
5 out of 5! "One of the best books I've read so far this year. It's about two friends finding their way back to each other. It's a love story too. It's about finding your way back from the brink of losing yourself and finding you're OK. It's a must read."
Modokker Book Picks
"I really love the careful way in which Ms. Mallery explains and explores the return of a soldier to civilian life... Yes, it deals with some weighty matters and topics, but the story itself is not heavy or depressing. There is a lightness to the story that shines through and a hopeful tone that resonates throughout the story."
Contemporary Romance Writers
"All in all, Barefoot Season is a wonderful read. Once I started, I could not put it down. While not your typical romance, there's still enough for even the most devout fan. For those of you looking for a good book to use with your book club, Susan has even included questions for discussion at the end. Being that we all have had best friends, this story has a lot to offer to a group discussion setting.
I love an author who is in tune with her readers!"
Romancing the Book
"I've come to expect lots of emotion when reading books from Susan Mallery, and she totally delivers with Barefoot Season... While I think the relationship of Michelle and Carly was the one that grew and was really the most important one to this story, I loved watching each woman find the right man."
Blogging by Liza
"What I Loved: Barefoot Season managed to do so many things to me while reading: I laughed, cried, rooted for reconciliation, and got fighting mad during the middle. I am not usually a fan of women's fiction but if there were more like this I would gobble them up by the handfuls... I read the last 3 chapters 3 times because it was just a moving and fulfilling ending. I highly recommend this story to anyone who has had friendships that have been lost, gone through hard times, or is embarking on reconciliation with a friend. It truly left me thinking about miscommunication and things that happen in friendships to drive them apart!"
Geeky Blogger
"Barefoot Season is a wonderful story of friendship and healing that fans of Susan Mallery will really enjoy! Anyone looking for a good contemporary woman's fiction should be sure to grab this heartfelt story!"
For Love and Books
"Barefoot Season is a moving portrait of a friendship in ruins, and a character study of two women with distinct scars, emotional and physical. It's a reunion story, but of women, friends whose relationship went down in flames. There is plenty of love to go around, so don't worry, romance fans. But in the tradition of the best women's fiction, the central story here is the road these two women must travel to be healed."
Melanie Murray, Barnes and Noble
"Normally Ms Mallery writes romance. I've read many things by her and liked them but was never really blown away by them; at least until today when I finished this novel. While the main characters may end up with their 'happily ever after' like any other romance, the road to the HEA is not what a romance reader is used to. Actually, I think it is selling this book short to classify it as a 'romance'. It is so much more and so much better than a traditional romance and I will be recommending this book to anyone and everyone!"
Books & Chat
"Barefoot Season is a beautifully written story about the power of forgiveness and true friendship. The reader is taken on an emotional journey along with Michelle and Carly as they make their way back into each other's hearts... While the romance element isn't the central focus of the book, the love interests that both women find were sweet and made me sigh. I highly recommend this one. I can't wait to read the next Blackberry Island book!"
From the TBR Pile
5 Stars! "Barefoot Season brings to light the issues of friendship, betrayal, trust, loyalty and forgiveness."
Manic Readers
"A great character driven drama... with two wonderful estranged friends, a strong support cast and plenty of angst while keeping the romance as a secondary subplot, fans will appreciate the first visit to Blackberry Island."
Genre Go Round Reviews
"The characters are so alive, and the situations believable since the fallout of the actions of selfish people affect those around them in a myriad of ways... a top read for the year in contemporary women's novels and recommend it for anyone looking for more depth in a novel without a huge side of depression."
Eclectic Reading
Grade: A "I completely devoured this book- reading it in one afternoon! It was wonderful to watch Michelle and Carly learn that they had to move on together – even though that's the only thing they didn't want."
Hott Books
"There are many layers to these two women which Susan Mallery peels away in a way that only she can. Barefoot Season is a wonderful story of friendship and healing that fans of Susan Mallery will really enjoy! Anyone looking for a good contemporary woman's fiction should be sure to grab this heartfelt story!"
Yvonne the Librarian
"Another great page-turner from Susan Mallery."
Romance Novel News
"BAREFOOT SEASON by Susan Mallery is women's fiction at its best - filled with engrossing characters you'll need to love, love to hate and root for wholeheartedly until the very end."
Romance Junkies
"Overall, this is a piece of chick lit with an intelligent perspective on PTSD in female soldiers and a dash of romance. Recommended to fans of the genre as well as those who enjoy a contemporary tale and want to dip their toe into the chick lit world."
Opinions of a Wolf
"...an emotional, compelling, and entertaining novel about two women who learn to deal with their past... The characters were fabulous!!"
From Me to You Reviews
4.5 out of 5 stars "Michelle made the novel for me. She's complex, stubborn, damaged, and defiant, but she's also strong with a sense of fairness that forces her to face her role in the split with Carly... This novel could have been overwhelmingly depressing and dark, yet there's a sense of lightness and renewal about Michelle's journey... The novel has many poignant moments, but in the end the strength of both women and their friendship makes for a heartwarming story. There are several discussion questions at the back of the book as well, making this an ideal book for book clubs."
Reflections on Reading Romance
"Alternately sad, sweet, funny, and heart-wrenching, BAREFOOT SEASON is a must read for fans of women's fiction."
Maria, Fresh Fiction
"As they learn to work together or sometimes around each other, we the readers get snapshots of the past and learn what has caused all the angst. Slowly we find out what transpired and with each bit revealed, it seems both Michelle and Carly realize and accept responsibility for their actions...This was a touching tale and I am looking forward to seeing where we go from here."
Always with a Book
"Susan Mallery has once again mastered the challenges of difficult relationships... BAREFOOT SEASON is about reconnecting with that inner child who had the innate ability to see beauty in everything and revel in the joy of dancing barefoot in the grass. Maybe we can't fully return to that wonderful season in our life but we can still acknowledge the beauty of our present and look forward to an even better future."
Sandra, Fresh Fiction
"... blows the lid off of women's fiction. It's so well written, it's so beautifully painful and well conceived, it's just so realistic without being overly Chick-y, without being overly female, and it's so complex and detailed, it's wondrous... I loved every second of it."
Romance Books Forum
"Mallery's many fans will relish this poignant tale of shattered friendships, new loves, overcoming the trauma of war and the enduring power of healing and redemption."
Portland Book Review
"Barefoot Season explores the boundaries of friendship and family, and the difficulties our soldiers face when there is no longer a war to fight... will stay with readers long after they turn that last page."
San Francisco Book Review
BAREFOOT SEASON is one of the Top 10 Romances of 2012!
Apple iBookstore
Chapter One
"I'm going off to war tomorrow. I might not make it back."
Michelle Sanderson slowly pulled her attention from the five year old truck she was thinking of buying and focused it on the guy standing next to her.
He was a kid—maybe eighteen or nineteen, with red hair and freckles. Cute enough but way too young. Still stuck with too-long arms and legs and a chest that had yet to fill out. More man than boy, she supposed, but not yet done with the transition.
"I'm sorry," she said, sure she must have misunderstood. "What did you say?"
He gave her a wide grin and a wink. "I may not have long in this life. After you buy the truck, we could go get a drink or something. Celebrate me going into the army."
"It's two in the afternoon."
"Then we could head back to my place."
Michelle didn't know whether she should start laughing or tell him he was an idiot in terms designed to make him cry like a little girl. The latter would be easy enough. She'd served ten years in the army, nearly half of them in either Iraq or Afghanistan. She'd had to deal with more than her share of horny young guys who assumed they were irresistible. She'd gotten really good at showing them they were wrong.
Laughing would be a bit tougher. Mostly because every part of her hurt. Not just her hip, which had the excuse of a recent run-in with a couple of bullets from armed insurgents, followed by a partial joint replacement, but the rest of her. She'd spent more time than she even wanted to think about in the hospital. Healing happened in its own time, her physical therapist had told her. She'd tried to beat the odds, which had netted her nothing more than an extra three nights in the hospital before she'd finally been released.
"Aren't I a little old for you?" she asked.
He gave her a wink. "Experienced."
Despite the pain, she managed a chuckle. "Yeah, right. Looking to have your fantasies fulfilled?"
"You know it."
He was so eager, she thought, feeling more weary by the second. And obviously he hadn't passed the vision test yet. She knew she wasn't at her best. Her pale, too-thin body gave away the length of time she'd been in a hospital bed. Her eyes were hollow, her color too gray to be considered normal. She had a cane to help her walk. Which just went to show how powerful a young man's hormones could be.
Before she could figure out how to pass on his invitation, a yellow lab came bounding around the side of the house. The animal raced up to her and jumped. Michelle took a quick step back to avoid being knocked over. The movement put pressure on her hip and fiery pain shot through her.
For a second, the world spun. She felt herself starting to black out. Nausea threatened. One or the other, she thought desperately, fighting to stay present. Not both. A surprisingly strong arm wrapped around her body, holding her in place.
"Buster, get down."
She blinked and the cool, damp afternoon returned to focus. The fire in her hip banked enough to allow her to breathe. The kid stood so close she could see the freckles across his nose and a small scar on his right cheek.
"You okay?" he asked.
She nodded.
He stepped back and studied her. The dog stayed back, his eyes dark with worry, a low whine indicating his concern.
She held out her hand to the dog. "It's okay, Buster. I'm fine."
The dog stepped forward and sniffed her fingers before giving them a quick lick.
"Hey, I wanted to do that," the kid said, managing a shaky laugh.
Michelle smiled. "Sorry. He's more my type."
"You're hurt."
She raised the cane slightly. "Did you think this was a fashion accessory?"
"I didn't notice it, really."
Which proved her theory about his poor vision. "Just a flesh wound." Actually flesh, bone and a few tendons, but why get into the details?
He looked from her to the army-issue duffels on the sidewalk, to the cane and then back into her eyes. "Were you there?" he asked.
"There" could have been a hundred places, but she knew what he meant. She nodded.
"Sweet. What was it like? Were you scared? Do you think..." He swallowed, then flushed. "Can I make it, you think?"
She wanted to tell him no. That staying home, being with his friends, going to college would be so much easier. Safer. More comfortable. But the easy way often wasn't the best way and for some, being a part of something was worth any price.
Her reasons for joining had been far less altruistic, but over time she'd melded into a soldier. The trick was going to be figuring out how to find her way back.
"You'll be fine," she said, hoping she was telling the truth.
"A hero?" he asked with a grin, then slapped his hand against the truck. "Okay, you've done your best to confuse me by being all sexy and a war vet. But I'm not going to be distracted. I want ten thousand. Not a penny less."
Sexy? That did make her laugh. At this stage in her life she would have trouble qualifying as a trophy girlfriend for a man pushing ninety. But hey, a compliment was always nice to hear.
She turned her attention to the truck. It was in decent shape, with relatively new tires and only a few dents. The mileage was low enough to allow her to get a few years out of the thing before she would have to start replacing parts.
"Ten's crazy high," she said. "I'm paying cash. I'm thinking closer to eight."
"Eight?" He clutched his hands to his chest. "You're killin' me. You really going to do that to a future hero?"
She chuckled. "Come on, kid. We'll take her for a drive and swing by a mechanic friend of mine. If he says the truck is good, I'll give you nine-five and you can call it a win."
"You've got a deal."
#
Two hours later, Michelle let the guy—Brandon—off at his place. A mechanic she knew on the base had given her the thumbs up on the truck and she'd handed over a fistful of cash. In return she'd collected paperwork and keys.
Now, as she pulled away from Brandon's house, she eyed the gray sky. She was back in western Washington state, where rain was so prevalent that a day of sunshine was the lead story on the local news. Leaving luggage in the open was taking a risk and she'd dropped her two duffels in the back. She decided the clouds looked more lazy than ominous. Her duffels should be safe enough on the drive home.
Home. It was a long way from where she'd spent the past ten years. Blackberry Island, an actual island in Puget Sound, connected to the mainland by a long bridge, might technically be within commuting distance of Seattle, but it was a world away. The single town on the island billed itself as the "New England of the West Coast." A selling point she'd never understood.
Quiet, touristy, with quaint stores and a slower pace of life, the island celebrated all things blackberry. There were silly traditions and a rhythm to the seasons that had always seemed annoyingly out of step. At least before. But what she once hadn't appreciated now seemed appealing to her.
She shifted on her seat, the pain in her hip as constant as ever. The physical therapists had sworn it would get better, that she was healing quicker than they'd expected. She was already bored with the recovery process—it took too damn long. But there was no rushing her body along.
She found her way to the main road, then onto the freeway. She headed north, merging with the traffic. The number of cars surprised her. Their orderly progress. She was used to hummers and assault vehicles, not SUVs and sports cars. The damp, cool air was also something she'd forgotten. She switched on the heater and wished she'd thought to pull out a jacket. It didn't matter that it was nearly May. Seasons were for sissies. Summer came late to this part of the country. Fortunately, the tourists came early.
She knew what to expect over the next four months. Starting with Memorial Day and going through Labor Day, the island would be crawling with visitors. They came for the boating, the famous Puget Sound cranes and for the blackberries. Blackberry Island was the you-know-what capital of, well, the west coast. Vacationers would craned the restaurants, buy all sorts of knick-knacks and handmade items. And they would eat blackberries.
They would put fresh blackberries on their pancakes, in salads, on or in nearly every type of food known to man. They would purchase blackberry ice cream from vendors and blackberry cookies from kiosks. They would buy tea towels and mugs with blackberry motifs and taste the dubious results of the annual blackberry chili cook-off. Best of all, they would fill every room in a fifty mile radius. Including the rooms at the Blackberry Island Inn.
Michelle could practically hear the happy hum of the inn's bank balance filling. Like most businesses on the island, the inn made most of its annual income during those precious four months. The days would be long, the hours endless, the work back-breaking, but after being gone for so long, she was eager to dive back in. To be normal again. To return to the one place she could count on to never change.