Posted September 3, 2020
Dear Reader,
Do I have a surprise for you! A brand-new story that I've told no one about until just this moment. Before Summer Ends is a heartwarming traditional romance. Nissa is the kind of plucky heroine I love. She's a teacher who had a summer job all lined up to earn extra money. When that job falls through, she dusts herself off and springs to action, lining up a series of temporary gigs that are sure to make you giggle. No wonder her brother's millionaire best friend can't resist falling in love with her!
Last year, Audible asked me to write an exclusive story for them that would go straight to Audible, to encourage new readers to give them a try. I was honored and thrilled to participate in this special program. What's even more exciting is that Before Summer Ends is debuting as part of Audible's new Audible Plus program, which means that it's FREE for every Audible Premium Plus and Audible Plus member! If you're not a member of Audible yet, you can sign up for a free 30-day trial and listen to the Audible Original for free. I've been a member of Audible for years, and I love it! Highly recommend.
If you're deaf or hard of hearing, you can email my assistant at jenel (at) susanmallery (dot) com for information on how you'll be able to read Before Summer Ends in a few months.

SIGN UP FOR AUDIBLE PLUS: www.audible.com
GET BEFORE SUMMER ENDS (included as part of your Audible Premium Plus or Audible Plus membership): https://www.audible.com/pd/B08H4FPMPS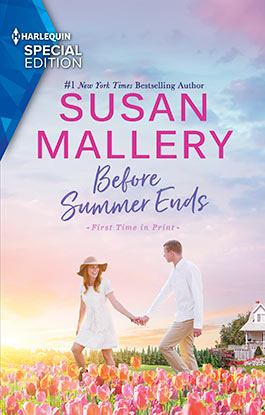 A long, hot summer with her secret crush…
What could possibly go wrong?
Nissa Lang knows Desmond Stilling is out of her league. He's a CEO, she's a teacher. He's gorgeous, she's… not. So when her housesitting gig falls through and Desmond offers her a place to stay for the summer, she vows not to reveal how she's felt about him since their first—and only—kiss.
Desmond should've known better than to bring temptation into his house. He decided long ago that his best friend's sister was too sweet, too good, for him. She deserves a guy who can give his heart. For her sake, he's stayed away. But as her laughter breathes life into his lonely mansion, he's not sure how long he'll be able to resist.
RETURN TO HAPPILY INC
Later this month, we'll return to Happily Inc with Happily This Christmas. Those of you who have been begging me to tell Wynn's story will finally get your wish! I think you're going to be surprised when the mysteries of her past are revealed.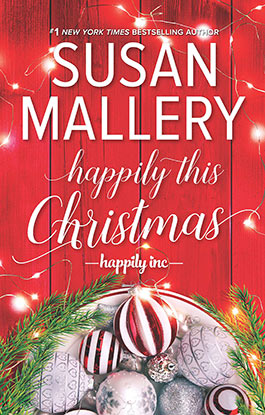 There's no place like Happily Inc for the holidays…
Wynn Beauchene has a thriving business, a great kid, and a mildly embarrassing crush on the guy next door—local cop Garrick McCabe. She's a strong, independent woman who can't help dreaming what-if about a man she barely knows. Until he needs her help…
Garrick's pregnant daughter will be home for Christmas, and his house needs a woman's touch. Garrick and his little girl were tight once and he's hoping a small-town Christmas will bring her back to him. But thawing his daughter's frosty attitude will take more than a few twinkle lights. Maybe sharing the holiday with Wynn and her son will remind her of the joy of family.
As the season works its magic on these wounded souls, Wynn realizes it's time to stop punishing herself for a painful secret, while Garrick remains haunted by the ghosts of past mistakes. Will he allow Wynn to open the only gift she truly wants: his heart?
BUY THE PAPERBACK: Amazon | Barnes & Noble | BAM | Target
BUY THE EBOOK: Kindle | Nook | Google Play | Apple Books | Kobo
BUY THE AUDIOBOOK: Audible
THE FRIENDSHIP LIST ZOOM BOOK CLUB

How many times do you have the chance to discuss a book face-to-face with the person who wrote it? Don't miss out! Sign up now to join one of my remaining Zoom book club discussions for The Friendship List, September 9 or 12. Be sure to finish reading The Friendship List before we meet because the discussion will contain spoilers. I can't wait to hear what you think about Ellen and Unity's story, and to share what I was thinking as I wrote certain scenes. I'll be happy to answer any questions you have!
Sign up now on the Book Clubs page HERE!
Two best friends jumpstart their lives in a summer that will change them forever. . .
Single mom Ellen Fox couldn't be more content—until she overhears her son saying he can't go to his dream college because she needs him too much. If she wants him to live his best life, she has to convince him she's living hers.
So Unity Leandre, her best friend since forever, creates a list of challenges to push Ellen out of her comfort zone. Unity will complete the list, too, but not because she needs to change. What's wrong with a thirtysomething widow still sleeping in her late husband's childhood bed?
The Friendship List begins as a way to make others believe they're just fine. But somewhere between "wear three inch heels" to "have sex with a gorgeous guy," Ellen and Unity discover that life is meant to be lived with joy and abandon, in a story filled with humor, heartache and regrettable tattoos.
---