Posted September 21, 2022
Dear Reader,
Our return to Wishing Tree is right around the corner—Home Sweet Christmas will be out on October 4! This is a brand-new novel, so I can say with certainty that you've never read it—unless, of course, you've got connections in the publishing industry and snagged an early copy, like the reviewers from Booklist and Library Journal.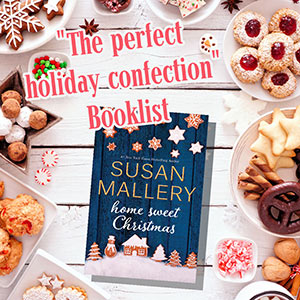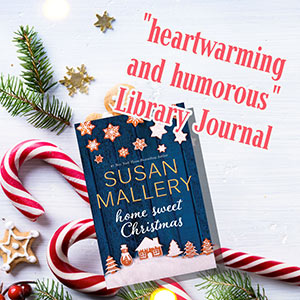 This story filled me with the spirit of Christmas as I wrote. Which is amusing, since I wrote it from about March through June of 2021. A writer's life can have some interesting quirks. There I was, at the grocery story in June, wishing the cashier a Merry Christmas. You should have seen the look she gave me!
If you haven't already preordered Home Sweet Christmas, I hope you'll consider doing so. Think of it as a gift to Future You. You deserve to smile, to laugh, to fall in love!
DEBBIE MACOMBER AND SUSAN MALLERY INVITE YOU. . .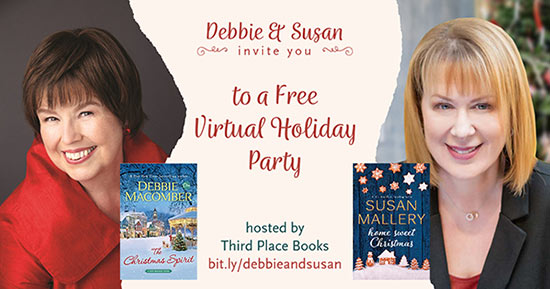 Debbie Macomber and I love Christmas! (As you might have guessed from the many, many Christmas books we have both written over the years.) This year, we both have brand-new Christmas books out. Home Sweet Christmas for me and The Christmas Spirit for Debbie. To celebrate, we're holding a free virtual holiday party on November 9 at 7 pm Eastern/4 pm Pacific, hosted by Third Place Books in Seattle. We'll chat about our books and our own personal Christmas traditions. We'll answer as many reader questions as we can. And we'll give away some fun prizes!
There is no purchase necessary to attend the event, BUT you can purchase a signed copy of Home Sweet Christmas exclusively through Third Place Books. I'll visit the store after the event to sign copies. (When purchasing Home Sweet Christmas through Third Place Books, please request a signed edition in the comments field at checkout.) They also have limited edition bookplates signed by Debbie Macomber available with purchase of The Christmas Spirit.
Registration is requested here.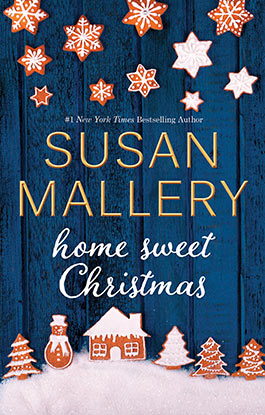 With twinkling humor and heartfelt Christmas spirit, two friends find love in a town called Wishing Tree…
Until Camryn Neff can return to her "real" life in Chicago, she's in Wishing Tree to care for her twin sisters. She's not looking for forever love, not here. But handsome hotelier Jake Crane is a temptation she can't resist, so she suggests they pair up for the season. No golden rings, no broken hearts. At his side, she sees her hometown through Christmas-colored eyes. The cheer is cheerier, the joy more joyful. She thought she had put her future on hold…but maybe her real life was here all along, waiting for her to come home.
New in town, River Best is charmed by Wishing Tree's homespun traditions and warmhearted people. When she's crowned Snow Queen, she's honored but wary. Dylan Tucker, her king, seems like the stuff of sugarplum dreams, but she can't shake the feeling that he's hiding something big. As they perform their "royal" duties—tasting cookies, lighting trees—Dylan's good humor and melty kisses draw her to the brink of love. But she can't let herself fall until she uncovers his secret, even if her lack of faith means losing him forever.
PREORDER IN PRINT: Amazon | B&N | Books a Million | Bookshop.org | Target | Walmart
PREORDER THE EBOOK: Kindle | Apple Books | Nook | Google Play | Kobo
PREORDER THE AUDIOBOOK: Audible | iTunes | Libro
PREORDER A SIGNED COPY: Third Place Books (When purchasing Home Sweet Christmas through Third Place Books, please request a signed edition in the comments field at checkout.)
---