Posted September 13, 2023
Dear Reader,
All my books are special to me, but some books are more special. The Summer Book Club is one of those. It's just everything I love in a book—a feel-good story with an uplifting ending that's going to make your world feel like a happier place. Getting to that happy ending isn't half the fun, it's allll the fun and allll the feels!
The Summer Book Club is three romances rolled into one easy read. I loved every minute of writing it. It's a friendship story, too. Laurel and Paris have been besties since they were little girls growing up in Los Lobos, California. They've had each other's backs through dating, marriage, motherhood, and divorce. When Laurel finds out that one of her daughters is struggling, Paris is the one she turns to, for advice, for support, for the truth as only a best friend can tell it. We should all have a friend like that. We should all be a friend like that.
Preorder The Summer Book Club today—and maybe you want to order a copy for your best friend as a special surprise.
This summer, three friends find the courage to step into the next chapter of their lives...
The rules of summer book club are simple:
No sad books
No pressure
Yessssss, wine!
Besties Laurel and Paris are excited to welcome Cassie to the group. This year, the book club is all about fill-your-heart reads, an escape from the chaos of the everyday—running a business, raising a family, juggling a hundred to-dos. Even the dog is demanding (but the bestest boy).
Since Laurel's divorce, she feels like the Worst Mom Ever. Her skepticism of men may have scarred her vulnerable daughters. Cassie has an unfortunate habit of falling for ridiculous man-boys who dump her once she fixes them. Paris knows good men exist. She's still reeling after chasing off the only one brave enough—and foolish enough—to marry her.
Inspired by the heroines who risk everything for fulfillment, Laurel, Paris and Cassie begin to take chances—big chances—in life, in love. Facing an unwritten chapter can be terrifying. But it can be exhilarating, too, if only they can find the courage to change.
ORDER IN PRINT: Amazon | B&N | Books a Million | Bookshop | Target | Walmart
ORDER THE EBOOK: Kindle | Nook | Apple Books | Google Play | Kobo | Books a Million
ORDER THE AUDIOBOOK: Audible | Apple | Kobo | Libro
ADD TO GOODREADS: https://www.goodreads.com/book/show/147966685-the-summer-book-club
Book Club Survey Results
Thank you to all of the readers who took part in my recent Book Club Survey! And congratulations to Carolyn C, who has won copies of Daughters of the Bride for all ten members of her book club in Lakewood, Colorado!
The survey answers represented thousands of readers from across the US and Canada, and I've really enjoyed digging into the results. I hope you'll find these as interesting as I do.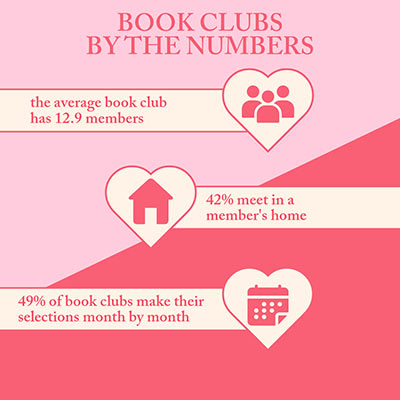 For the purposes of these survey results, we didn't include online book clubs with thousands of members. We were really trying to find out about how in-person book clubs are operating today. The average in-person book club has 12.9 members (should we round up to 13?). 42% meet in a member's home. About 15% meet in a library and 15% in a restaurant. I was surprised that only 3% of respondents said their book club meets in a bookstore.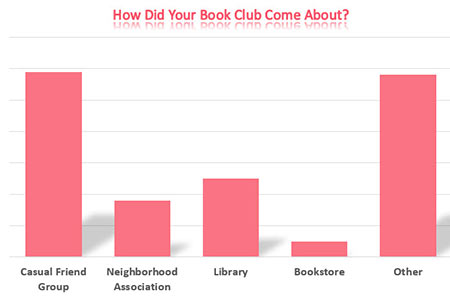 When asked how their book club came about, more readers said through a casual friend group than through a neighborhood association, library or bookstore. However, the "other" category was surprisingly large and included through work, or through a church or a synagogue.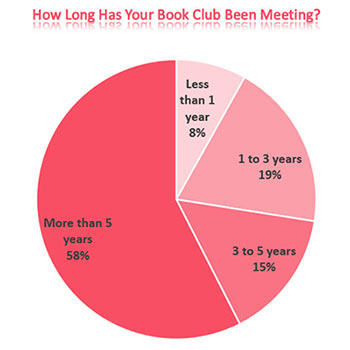 58% of respondents said that their book club had been meeting for more than five years. I thought that was such a happy statistic! I love how books can bring us together.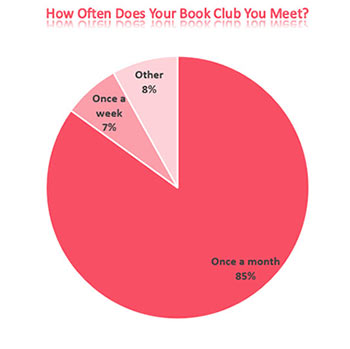 It probably won't surprise anyone that 85% of book clubs meet monthly. Only 7% meet weekly (that would be too much pressure for me!) In the "other" category on this question, every 6-8 weeks seemed to be a common response.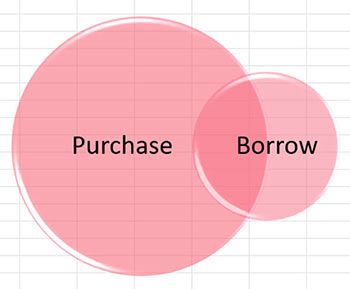 In the Venn diagram of "do you purchase the book or borrow it from the library?," there's pretty significant overlap. Even with that, though, the majority of respondents said that book club members purchase their own copy of the book.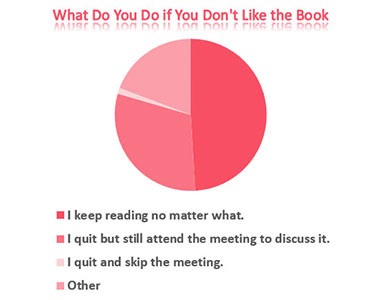 What do you do if you don't like the book? Nearly half of the respondents keep reading no matter what. Almost one-third quit reading it (though only two people said they skip the discussion after they quit reading.) And again, a lot of people responded with "Other." Here are a few people's responses:
"I have stopped a book, listened to what was said and a few I have gone back to finish."
"I try to finish but if it's triggering, I'll stop. I always attend the meeting to discuss though."
"Honestly, we don't hold anyone to anything. If you didn't like the book then tell us why. If you were too busy, no worries, we still want to see your face. Nobody misses a meeting because they didn't like the book or didn't read it."
And this response, from a reader whose book club doesn't all read the same book every month: "This is never a problem because we're all reading our own books! So if you're reading something that you're not enjoying, you can stop & read a different book."
Happy reading—whether you're in a book club or not!
---