Posted September 8, 2021
Dear Reader,
The debut of The Christmas Wedding Guest is right around the corner, on September 28. To celebrate the launch of Wishing Tree, my new series of heartwarming, witty Christmas stories, I'm hosting a massive giveaway—five thousand readers will each win a Wishing Tree ornament made of high-quality stainless steel, something you'll treasure for years to come! Each winner will also receive a keepsake map of downtown Wishing Tree, so you can follow along with the characters while you read The Christmas Wedding Guest. Contest is open internationally.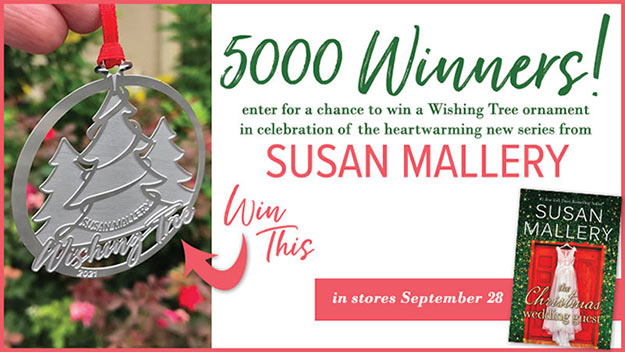 Enter now on the Contest page at SusanMallery.com, under the Members tab. (You'll see the sign-up form for the giveaway after you sign in with your email address.)
The winners will be randomly selected on September 14, and winners' names will be posted on the Contest page on that day.
EXCITED ABOUT WISHING TREE? THEN PREORDER NOW!
If you're excited to get to know Wishing Tree, I hope you'll preorder The Christmas Wedding Guest or ask your library to order it for you. The first full-length Wishing Tree book will be out in less than three weeks, on September 28.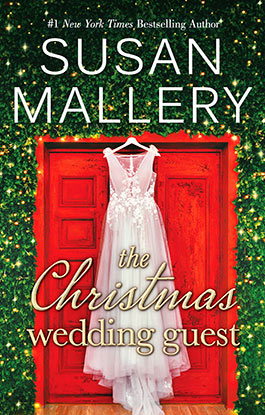 Susan Mallery, author of the Fool's Gold romances, cheerfully invites you to Wishing Tree, where Christmas comes to life…
The Somerville sisters believe in love, but they've lost faith it will happen for them. Reggie hasn't been home since the end of the world's shortest engagement. When her parents decide to renew their vows, she buffs up her twinkle to help with the Christmas wedding. Unexpectedly, Toby, her first love, is back too, and the spark between them shines as brightly as ever. In the spirit of the season, will they let go of past hurts and greet the new year together?
Done waiting for the one, Dena is pregnant and on her own—on purpose. But then a gorgeous, sad-eyed songwriter checks into a room at her inn. Micah, unable to write since he lost his wife, finds inspiration in Dena's determination to be a mom. One snowflake-speckled kiss and he's a goner. But Dena is afraid to believe that a rock star could fall for a cookie-cutter small-town girl like her.
As the Christmas wedding draws closer, these two sisters just might unwrap the most treasured gift of all…love.
PRE-ORDER THE PAPERBACK: Amazon | Barnes & Noble | BAM | Target | Bookshop
PRE-ORDER THE EBOOK: Kindle | Nook | Google Play | Apple Books | Kobo
---