Posted October 31, 2019
Dear Reader,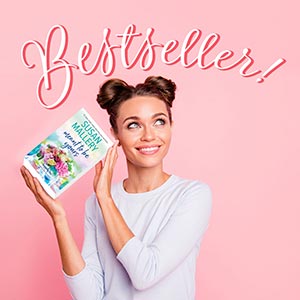 In this newsletter:
• Thank you, readers!
• Special Offer from Walmart
• Sign up to receive a Christmas card from me
• A special treat (no trick) for my Fool's Gold fans
THANK YOU, READERS!
Meant to Be Yours is a hit! Thank you to each and every one of you who have fallen in love with Jasper and Renee's Happily Inc love story. I've been getting the most amazing notes from readers about this book. It means so much to me. Writing is solitary, and when a book is finally released and I start hearing from readers, I'm filled with joy and gratitude. Our hearts have connected through my story.
"WOW. Susan Mallery's writing is flawless as is her storytelling; she never disappoints. No matter how many books she has written, each story manages to be unique and special in its own way. Meant to Be Yours is no different; I am so in love with this book." – A Mind for Romance

"I was immersed in the story from the first page to the last. While I tried to savor each word, the pages kept turning." – JoAnne W.
In Happily Inc, love means never having to say "I do"…
Wedding coordinator Renee Grothen isn't meant for marriage. Those who can, do. Those who can't, plan. But she never could have planned on gorgeous, talented thriller writer Jasper Dembenski proposing—a fling, that is. Fun without a future. And the attraction between them is too strong for Renee to resist. Now she can have her no-wedding cake…and eat it, too.
After years in the military, Jasper is convinced he's too damaged for relationships. So a flirtation—and more—with fiery, determined Renee is way too good to pass up…until his flame becomes his muse.
Renee is an expert at averting every crisis. But is she finally ready to leap into the one thing that can never be controlled: love?
CLICK HERE TO READ AN EXCERPT
SPECIAL OFFER FROM WALMART
Walmart has a special offer with the purchase of Meant to Be Yours, in stores only—a free ebook edition of Barefoot Season. It's a limited time offer, so get your copy at Walmart now. If you bought the book already at Walmart and need instructions for claiming your free ebook, please contact my assistant at jenel@susanmallery.com.

SIGN UP TO RECEIVE A CHRISTMAS CARD FROM ME
My relationship with my readers is one of the most meaningful relationships in my life. I treasure it, and I'm so grateful for your friendship and for your enthusiasm for the stories I tell. I'm always looking for ways to show you how special you are to me. I'd like to include a few hundred readers on my Christmas card list this year. I wish it were feasible for me to send a card to each one of you. If you would like to receive a Christmas card from me, sign up on the Contest page at SusanMallery.com. We'll do a random drawing to select 300 readers to receive a card, and they'll be mailed closer to the holidays. But please know, I hold each of you in my heart as I write.
FOOL'S GOLD 10TH ANNIVERSARY
Believe it or not, 2020 is the tenth anniversary of Fool's Gold—Chasing Perfect came out in April of 2010. Ten years of Mayor Marsha getting into everyone's business. Ten years of Eddie and Gladys's antics. And ten years of the love stories that have captured so many hearts.
To celebrate, I've written a brand new Fool's Gold romance that will be out next year. A Fool's Gold Wedding isn't available for preorder yet, so you'll have to watch my upcoming newsletters to get the scoop. But I wanted to reward you for being a Member of my mailing list by letting you be the first to know. It's tentatively scheduled for a summer release.
A full list of the Fool's Gold books in order is available at https://susanmallery.com/members-only.php. Click that link, then scroll down and click to access the content under "Series List." Or you can see the books in order on the Bookstore page at FoolsGoldCA.com.
Happy reading!
---