Posted October 26, 2021
Dear Reader,
What's better than a Christmas romance? Two Christmas romances! That's right, I have two Christmas romances on the shelves as of today—The Christmas Wedding Guest (a new Wishing Tree book, in paperback, ebook and audiobook), and Happily This Christmas (a Happily Inc book, which came out last year and is now available in mass market paperback).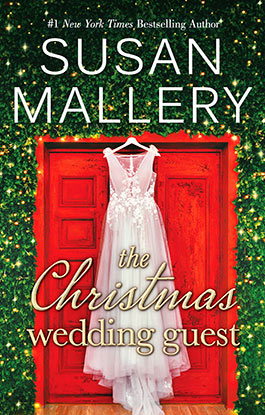 Susan Mallery, author of the Fool's Gold romances, cheerfully invites you to Wishing Tree, where Christmas comes to life…
The Somerville sisters believe in love, but they've lost faith it will happen for them. Reggie hasn't been home since the end of the world's shortest engagement. When her parents decide to renew their vows, she buffs up her twinkle to help with the Christmas wedding. Unexpectedly, Toby, her first love, is back too, and the spark between them shines as brightly as ever. In the spirit of the season, will they let go of past hurts and greet the new year together?
Done waiting for the one, Dena is pregnant and on her own—on purpose. But then a gorgeous, sad-eyed songwriter checks into a room at her inn. Micah, unable to write since he lost his wife, finds inspiration in Dena's determination to be a mom. One snowflake-speckled kiss and he's a goner. But Dena is afraid to believe that a rock star could fall for a cookie-cutter small-town girl like her.
As the Christmas wedding draws closer, these two sisters just might unwrap the most treasured gift of all…love.
ORDER THE PAPERBACK: Amazon | Barnes & Noble | BAM | Target | Bookshop | Walmart
ORDER THE EBOOK: Kindle | Nook | Google Play | Apple Books | Kobo
ORDER THE AUDIOBOOK: Audible | Libro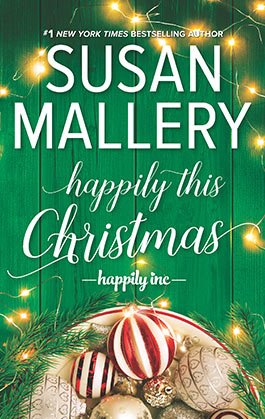 There's no place like Happily Inc for the holidays…
Wynn Beauchene has a thriving business, a great kid, and a mildly embarrassing crush on the guy next door—local cop Garrick McCabe. She's a strong, independent woman who can't help dreaming what-if about a man she barely knows. Until he needs her help…
Garrick's pregnant daughter will be home for Christmas, and his house needs a woman's touch. Garrick and his little girl were tight once and he's hoping a small-town Christmas will bring her back to him. But thawing his daughter's frosty attitude will take more than a few twinkle lights. Maybe sharing the holiday with Wynn and her son will remind her of the joy of family.
As the season works its magic on these wounded souls, Wynn realizes it's time to stop punishing herself for a painful secret, while Garrick remains haunted by the ghosts of past mistakes. Will he allow Wynn to open the only gift she truly wants: his heart?
ORDER THE PAPERBACK: Amazon | Barnes & Noble | BAM | Target | Walmart | Bookshop
ORDER THE EBOOK: Kindle | Nook | Google Play | Apple Books | Kobo
ORDER THE AUDIOBOOK: Audible | Libro
BONUS: SCAVENGER HUNTS
While writing each of these Christmas romances, I created a fun literary scavenger hunt, with hidden objects in the story, suggested by my readers. The scavenger hunts are available on the FREEBIES page of my website, under the Members menu. Or you can click here (they'll be visible after you sign in with your email address).
The Christmas Wedding Guest Scavenger Hunt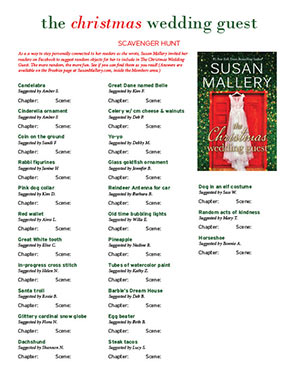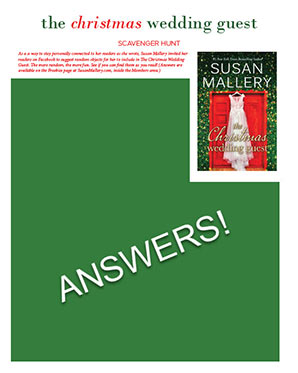 Happily This Christmas Scavenger Hunt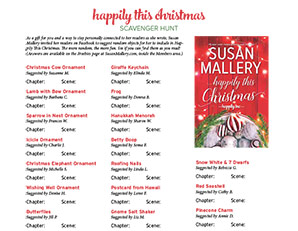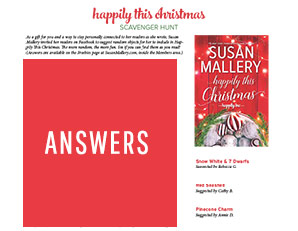 IF YOU'RE NOT IN THE MOOD FOR CHRISTMAS. . .
---