Posted October 25, 2022
Dear Reader,
The Christmas Wedding Guest, which came out last year in trade paperback, ebook and audiobook, is now available in mass market paperback. If you missed it last year, now is your chance to get the book that Pop Sugar called "Mistletoe perfect!" Readers seem to agree—there are over 2,400 five-star reviews on Amazon!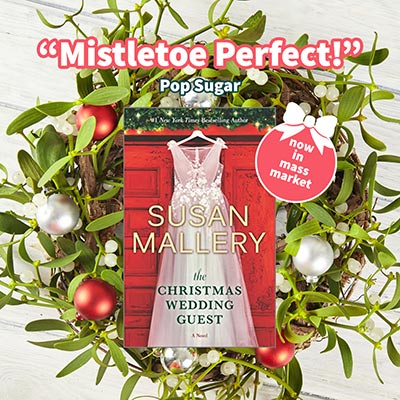 Susan Mallery, author of the Fool's Gold romances, cheerfully invites you to Wishing Tree, where Christmas comes to life…
The Somerville sisters believe in love, but they've lost faith it will happen for them. Reggie hasn't been home since the end of the world's shortest engagement. When her parents decide to renew their vows, she buffs up her twinkle to help with the Christmas wedding. Unexpectedly, Toby, her first love, is back too, and the spark between them shines as brightly as ever. In the spirit of the season, will they let go of past hurts and greet the new year together?
Done waiting for the one, Dena is pregnant and on her own—on purpose. But then a gorgeous, sad-eyed songwriter checks into a room at her inn. Micah, unable to write since he lost his wife, finds inspiration in Dena's determination to be a mom. One snowflake-speckled kiss and he's a goner. But Dena is afraid to believe that a rock star could fall for a cookie-cutter small-town girl like her.
As the Christmas wedding draws closer, these two sisters just might unwrap the most treasured gift of all…love.
ORDER THE MASS MARKET PAPERBACK: Amazon | Barnes & Noble | BAM | Target | Walmart | Bookshop
ORDER THE EBOOK: Kindle | Nook | Google Play | Apple Books | Kobo
ORDER THE AUDIOBOOK Audible | Libro | Apple
CLICK HERE TO READ AN EXCERPT!
HOME SWEET CHRISTMAS
If you've already read and loved The Christmas Wedding Guest, you won't want to miss the latest Wishing Tree romance, Home Sweet Christmas, which debuted earlier this month. Just wait until you meet Tinsel, an adorable rescue chihuahua inspired by Mochi, the real-life granddog of reader Andrea R. Andrea and Mochi's mom, Jessica, were kind enough to share some of Mochi's most lovable traits, which I incorporated into the story.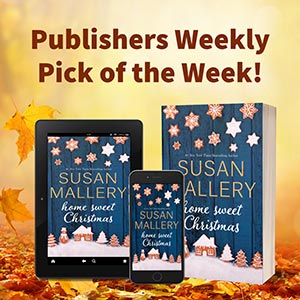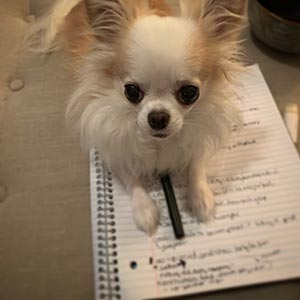 With twinkling humor and heartfelt Christmas spirit, two friends find love in a town called Wishing Tree…
Until Camryn Neff can return to her "real" life in Chicago, she's in Wishing Tree to care for her twin sisters. She's not looking for forever love, not here. But handsome hotelier Jake Crane is a temptation she can't resist, so she suggests they pair up for the season. No golden rings, no broken hearts. At his side, she sees her hometown through Christmas-colored eyes. The cheer is cheerier, the joy more joyful. She thought she had put her future on hold…but maybe her real life was here all along, waiting for her to come home.
New in town, River Best is charmed by Wishing Tree's homespun traditions and warmhearted people. When she's crowned Snow Queen, she's honored but wary. Dylan Tucker, her king, seems like the stuff of sugarplum dreams, but she can't shake the feeling that he's hiding something big. As they perform their "royal" duties—tasting cookies, lighting trees—Dylan's good humor and melty kisses draw her to the brink of love. But she can't let herself fall until she uncovers his secret, even if her lack of faith means losing him forever.
ORDER IN PRINT: Amazon | B&N | Books a Million | Bookshop.org | Target | Walmart
ORDER THE EBOOK: Kindle | Apple Books | Nook | Google Play | Kobo
ORDER THE AUDIOBOOK: Audible | iTunes | Libro
CLICK HERE TO READ AN EXCERPT!
UPCOMING VIRTUAL EVENTS
Read, Love, Repeat Holiday Romance Event
Who: Susan Mallery, RaeAnne Thayne, Sheila Roberts
When: November 3, 7pm est - 6pm cst - 5pm mst - 4pm pst
Where: Read LOVE Repeat (Harlequin's Facebook group)
Register here for free!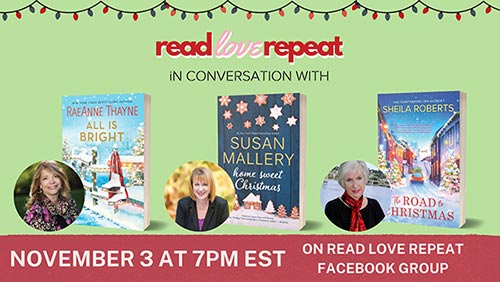 Holiday Party with Debbie Macomber and Susan Mallery
When: November 9, 7pm est - 6pm cst - 5pm mst - 4pm pst
Where: register for free here!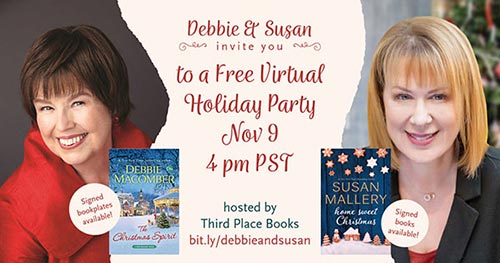 Holiday Reads with Susan Mallery, Mary Kay Andrews and Viola Shipman
When: November 14, 7pm est - 6pm cst - 5pm mst - 4pm pst
Where: register for free here!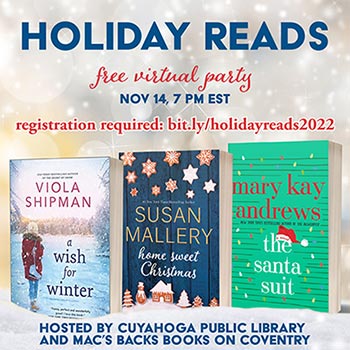 One of the recipes in the free Wishing Tree Cookie Cookbook is also a perfect treat for Halloween! Aren't these mice adorable? Thank you, Kimberley R, for submitting the recipe!
Get the cookbook here: https://susanmallery.com/members-wishing-tree-cookbook.php (You'll see the cookbook after you sign in with your email address.) If you downloaded the cookbook previously, you might want to download it again as a few recipes have been corrected. For those of you who already printed the cookbook, here are the recipe corrections that have been made:
Page 14: Rice Krispie Rolls – 1 cup of chocolate chips is missing from the ingredients.
Page 58: Walnut Maple Cookies – should be 3/4 cup butter.
Happy reading, happy eating, and happy Halloween!
---