Posted October 13, 2022
Dear Reader,
It's always both exciting and terrifying to have a new book on the shelves. At that point, the book is out of my hands, and all I can do is wait to find out whether readers love the characters and the story as much as I do. Thank you to each and every reader who has posted a review of Home Sweet Christmas and who has reached out to me personally to let me know how much you loved it! I'm thrilled and relieved.
Home Sweet Christmas is an instant bestseller! And I do mean instant—on the very first day of release, it shot up to be a bestseller at Barnes & Noble. And it's on the USA Today bestsellers list, too. I'm so honored!
WHAT READERS ARE SAYING
"Full of Christmas cheer, family and friends" – Shari B.
"Five Stars - a delightful, sweet, heartwarming story" – Barb
"Makes you want to live in Wishing Tree!" – Lynn P.
"This book is full of heart and joy and so much Christmas cheer" – Pennie M.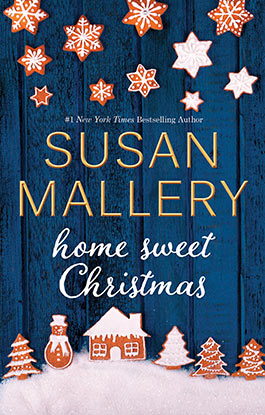 With twinkling humor and heartfelt Christmas spirit, two friends find love in a town called Wishing Tree…
Until Camryn Neff can return to her "real" life in Chicago, she's in Wishing Tree to care for her twin sisters. She's not looking for forever love, not here. But handsome hotelier Jake Crane is a temptation she can't resist, so she suggests they pair up for the season. No golden rings, no broken hearts. At his side, she sees her hometown through Christmas-colored eyes. The cheer is cheerier, the joy more joyful. She thought she had put her future on hold…but maybe her real life was here all along, waiting for her to come home.
New in town, River Best is charmed by Wishing Tree's homespun traditions and warmhearted people. When she's crowned Snow Queen, she's honored but wary. Dylan Tucker, her king, seems like the stuff of sugarplum dreams, but she can't shake the feeling that he's hiding something big. As they perform their "royal" duties—tasting cookies, lighting trees—Dylan's good humor and melty kisses draw her to the brink of love. But she can't let herself fall until she uncovers his secret, even if her lack of faith means losing him forever.
ORDER IN PRINT: Amazon | B&N | Books a Million | Bookshop.org | Target | Walmart
ORDER THE EBOOK: Kindle | Apple Books | Nook | Google Play | Kobo
ORDER THE AUDIOBOOK: Audible | iTunes | Libro
A GIFT FOR YOU
I treasure my relationship with my readers—with you—so I'm always looking for ways that I can show my gratitude. To celebrate the release of Home Sweet Christmas, I've created the Wishing Tree Cookie Cookbook, a free download for every Member of my mailing list, using about one hundred and sixty recipes submitted by readers.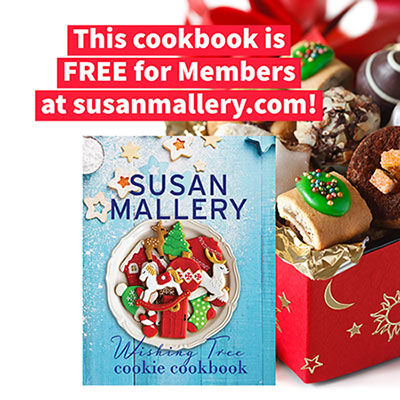 This is a PDF cookbook, which you're welcome to print at home or at a local print shop. We did print a small number of cookbooks, which I'll give away every Cookie Tuesday from now through December 22 on my Facebook and Instagram pages. Mark your calendar now to visit me on Facebook or Instagram every Tuesday at 3 pm ET and comment on the Cookie Tuesday post for a chance to win.
I also have three printed cookbooks to give away as door prizes at my virtual event with Debbie Macomber on November 9. Details and registration are here.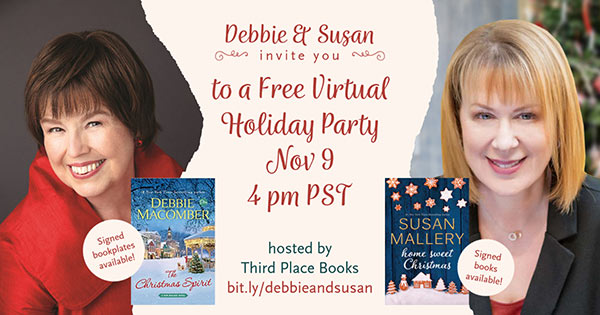 ---