Posted October 9, 2019
Dear Reader,
We're just a few short weeks away from the release of my next brand new Happily Inc romance, Meant to Be Yours. Thriller writer Jasper Dembenski has decided it's time to give his hero a love interest—but he needs to shadow wedding planner Renee Grothen to get inside a woman's mind. Soon, he'll be inside her heart, too. On the Members page of my website, there's a free extended excerpt available exclusively for members of my mailing list—you can read all the way to the end of Chapter Two.
In Happily Inc, love means never having to say "I do"…
Wedding coordinator Renee Grothen isn't meant for marriage. Those who can, do. Those who can't, plan. But she never could have planned on gorgeous, talented thriller writer Jasper Dembenski proposing—a fling, that is. Fun without a future. And the attraction between them is too strong for Renee to resist. Now she can have her no-wedding cake…and eat it, too.
After years in the military, Jasper is convinced he's too damaged for relationships. So a flirtation—and more—with fiery, determined Renee is way too good to pass up…until his flame becomes his muse.
Renee is an expert at averting every crisis. But is she finally ready to leap into the one thing that can never be controlled: love?
CLICK HERE TO READ THE PUBLIC EXCERPT
CLICK HERE TO READ THE EXTENDED EXCERPT (exclusively for Members)
GIFT WITH PURCHASE GIVEAWAY*
I'm always looking for special ways to reward my most enthusiastic readers. You mean so much to me! Thank you for everything.
My team designed a gorgeous Millie the Giraffe brass bookmark—an original design, which means the only way you can get one is through this giveaway. There will be 250 winners!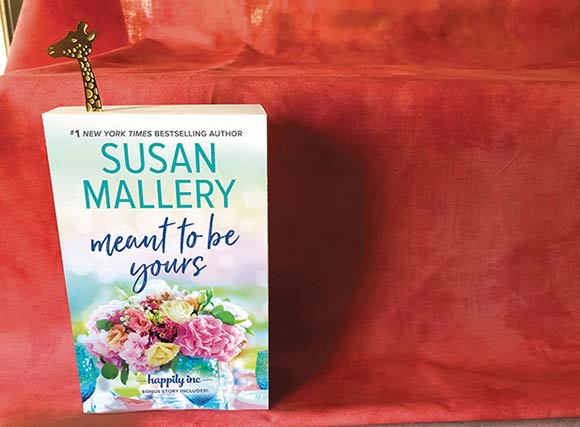 Register your purchase of Meant to Be Yours on the Contest page at SusanMallery.com now through October 27 for a chance to win*. (The book comes out on October 22, so if you like to wait to buy a book until it's in the store, you'll have time to enter.)
*No purchase necessary. See the full contest rules for an alternate method of entry.
Or if you want even better odds of getting a bookmark, come to one of the events below!
BOOK SIGNING WITH NORA ROBERTS
Where: Turn the Page Bookstore, Boonsboro, MD

When: October 26, 12-2 pm

More info: https://www.ttpbooks.com/next-book-signing.html – be sure to read the signing rules and etiquette to see how it all works.

Millie the Giraffe Bookmarks: I'll have bookmarks for the first 100 readers who purchase Meant to Be Yours at the signing.
TEXAS BOOK FESTIVAL
Where: Austin, Texas

When: October 26 and 27 – I won't be there, but my assistant will be manning a Susan Mallery booth, so be sure to seek her out!

More info: www.texasbookfestival.org

Millie the Giraffe Bookmarks: Jenel will have bookmarks for the first 100 readers who purchase Meant to Be Yours at the Festival, or who show her proof of purchase on their phones. Rumor has it that Jenel might also be able to get her hands on a few advanced reader copies of Sisters by Choice, which she'll give to the first few readers who show her their proof of purchase of Meant to Be Yours at the Festival.
Good luck, everyone, and thank you again for loving my books!
---