Posted October 7, 2021
Dear Reader,
Thank you, thank you, thank you! I can't tell you how much every email, every social media comment, and every online book review has meant to me over the past week. I'm delighted and grateful that you love The Christmas Wedding Guest and your introduction to my new series, Wishing Tree!
GOOD NEWS
The Christmas Wedding Guest was the #1 New Release in Holiday Romance at Amazon—and an Amazon Editors' pick for Best Book of the Month: Romance. It was also a USA Today Bestseller and a Barnes & Noble Bestseller. Even more thrilling than all of that, though, are these heartfelt comments from readers like you:
"I loved every word of this book! The characters are down to earth; the storyline phenomenal! A must read for sure!" – Kathie T, on Facebook
"Loved all the traditions and celebrations that Wishing Tree does for the holiday season. So many new friends, I cant wait to visit again. I highly recommend this heartwarming Christmas tale." – Shari B, on Goodreads
"What a great feel good book. . . Above all this is a town, like those in Susan Mallery's other series, that has its own traditions that will draw you in and make you want to visit again and again." – samdkw, on Barnes & Noble
Writing fiction is mystical in a way. When I write my stories, I'm sitting in my home office with only my pets by my side. . . but I feel you, my readers, as I write. I feel your spirit. I know that stories are important to you, and that each book is going to come out at the exact moment that some readers need that exact story. I want to write books that you love, stories that fill your heart with happiness.
Thank you! And if you haven't picked up The Christmas Wedding Guest yet, I hope you will.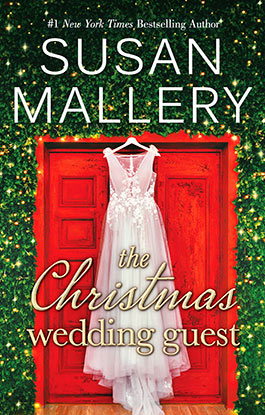 Susan Mallery, author of the Fool's Gold romances, cheerfully invites you to Wishing Tree, where Christmas comes to life…
The Somerville sisters believe in love, but they've lost faith it will happen for them. Reggie hasn't been home since the end of the world's shortest engagement. When her parents decide to renew their vows, she buffs up her twinkle to help with the Christmas wedding. Unexpectedly, Toby, her first love, is back too, and the spark between them shines as brightly as ever. In the spirit of the season, will they let go of past hurts and greet the new year together?
Done waiting for the one, Dena is pregnant and on her own—on purpose. But then a gorgeous, sad-eyed songwriter checks into a room at her inn. Micah, unable to write since he lost his wife, finds inspiration in Dena's determination to be a mom. One snowflake-speckled kiss and he's a goner. But Dena is afraid to believe that a rock star could fall for a cookie-cutter small-town girl like her.
As the Christmas wedding draws closer, these two sisters just might unwrap the most treasured gift of all…love.
ORDER THE PAPERBACK: Amazon | Barnes & Noble | BAM | Target | Bookshop | Walmart
ORDER THE EBOOK: Kindle | Nook | Google Play | Apple Books | Kobo
Click here to get the free bonus content on the Wishing Tree website!
If you'd like a free signed bookplate to put into your copy of The Christmas Wedding Guest, send a self-addressed, stamped* envelope to:
Susan Mallery-TCWG Bookplate
PO Box 2102
Georgetown TX 78627
*International readers, the US Postal Service requires US postage. They will not accept postage from other countries. You can purchase US postage through a local reseller on your country's Amazon or eBay. You'll need one international Forever stamp or three domestic Forever stamps.
---