Posted October 4, 2022
Dear Reader,
It's time to visit to Wishing Tree—Home Sweet Christmas is out today, a brand-new love story! I am so excited to hear what you think of this festive, heartwarming holiday book. Home Sweet Christmas is two romances in one—Camryn falls head-over-heels for Jake, her high school crush, and River falls for Dylan, a local carpenter with a big secret. I was utterly charmed by the two heroines, and I hope you will be, too.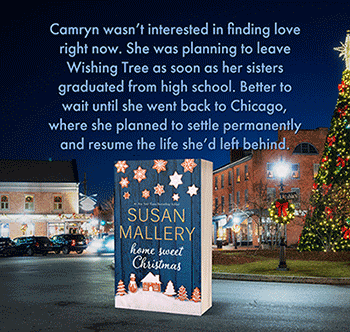 Camryn gave up everything—her career, her home in Chicago, even her fiancé—to care for her teenage sisters after their mom passed away last year. I fell in love with her generous heart. A lot of us say that we'd do anything for our family. Camryn proved it. She plans to stay in Wishing Tree until her sisters graduate high school and then return to her "real life." The last thing she wants to do is to fall in love, but the magic of Wishing Tree at Christmastime and the magic of Jake's kisses are hard to resist.
River adores her family, too. In fact, she moved to Wishing Tree to stay close to her sister and niece. But River differs from Camryn in one big respect—she's painfully shy. I fell in love with her vulnerability. Being named Snow Queen nearly sends her running, until Dylan, her handsome Snow King, takes her by the hand and assures her that he'll be with her every step of the way through Christmas. But that secret he's hiding could prevent River from trusting him with her heart.
Home Sweet Christmas was awarded a starred review from Publishers Weekly, who said, "Mallery expertly captures a festive yuletide spirit in her sparkling second Wishing Tree novel. . . Add in undeniable Christmas cheer, and this feel-good holiday romance proves irresistible."
This book is a gift from my heart to yours. I hope you'll love Camryn and Jake and River and Dylan as much as I do. And just wait until you meet Tinsel, their most adorable rescue dog, who gets a happy ending of her own! Home Sweet Christmas is going to fill you with cheer and leave you feeling better about the world.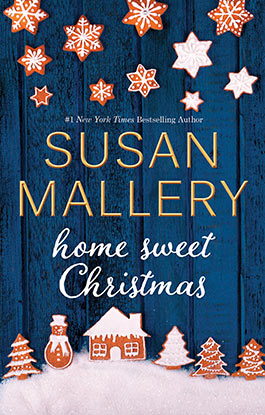 With twinkling humor and heartfelt Christmas spirit, two friends find love in a town called Wishing Tree…
Until Camryn Neff can return to her "real" life in Chicago, she's in Wishing Tree to care for her twin sisters. She's not looking for forever love, not here. But handsome hotelier Jake Crane is a temptation she can't resist, so she suggests they pair up for the season. No golden rings, no broken hearts. At his side, she sees her hometown through Christmas-colored eyes. The cheer is cheerier, the joy more joyful. She thought she had put her future on hold…but maybe her real life was here all along, waiting for her to come home.
New in town, River Best is charmed by Wishing Tree's homespun traditions and warmhearted people. When she's crowned Snow Queen, she's honored but wary. Dylan Tucker, her king, seems like the stuff of sugarplum dreams, but she can't shake the feeling that he's hiding something big. As they perform their "royal" duties—tasting cookies, lighting trees—Dylan's good humor and melty kisses draw her to the brink of love. But she can't let herself fall until she uncovers his secret, even if her lack of faith means losing him forever.
ORDER IN PRINT: Amazon | B&N | Books a Million | Bookshop.org | Target | Walmart
ORDER THE EBOOK: Kindle | Apple Books | Nook | Google Play | Kobo
ORDER THE AUDIOBOOK: Audible | iTunes | Libro
---