Posted November 20, 2019
Dear Reader,
In this Newsletter:
• Getting in the Christmas Spirit
• Sisters by Choice Sweepstakes
• Cover Reveal: The Friendship List (summer 2020)
• Gift Registry for Book Lovers
GETTING IN THE CHRISTMAS SPIRIT
I love this time of year! As I write this, I'm very much looking forward to Thanksgiving next week. We'll spend the day with family, reconnecting, reflecting on the blessings in our lives, raising a glass to those who can't be with us. Going to someone else's house for Thanksgiving works perfectly for me because—and I know this will be controversial—I don't love leftovers. I mean, a day or so would be okay, but when you have so many that you start putting stuffing in soup, I'm done.
I do have an amazing way you can use some of your extra turkey, though: Creamy Turkey Salad with Dried Cranberries and Toasted Pecans. The recipe is in the Fool's Gold Cookbook, and I've made it available for free on the Recipes page of the Members section of my website. Go to https://susanmallery.com/members-recipes.php and sign in with your email address.
Less than four weeks after Thanksgiving comes Christmas—so excited! There are a few things I do every year to get into the Christmas spirit:
1. Together with my husband, I adopt a family from a local wishing tree, and buy gifts for every family member. The families on the wishing tree are going through a hard time, and this is a tangible way for us to make someone else's life better. Maybe you have something similar in your town?

2. I watch Christmas movies. A few of our annual favorites are Love, Actually, The Holiday, and of course, Marry Me at Christmas. (When Hallmark turns one of your books into a movie, you watch it every year! And so does your husband, if he knows what's good for him!)

3. I read Christmas romances. This year, I'll be re-reading Same Time, Next Christmas by Christine Rimmer because I loved it so much. And I'll read two or three new ones, as well. I've also written...well... a few. Fifteen, to be precise. Even my most avid fans might have missed one or two.
Click here for a list of Susan Mallery Christmas Romances.
Each of these stories will warm your heart and remind you of everything that's good about the season.
You might be excited to hear that next year's Happily Inc romance—Wynn's story—will also be a Christmas romance. No title or release date on that one yet, but I'll let you know as soon as I have more information.
SISTERS BY CHOICE SWEEPSTAKES
My first book of 2020 will be Sisters by Choice, and Harlequin is offering you the chance to win a $250 Visa gift card to pamper yourself and your sister by choice with a luxurious spa day (or the pampering of your choice).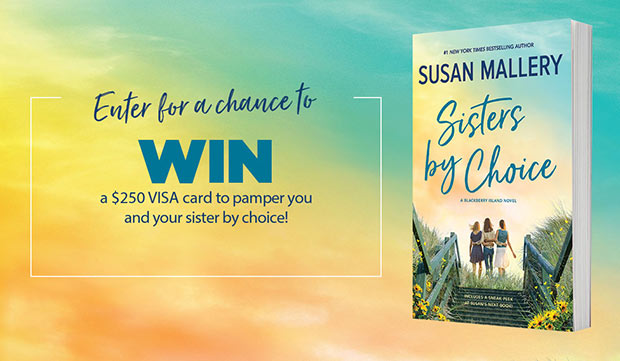 Cousins by chance, sisters by choice…
After her cat toy empire goes up in flames, Sophie Lane returns to Blackberry Island, determined to rebuild. Until small-town life reveals a big problem: she can't grow unless she learns to let go. If Sophie relaxes her grip even a little, she might lose everything. Or she might finally be free to reach for the happiness and love that have eluded her for so long.
Kristine has become defined by her relationship to others. She's a wife, a mom. As much as she adores her husband and sons, she wants something for herself—a sweet little bakery just off the waterfront. She knew changing the rules wouldn't be easy, but she never imagined she might have to choose between her marriage and her dreams.
Like the mainland on the horizon, Heather's goals seem beyond her grasp. Every time she manages to save for college, her mother has another crisis. Can she break free, or will she be trapped in this tiny life forever?
Told with Mallery's trademark humor and charm, Sisters by Choice is a heartfelt tale of love, family, and the friendships that see us through.
NOTE: You must login first, before taking any other actions. When you login, you'll be asked for your birthdate, which must be formatted with the day first, then the month, then the year. It's not how we normally write dates in the US, so a lot of readers have gotten errors. Remember: day, then month, then year written like this: DD/MM/YYYY. So Christmas, for example, would be written 25/12/2019.
COVER REVEAL: THE FRIENDSHIP LIST (SUMMER 2020)
I am beyond thrilled to share with you the cover of my summer 2020 book, The Friendship List. An author isn't supposed to play favorites with her books any more than a mother is supposed to play favorites with her children... but I think I might love this cover best of all! And the book—oh wow, I had the most fun writing this book. Ellen is a hoot! She surprised me with her bluntness and all-in attitude. She is a woman without filter, and she made me laugh every day.
New York Times bestselling author Susan Mallery delights with an engaging novel about two women who are as close as sisters and the summer that changes their lives forever…
As a single mom, Ellen Fox missed out on a lot, but she wouldn't change a thing—until she overhears her son saying he can't go to his dream college because she needs him too much. If she wants him to live his best life, she has to convince him she's living hers.
So Unity Leandre, her best friend since forever, creates a list of challenges to push Ellen out of her comfort zone. Unity will complete the list, too. Only to support her friend, not because she needs to change—she sees no problem with a thirtysomething widow still sleeping in her late husband's childhood bed.
For both women, The Friendship List begins as a way to make others believe they're doing just fine. But somewhere between "wear a bikini in public" and "have sex with a gorgeous guy," Ellen and Unity will discover that life is meant to be lived with joy and abandon, in a story filled with humor, heartache and regrettable tattoos.
I'll be going out book tour for The Friendship List in late May and early June. Watch future newsletters for details. I would love to meet you!
GIFT REGISTRY FOR BOOK LOVERS
Did you know there's a gift registry on my website? You can mark the books that you want to read, then send that list to people who love you. Here's how:
1. Go to SusanMallery.com/available-now.php
2. Tap ACCESS: BOOK LIST FEATURE drop-down menu.
3. If it's your first time, select MAKE NEW LIST. If you've made a list previously, select RETRIEVE LIST, then enter your email address.
4. Mark as HAVEN'T READ the books you want to receive as gifts. Save your list by clicking the SAVE button at the top of the page.
5. Tap MANAGE: GIFT REGISTRY drop-down menu, then select SIGN UP.
6. After you've signed up, go back to SusanMallery.com/available-now.php, tap MANAGE: GIFT REGISTRY, and select SEND GIFT REGISTRY.
7. Click the SEND YOUR GIFT REGISTRY TO LOVED ONES button.
8. Enter your loved one's first name and email address, then click SEND.
Your loved one will receive an email from me with a list of only the books you haven't read. You can send this gift registry to as many people as you'd like. This year, you'll get the books you want to read!
Wishing you warmth and joy during the upcoming season.
---