Posted November 8, 2023
Dear Reader,
Thank you to everyone who entered my recent website giveaway, and congratulations to the lucky winners!
Book Club Winner
• Carol C of Blanchard OK, who won a copy of The Sister Effect for every member of her book club!
Individual Winners, who each also won a copy of The Sister Effect
• Beth B of Mercersburg, PA
• Sarah F of Scarborough, ME
• Susan D of Asheville, NC
CREATE YOUR OWN PERSONAL BOOK LIST AND GIFT REGISTRY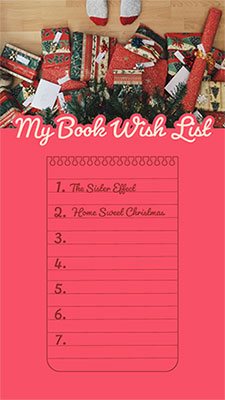 I don't mean to brag, but my webmaster is a genius! Just imagine what a challenge it is to organize a website that covers allllll the books I've written—well over 150. Shelley did not just that, in a very user-friendly way, but she took it a giant leap further. She designed a way for you to create your own personal Susan Mallery Book List. You can mark the books you've read, and create a shopping list of the books you haven't read yet. You can come back any time to update your own personal list. And you can even send your personal Book Gift Registry to someone who loves you so they can surprise you with a book you'll love that you haven't read yet.
So fun!
To get started, go to my Available Now page. There are four drop-down menus at the top of the page. Select "Book List Feature," and then "Read Instructions."
THE SUMMER BOOK CLUB
The gift registry only includes books that are already available, but I know lots of you are excited to read my next book, The Summer Book Club, which will be out in February. You can preorder a signed copy from any of the three terrific indie bookstores that will be hosting me on book tour.
Tuesday, February 13
LITCHFIELD BOOKS on Pawley's Island, SC
Book signing and luncheon
SAVE THE DATE and watch my newsletters for details!
Wednesday, February 14 ❤
WRITER'S BLOCK BOOKSTORE, Orlando, FL
Book signing, 7:30 pm
Tickets/Preorder a Signed Book
Thursday, February 15
FOXTALE BOOK SHOPPE, Woodstock, GA
Book signing, 6:30 pm
Preorder a signed book
This summer, three friends find the courage to step into the next chapter of their lives...
The rules of summer book club are simple:
No sad books
No pressure
Yessssss, wine!
Besties Laurel and Paris are excited to welcome Cassie to the group. This year, the book club is all about fill-your-heart reads, an escape from the chaos of the everyday—running a business, raising a family, juggling a hundred to-dos. Even the dog is demanding (but the bestest boy).
Since Laurel's divorce, she feels like the Worst Mom Ever. Her skepticism of men may have scarred her vulnerable daughters. Cassie has an unfortunate habit of falling for ridiculous man-boys who dump her once she fixes them. Paris knows good men exist. She's still reeling after chasing off the only one brave enough—and foolish enough—to marry her.
Inspired by the heroines who risk everything for fulfillment, Laurel, Paris and Cassie begin to take chances—big chances—in life, in love. Facing an unwritten chapter can be terrifying. But it can be exhilarating, too, if only they can find the courage to change.
ORDER IN PRINT: Amazon | B&N | Books a Million | Bookshop | Target | Walmart
ORDER THE EBOOK: Kindle | Nook | Apple Books | Google Play | Kobo | Books a Million
ORDER THE AUDIOBOOK: Audible | Apple | Kobo | Libro
ADD TO GOODREADS: https://www.goodreads.com/book/show/147966685-the-summer-book-club
Happy Reading!
---