Posted May 25, 2021
Dear Reader,
Today is finally the day that you get to meet The Stepsisters! My new book is out today in paperback, ebook and audiobook. This is the story of two women falling into friendship. Daisy and Sage's childhoods intersected for a few years, when Daisy's dad was married to Sage's mom. The girls were classmates and rivals but never friends, not even when they lived together.
The story starts when the stepsisters are in their thirties. Daisy married Sage's first love—and her marriage is in trouble. Sage is back in LA from a life that was not nearly as glamorous as she'd hoped, and their shared half-sister needs them both. As they help Cassidy, they uncover long buried secrets, and start down the road to forgiveness. Until one of them does something that could destroy their fragile friendship.
There were so many moments in THE STEPSISTERS that stabbed me right in the heart while writing. Daisy and Sage won a permanent place in my heart.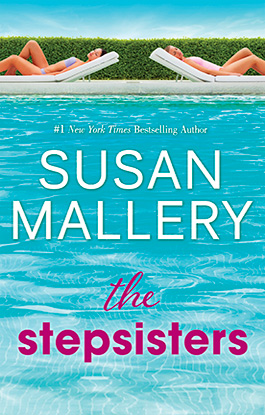 #1 New York Times bestselling author Susan Mallery pens a love story of a different sort...a heartfelt tale of friendship between two women who used to be sisters.
Once upon a time, when her dad married Sage's mom, Daisy was thrilled to get a bright and shiny new sister. But Sage was beautiful and popular, everything Daisy was not, and she made sure Daisy knew it.
Sage didn't have Daisy's smarts--she had to go back a grade to enroll in the fancy rich-kid school. So she used her popularity as a weapon, putting Daisy down to elevate herself. After the divorce, the stepsisters' rivalry continued until the final, improbable straw: Daisy married Sage's first love, and Sage fled California.
Eighteen years, two kids and one troubled marriage later, Daisy never expects--or wants--to see Sage again. But when the little sister they have in common needs them both, they put aside their differences to care for Cassidy. As long-buried truths are revealed, no one is more surprised than they when friendship blossoms.
Their fragile truce is threatened by one careless act that could have devastating consequences. They could turn their backs on each other again...or they could learn to forgive once and for all and finally become true sisters of the heart.
ORDER THE PAPERBACK: Amazon | Barnes & Noble | BAM | Target | Walmart | Bookshop
ORDER THE EBOOK: Kindle | Nook | Google Play | Apple Books | Kobo
PRAISE FOR THE STEPSISTERS
I'm grateful and honored by the incredible advance praise this book is getting from readers!






"The writing is superb, the characters are complex and interesting . . . the book is extremely difficult to put down." – Wendy W, Goodreads






"The coming of age for three women, all grown yet each still struggling with their childhood trauma . . . One of my top reads this year." – Linda D, Goodreads





"Both heartbreaking and heartwarming . . . Honest and raw at times but great story and touches of humor . . . Great read!" – Robin, Goodreads
"I loved the honest complex family dynamics in this book and the ways each sister had a different memory of the same situation." - @mommaleighellensbooknook
"VERDICT This engaging character study by Mallery (The Vineyard at Painted Moon) is sure to please her many fans as well as readers of similar authors such as Nancy Thayer and Debbie Macomber." – Library Journal
If you see The Stepsisters out and about and want to be featured on my social media, post a picture of the book cover and tag me. I'm @susanmallery on Facebook, Instagram and Twitter. I'll share some of the pics and give you a shoutout.
BRASS BOOKMARK WINNERS
Congratulations to the 175 winners of the limited edition brass bookmarks! The winners' names have been posted on the Contest page at SusanMallery.com.
---