Posted May 18, 2022
Dear Reader,
One of the things that honors me most about being a writer is the way that readers open their hearts to me and share personal stories about themselves. Recently, I invited readers to tell me a heartwarming or humorous story of motherhood. I read all of them and in this email, I've shared a few that touched me.
Before we get to that, though, I wanted to make sure you know about this opportunity to purchase a signed copy of my next book, The Boardwalk Bookshop, from Third Place books in Seattle. You have to place your order no later than June 1. On June 2, I will personally sign each book that's been ordered so the bookstore can ship it to you. Each person who orders a signed copy of The Boardwalk Bookshop from Third Place Books will also receive a Boardwalk Bookshop notepad and a Susan Mallery stylus pen, in a separate mailing.
Purchase a signed copy: https://www.thirdplacebooks.com/book/9780778386087
Important: In the comment field during the purchasing process, write "Signed copy, please."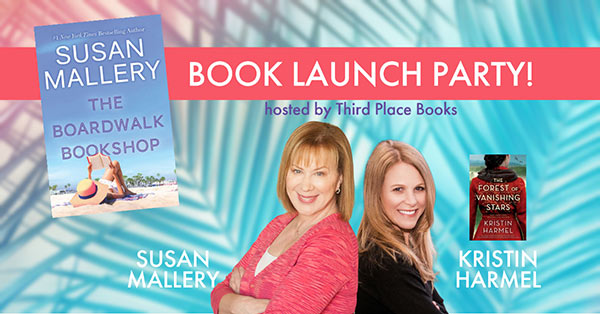 On June 1, I'll be live with Third Place Books and author Kristin Harmel (who is delightful!) for a virtual book launch party. No purchase necessary to attend the party. I hope you'll join us—I've got a really fun door prize to give away!
Wednesday, June 1 at 9 pm Eastern – 8 pm Central – 6 pm Pacific
RSVP requested HERE:
https://www.thirdplacebooks.com/event/virtual-event-susan-mallery-kristin-harmel
CELEBRATING MOTHERS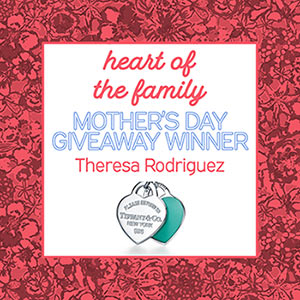 Congratulations to Theresa Rodriguez of Houston, Texas, the winner of my recent Heart of the Family Mother's Day Giveaway! Theresa won a genuine Tiffany necklace. The giveaway was in honor of one of the best moms I've ever written—Robyn in The Summer Getaway. CLICK HERE TO READ AN EXCERPT.
More than three thousand of my wonderful readers shared stories of motherhood. Here are a few of them, in their own words. I hope you enjoy them as much as I did.
"My two children decided to give me a 50th surprise birthday party at my house. How they kept it a secret I don't know. They planned it all. Only a few friends and neighbors were invited. They grilled hamburger. They had a friend ask me to go shopping for the day. I kept saying I needed to get back home and she kept saying we needed to go one more place. I had NO idea this was taking place. It was so precious to think my two children did it all just to surprise me and make it special for me. They lived 300 miles apart but put it all together. I have a son and daughter. Very special!" – Barbara A
"My girlfriend was going through a divorce and didn't have a lot of money. She had five-year-old twin boys at the time. They were trying to make money to help so they decided to make wigs and sell them to help Mom make the house payment. They gathered all their little neighborhood friends together. They proceeded to cut everyone's hair and glue the hair on a paper plates and staple rubber bands to the plates so people could put them on their heads. Of course because of using hair from all their little friends, the wigs had several different hair colors on each paper plate. They used pinking shears to make things even worse. One little girl had long red hair right in the middle of her back. They cut her hair super short in the back so they would have long hair for their wigs. They cut three other little girls' long hair and destroyed their hair also to the point the little girls all ended up with super short pixie haircuts. The parents showed up really upset until they understood the situation. They then all got to get from their church and helped money wise with clothes, food and volunteered to mow her lawn and help in any other way. As upset as the parents were, it turned okay, with my girlfriend and her kids being taken care of. I honestly believe these little ones are going to be CEOs someday. She's remarried, back on her feet and everything is good now." – Victoria H
"A friend asked my 4-year-old daughter 'Who was her favorite character or thing to play with?' Expecting her to respond with a type character she loves dearly that she plays with daily - I was surprised and caught off guard when she replied, 'My Mom is my favorite thing to play with!' My smiling heart felt so much LOVE and brought tears to my eyes!! I replied to her saying, 'These are happy tears, sweetheart.' while I embraced her. I am truly blessed to be a stay-at-home Mom to two young daughters. They light up my life daily!" – Mary Anne C
Thank you again, for sharing your hearts with me!
---