Posted May 13, 2021
Dear Reader,
Release day for The Stepsisters is right around the corner (May 25), which means we've officially reached the moment when my nerves spring into high-anxiety mode. One of these days, I'm going to learn to be calm and confident—or at least nonchalant—but clearly that day is not today. With every book, I worry and wonder whether you'll love the characters as much as I do. Will you forgive Sage for not being perfect? Will you root for Daisy to learn how to forgive, knowing that her life will become much richer and fuller if she does? There were so many moments that stabbed me in the heart while writing The Stepsisters, as these not-quite-sisters reached new understandings about things that happened in their past, and went from strangers to friends to sisters. The struggle makes the happy ending all the sweeter.
I'm settling my nerves by holding a giveaway—because making more than a hundred readers smile is good for my soul. Keep reading for details.
THE STEPSISTERS VIRTUAL LAUNCH PARTY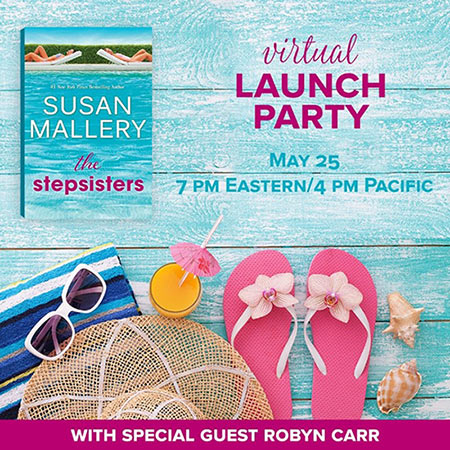 Come celebrate release day with me and Robyn Carr in an exclusive virtual event! (If you can't join us live, ticketholders will be able to watch the replay at your convenience. The replay will only be available to ticketholders.) Each ticket comes with a print copy of The Stepsisters, a signed bookplate, a digital goodie bag with exclusive bonus content, and a raffle ticket for 4 great beach bag door prizes—one for a customer of each of the participating independent bookstores. Robyn and I will chat about our writing processes (spoiler: they're very different), and how we create characters who feel so real and authentic, and we'll happily answer your questions, too, in a live Q&A.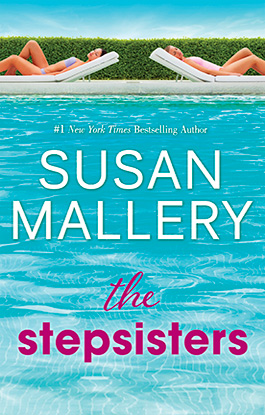 #1 New York Times bestselling author Susan Mallery pens a love story of a different sort...a heartfelt tale of friendship between two women who used to be sisters.
Once upon a time, when her dad married Sage's mom, Daisy was thrilled to get a bright and shiny new sister. But Sage was beautiful and popular, everything Daisy was not, and she made sure Daisy knew it.
Sage didn't have Daisy's smarts--she had to go back a grade to enroll in the fancy rich-kid school. So she used her popularity as a weapon, putting Daisy down to elevate herself. After the divorce, the stepsisters' rivalry continued until the final, improbable straw: Daisy married Sage's first love, and Sage fled California.
Eighteen years, two kids and one troubled marriage later, Daisy never expects--or wants--to see Sage again. But when the little sister they have in common needs them both, they put aside their differences to care for Cassidy. As long-buried truths are revealed, no one is more surprised than they when friendship blossoms.
Their fragile truce is threatened by one careless act that could have devastating consequences. They could turn their backs on each other again...or they could learn to forgive once and for all and finally become true sisters of the heart.
PRE-ORDER THE PAPERBACK: Amazon | Barnes & Noble | BAM | Target | Walmart | Bookshop
PRE-ORDER THE EBOOK: Kindle | Nook | Google Play | Apple Books | Kobo
WIN A LIMITED EDITION BRASS BOOKMARK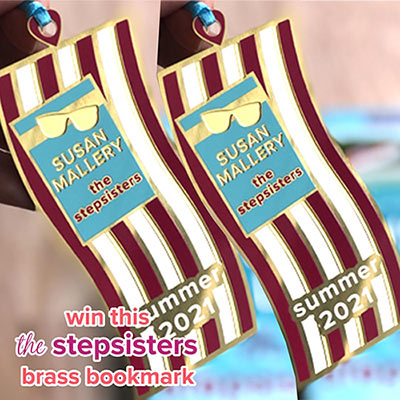 To help you get excited about The Stepsisters, I'm giving away 175 fun Summer 2021 brass bookmarks. They're so sparkly—and you know I love sparkly! Enter now on the Contest page at SusanMallery.com. This giveaway is open internationally. Good luck!
---