Posted May 10, 2019
Dear Reader,
As you know, my next book, The Summer of Sunshine and Margot, comes out in about a month. (A month?? Yay!) Check out all the fun bonus content at the book's beautiful new website, SunshineandMargot.com. I think it's just about the brightest and happiest place on the web.
I love the cover of this book so much that I had gorgeous epoxy magnetic-back lapel pins made—and I have 200 of them to give away!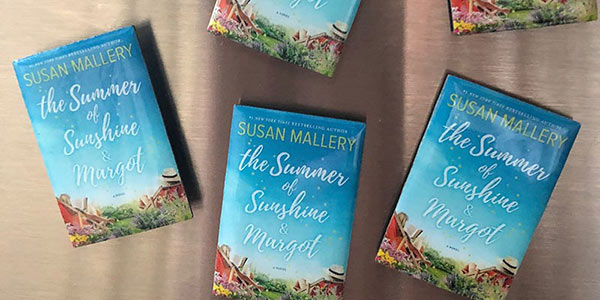 Unlike most of my giveaways, this is not a random drawing. This time, we're looking for the readers who will promise to wear the lapel pin around other people the week of June 11. After that week, you can keep wearing it, or it will make a great fridge magnet.
Enter now on the Contest page at SusanMallery.com. Contest is open internationally.
---
California Girls Sale for Mother's Day
It's incredibly rare that a current release goes on sale, but this is one of those times—and this is a deal that will make your jaw drop! California Girls is only $1.99 in all ebook formats, but only until May 13, so you have to get it right away!
The California sunshine's not quite so bright for three sisters who get dumped in the same week…
Finola, a popular LA morning show host, is famously upbeat until she's blindsided on live TV by news that her husband is sleeping with a young pop sensation who has set their affair to music. While avoiding the tabloids and pretending she's just fine, she's crumbling inside, desperate for him to come to his senses and for life to go back to normal.
Zennie's breakup is no big loss. Although the world insists she pair up, she'd rather be surfing. So agreeing to be the surrogate for her best friend is a no-brainer—after all, she has an available womb and no other attachments to worry about. Except…when everyone else, including her big sister, thinks she's making a huge mistake, being pregnant is a lot lonelier—and more complicated—than she imagined.
Never the tallest, thinnest or prettiest sister, Ali is used to being overlooked, but when her fiancé sends his disapproving brother to call off the wedding, it's a new low. And yet Daniel continues to turn up "for support," making Ali wonder if maybe—for once—someone sees her in a way no one ever has.
But side by side by side, these sisters will start over and rebuild their lives with all the affection, charm and laugh-out-loud humor that is classic Susan Mallery.
---
Get what You really Want for Mother's Day...
Did you know that my website now has a gift registry? That means you can mark which of my books you haven't read yet, and then email that list to someone who loves you. Easy for them, happy for you. So simple!
To create your gift registry, go to susanmallery.com/available-now.php. Near the top of the page, click the Access: Book List Feature drop-down, then select Read Instructions. After you mark which books you have and haven't read, click the Gift Registry drop-down.
THE SUMMER OF SUNSHINE & MARGOT BOOK TOUR
I'm going on book tour in June for The Summer of Sunshine & Margot. I'd love to see you at one of these four stops! If you can't make it, you can still preorder a signed book from the first two stops. They will ship. Just be sure to let them know in the order comments if you want me to personalize the book to you.
June 11, 7 pm – BOOK SIGNING: CLEVELAND
Q&A with Susan Mallery, book signing, and raffle prizes. Co-hosted by Mac's Backs-Books and the Cuyahoga County Library
Parma-Snow Branch
2121 Snow Road
Parma OH 44134
Registration required here.
Preorder a signed book: https://www.macsbacks.com/book/9781335659972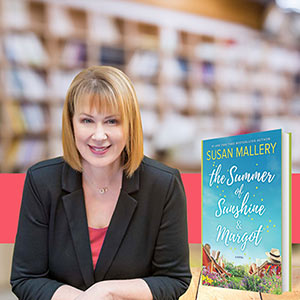 June 12, 7 pm – BOOK SIGNING: ST LOUIS
Q&A with Susan Mallery, book signing, and raffle prizes. Co-hosted by Left Bank Books and the St Charles City-County Library
Spencer Road Branch
427 Spencer Rd
St Peters MO 63376
Tickets required here.
Preorder a signed book: https://www.left-bank.com/book/9781335659972




June 13, 7 pm – BOOK SIGNING: DENVER
Q&A with Susan Mallery, book signing, and raffle prizes. Co-hosted by Tattered Cover Bookstore and Aurora Public Library
Aurora Fox Arts Center
9900 E Colfax Ave
Aurora CO 80010
Registration required; begins today!




June 22, 3 pm – BOOK SIGNING: SEATTLE
Q&A with Susan Mallery, book signing, and raffle prizes. Co-hosted by University Books and Seattle Public Library
University Bookstore – U District Store
4326 University Way NE
Seattle WA 98105
No registration required. Books will be available for purchase at the event.

---