Posted March 30, 2021
Dear Reader,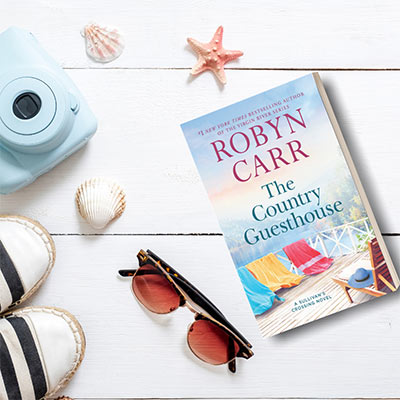 Long before I ever thought about writing, I was a reader. Voracious. When I was a little girl, my parents realized that sending me to my bedroom was no punishment because that's where all my books were. They started sending me to the bathroom instead, so I hid books under the sink and behind the toilet. When I was sent in there for a time-out, I would curl up in the dry tub with a book, happy as could be.
I'm still a reader—whenever, wherever. There's nothing better than reading the first page of a book and feeling all your tension melt away because you know you're in good hands with this author. That's how I felt when I started reading The Country Guesthouse by Robyn Carr, and all the way through to the kind of happy ending that makes you hug a book to your chest. The Country Guesthouse came out in 2020 and is now available in mass market paperback. I think you'll love it.
Discover: https://www.robyncarr.com/book/the-country-guesthouse/
THE FRIENDSHIP LIST NOW IN PAPERBACK
More good news—The Friendship List is now in paperback! This is one of the most popular books I've ever written, with about four thousand four hundred four- and five-star ratings on Goodreads since it came out in hardcover just last August.
Here's a sampling of 5-star reviews from real readers just like you:
"Heart full of feel good." – Madison

"I laughed, cried, and smiled the whole way." – Taryn

"I just melted over this story. . . an absolute hands-down 5-star read for me!" – Andrea
AN INSTANT NEW YORK TIMES BESTSELLER!
A witty, inspiring and irresistible story that's winning readers' hearts all over the world.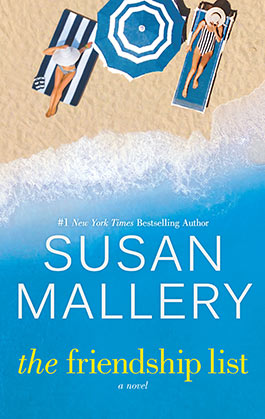 Two best friends jumpstart their lives in a summer that will change them forever. . .
Single mom Ellen Fox couldn't be more content—until she overhears her son saying he can't go to his dream college because she needs him too much. If she wants him to live his best life, she has to convince him she's living hers.
So Unity Leandre, her best friend since forever, creates a list of challenges to push Ellen out of her comfort zone. Unity will complete the list, too, but not because she needs to change. What's wrong with a thirtysomething widow still sleeping in her late husband's childhood bed?
The Friendship List begins as a way to make others believe they're just fine. But somewhere between "wear three inch heels" to "have sex with a gorgeous guy," Ellen and Unity discover that life is meant to be lived with joy and abandon, in a story filled with humor, heartache and regrettable tattoos.
BUY THE PAPERBACK: Amazon | Barnes & Noble | BAM | Target | Walmart | Bookshop
BUY THE EBOOK: Kindle | Nook | Google Play | Apple Books | Kobo
BUY THE AUDIOBOOK: Audible
EASTER GIVEAWAY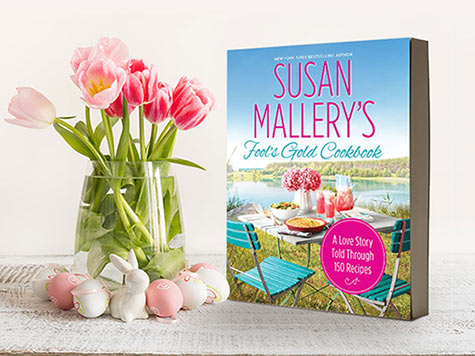 Nine someBUNNIES will each win a copy of The Fool's Gold Cookbook. The cookbook includes 150 delicious recipes, plus a charming Fool's Gold love story about two competing chefs who are put on a project together by none other than Mayor Marsha. Enter now on the CONTEST page at SusanMallery.com, under the MEMBERS menu. Winners will be announced on Friday, April 2.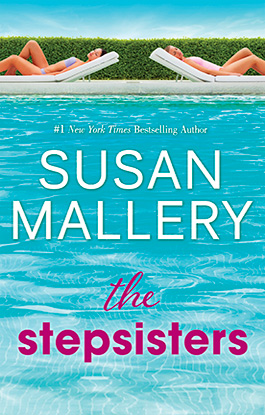 So there you go, two great books to read if you missed them last year. And hey, if you already read them both, you can preorder The Stepsisters and start dreaming of summer.
#1 New York Times bestselling author Susan Mallery pens a love story of a different sort...a heartfelt tale of friendship between two women who used to be sisters.
Once upon a time, when her dad married Sage's mom, Daisy was thrilled to get a bright and shiny new sister. But Sage was beautiful and popular, everything Daisy was not, and she made sure Daisy knew it.
Sage didn't have Daisy's smarts--she had to go back a grade to enroll in the fancy rich-kid school. So she used her popularity as a weapon, putting Daisy down to elevate herself. After the divorce, the stepsisters' rivalry continued until the final, improbable straw: Daisy married Sage's first love, and Sage fled California.
Eighteen years, two kids and one troubled marriage later, Daisy never expects--or wants--to see Sage again. But when the little sister they have in common needs them both, they put aside their differences to care for Cassidy. As long-buried truths are revealed, no one is more surprised than they when friendship blossoms.
Their fragile truce is threatened by one careless act that could have devastating consequences. They could turn their backs on each other again...or they could learn to forgive once and for all and finally become true sisters of the heart.
PRE-ORDER THE PAPERBACK: Amazon | Barnes & Noble | BAM | Target | Walmart | Bookshop
PRE-ORDER THE EBOOK: Kindle | Nook | Google Play | Apple Books | Kobo
---