Posted March 16, 2023
Dear Reader,
Remember in my last newsletter, when I told you that I was really nervous about The Sister Effect release? (Part of the joy of being me—I'm nervous every time a new book comes out! It's putting a piece of myself out into the world, and I feel very vulnerable.)
The Sister Effect Happy News
• A Barnes & Noble Bestseller
• #1 New Release in Friendship Fiction at Amazon
• Pick of the Month at Target
• A Fresh Pick at Fresh Fiction
I have been moved to tears by some of your reviews.
5 Stars! "...this book was perfect. Filled with family drama, redemption and a little Romance." @bookish_rose_ on Instagram
"A family drama at its very best! The Sister Effect by Susan Mallery is a must-read. . . you are going to fall in deep with this one! I loved it to bits!" A Bookish Way of Life
"Terrific book – I just finished!! Such wonderfully drawn characters, incredibly vivid dynamics." reader Jenny D. on Facebook
And then there was this—a comment from reader Judy S that just tickled me! Your enthusiasm for my books is one of the great joys of my life. Judy said, "The Sister Effect is here! Husband came to tell me while I was in the shower. He knew how I was waiting anxiously for it to arrive." Thank you for the heartwarming laugh, Judy!
I also had to share these beautiful cookies that were sent to me as a gift from Kristy Woodson Harvey, author of the upcoming The Summer of Songbirds (which I loved and you should preorder). The fabulous cookies were made by Jill Cruz, who is @bakesbyjill on both Instagram and Facebook. This is her photo, as well. She is a true artist.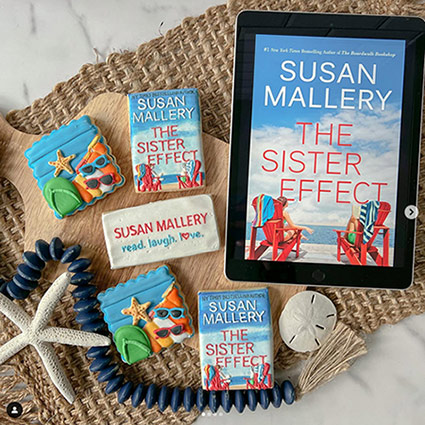 Thank you, thank you, thank you! Thank you for your enthusiasm for my books, for rushing out to read The Sister Effect, and for telling other readers that you think they'll love it, too. I am so grateful to have such a generous, loving community of readers in my life.
Grab The Sister Effect Today!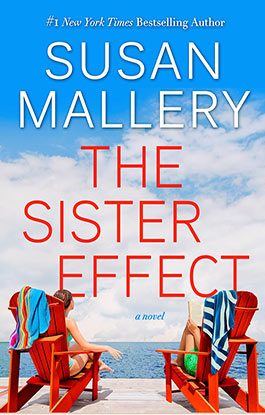 Beloved bestselling author Susan Mallery—with wisdom, compassion and her trademark humor—explores the nuances of a broken family's complex emotions as they strive to become whole in this uplifting story of human frailty and resilience.
Finley McGowan is determined that the niece she's raising will always feel loved and wanted. Unlike how she felt after her mom left to pursue a dream of stardom and her grandfather abandoned her and her sister Sloane when they needed him most. Finley reacted to her chaotic childhood by walking the straight and narrow—nose down, work hard, follow the rules.
Sloane went the other way.
Now Sloane is back, as beautiful and damaged as ever, and wants a relationship with her daughter. She says she's changed, but Finley's heart has been bruised once too often for her to trust easily. But is her reluctance to forgive really about Sloane, or worry over losing what she loves the most? With the help of a man who knows all too well how messy families can be, Finley will learn there's joy in surrendering and peace in letting go.
ORDER IN PRINT: Amazon | B&N | Books a Million | Target | Walmart | Bookshop | Third Place Books
ORDER THE EBOOK: Kindle | Apple Books | Nook | Google Play | Kobo
ORDER THE AUDIOBOOK: Audible | iTunes | Libro | Kobo
ANOTHER BOOK YOU'LL LOVE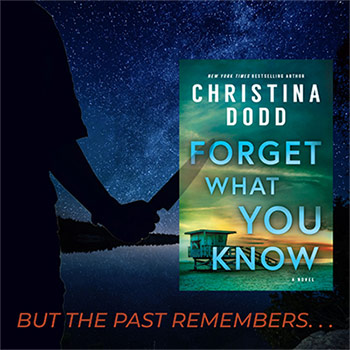 My friend Christina Dodd released a new book this month, too. Forget What You Know is Christina Dodd at her heart-pounding best. She is a master of romantic suspense, which is appropriate because even after years of friendship, I never know what she's going to do! She's devilishly funny and writes some of the most intricate, imaginative stories out there. Grab it here!
GIVEAWAY: SISTERS (OR SISTERS-OF-THE-HEART) DAY OUT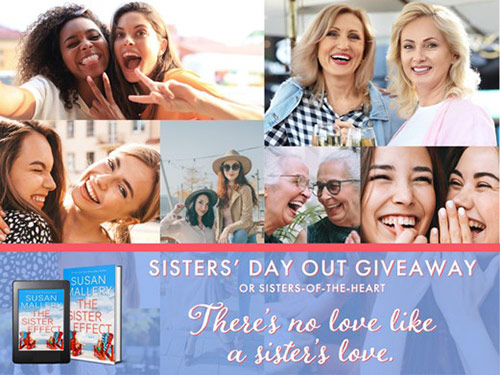 To celebrate sisters—and sisters-of-the-heart—I'm giving away a $250 Visa gift card so the winner can enjoy a special day with someone she loves. Enter now on the Contest page at SusanMallery.com.
JOIN THE SISTER EFFECT BOOK CLUB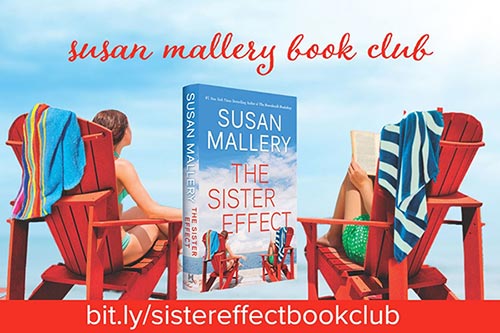 On March 27, join me for a no-holds-barred, ask-me-anything book club discussion of The Sister Effect. This event is intended specifically for people who have finished the book, so we don't need to worry about spoilers. (You never know what I might say when I'm uncensored!) Attendees won't be on-camera, so come as you are.
ADD TO YOUR CALENDAR (BROWSER BASED ONLY):
Please note, these links will only work if you're reading your email in a browser-based email program. If you had to go to a website to check your email, then the links should work! They won't work if you click them from within a program such as Outlook, but in that case, you can manually add the book club date and time to your calendar however you normally set reminders for yourself.
CLICK HERE TO JOIN THE BOOK CLUB ON MARCH 27 at 8 pm EST/5 pm PST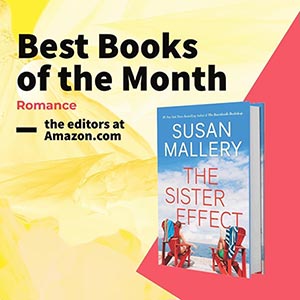 https://us02web.zoom.us/j/82225841774?pwd=djZUNTRxaEJrSlVyZ1V0Mi9GemI1QT09
Passcode: 241200
Or One tap mobile :
US: +13462487799,,82225841774#,,,,*241200# or +12532158782,,82225841774#,,,,*241200#
Or Telephone:
Dial (for higher quality, dial a number based on your current location):
US: +1 346 248 7799 or +1 253 215 8782 or +1 669 444 9171 or +1 669 900 9128 or +1 719 359 4580 or +1 253 205 0468 or +1 305 224 1968 or +1 309 205 3325 or +1 312 626 6799 or +1 360 209 5623 or +1 386 347 5053 or +1 507 473 4847 or +1 564 217 2000 or +1 646 558 8656 or +1 646 931 3860 or +1 689 278 1000 or +1 301 715 8592
Webinar ID: 822 2584 1774
Passcode: 241200
International numbers available: https://us02web.zoom.us/u/kbFmiwiS7w
---