Posted March 3, 2021
Dear Reader,
In the scenic Cascade Mountains of Washington state, just fifteen miles from the Canadian border, there's a festive little town named Wishing Tree, the most romantic place to fall in love. Later this year, I will debut the brand-new series, the Wishing Tree romances. These books will be just as heartfelt, witty and wildly romantic as the Fool's Gold and Happily Inc romances. If you love a good love story—especially one that will make you laugh—you're going to adore these books. I'm thrilled to reveal the gorgeous cover of the first full-length Wishing Tree romance, The Christmas Wedding Guest!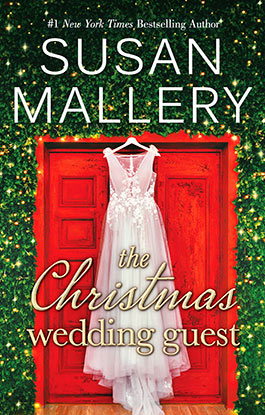 Susan Mallery, author of the Fool's Gold romances, cheerfully invites you to Wishing Tree, where Christmas comes to life…
The Somerville sisters believe in love, but they've lost faith it will happen for them. Reggie hasn't been home since the end of the world's shortest engagement. When her parents decide to renew their vows, she buffs up her twinkle to help with the Christmas wedding. Unexpectedly, Toby, her first love, is back too, and the spark between them shines as brightly as ever. In the spirit of the season, will they let go of past hurts and greet the new year together?
Done waiting for the one, Dena is pregnant and on her own—on purpose. But then a gorgeous, sad-eyed songwriter checks into a room at her inn. Micah, unable to write since he lost his wife, finds inspiration in Dena's determination to be a mom. One snowflake-speckled kiss and he's a goner. But Dena is afraid to believe that a rock star could fall for a cookie-cutter small-town girl like her.
As the Christmas wedding draws closer, these two sisters just might unwrap the most treasured gift of all…love.
PRE-ORDER THE PAPERBACK: Amazon | Barnes & Noble | BAM | Target | Bookshop
PRE-ORDER THE EBOOK: Kindle | Nook | Google Play | Apple Books | Kobo
My webmaster has created a website for the new series that is so magical, it will fill you with the holiday spirit even in March. You will be one of the first readers in the world to get to know the charming holiday traditions of this quaint little town—like the Lighting of the Trees, the community Advent calendar, and the First Snowfall. And you'll find another surprise on the website, too—a sneak peek at Say You'll Stay, a Christmas-in-July novella coming out in ebook* this summer. The Christmas Wedding Guest is the first print book of the series, so let's call Say You'll Stay book 0.5.
Oh, and you'll see maps of the town, too, with businesses named by readers in the Susan Mallery All Access group on Facebook.
*Note: If you don't have an ereader, you can get a free app to read ebooks on whatever device you're using to read this email. Just ask Google, "App for reading ebooks on my _____________ (phone/computer/tablet)".
AN EVENING WITH SUSAN MALLERY, CHRISTINE RIMMER AND ROCHELLE ALERS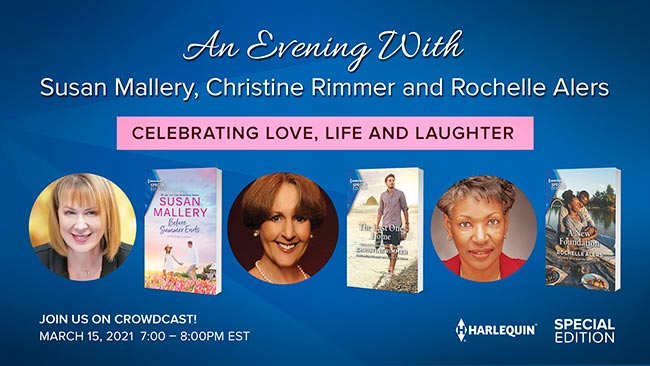 Join me and fellow authors Christine Rimmer and Rochelle Alers for a free, live virtual event for romance readers, celebrating love, life and laughter! March 15 at 7 pm EST - 6 pm CST - 4 pm PST. The event will be hosted by Harlequin Special Edition on Crowdcast.
It will also be broadcast via Facebook HERE
JOIN MY BOOK CLUB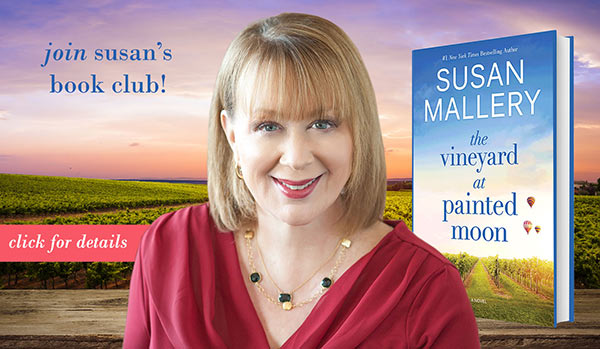 I love connecting with my readers in personal and meaningful ways. To that end, I will be hosting a free virtual book club discussion about The Vineyard at Painted Moon on Saturday, March 13 at 3 pm EST/12 pm PST. The book club will be hosted via Zoom, so you can join by computer, tablet, or phone (including land lines). This interactive discussion is intended for people who have finished reading The Vineyard at Painted Moon, so it will contain spoilers. That gives you just over a month to read the book.
I hope you'll join me. I'll share some insights into my writing process and what I was thinking and feeling as I created these characters and messed with their lives. I'll also answer your questions, so as you're reading, if you think of something you want to ask me, jot down a note.
DETAILS/SIGN UP FOR A REMINDER: https://paintedmoonwinery.susanmallery.com/book-club-signup.html
I look forward to talking with you! And I hope you'll love reading The Vineyard at Painted Moon as much as I loved writing it.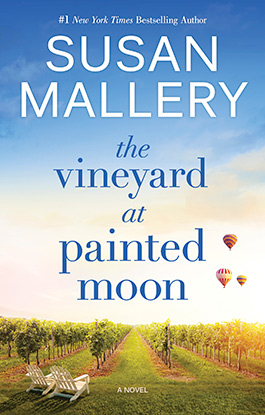 THE VINEYARD AT PAINTED MOON – out now
Step into the vineyard with Susan Mallery's most irresistible novel yet, as three women search for the perfect blend of love, family and wine.
Mackenzie Dienes seems to have it all—a beautiful home, close friends and a successful career as an elite winemaker with the family winery. There's just one problem—it's not her family, it's her husband's. In fact, everything in her life is tied to him—his mother is the closest thing to a mom that she's ever had, their home is on the family compound, his sister is her best friend. So when she and her husband admit their marriage is over, her pain goes beyond heartbreak. She's on the brink of losing everything. Her job, her home, her friends and, worst of all, her family.
Staying is an option. She can continue to work at the winery, be friends with her mother-in-law, hug her nieces and nephews—but as an employee, nothing more. Or she can surrender every piece of her heart in order to build a legacy of her own. If she can dare to let go of the life she thought she wanted, she might discover something even more beautiful waiting for her beneath a painted moon.
GET THE HARDBACK: Amazon | Barnes & Noble | BAM | Target | Walmart | Bookshop
GET THE EBOOK: Kindle | Nook | Google Play | Apple Books | Kobo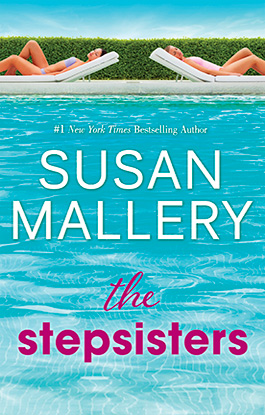 THE STEPSISTERS – coming May 25
#1 New York Times bestselling author Susan Mallery pens a love story of a different sort...a heartfelt tale of friendship between two women who used to be sisters.
Once upon a time, when her dad married Sage's mom, Daisy was thrilled to get a bright and shiny new sister. But Sage was beautiful and popular, everything Daisy was not, and she made sure Daisy knew it.
Sage didn't have Daisy's smarts--she had to go back a grade to enroll in the fancy rich-kid school. So she used her popularity as a weapon, putting Daisy down to elevate herself. After the divorce, the stepsisters' rivalry continued until the final, improbable straw: Daisy married Sage's first love, and Sage fled California.
Eighteen years, two kids and one troubled marriage later, Daisy never expects--or wants--to see Sage again. But when the little sister they have in common needs them both, they put aside their differences to care for Cassidy. As long-buried truths are revealed, no one is more surprised than they when friendship blossoms.
Their fragile truce is threatened by one careless act that could have devastating consequences. They could turn their backs on each other again...or they could learn to forgive once and for all and finally become true sisters of the heart.
PRE-ORDER THE PAPERBACK: Amazon | Barnes & Noble | BAM | Target | Walmart | Bookshop
PRE-ORDER THE EBOOK: Kindle | Nook | Google Play | Apple Books | Kobo
---