Posted March 1, 2022
Dear Reader,
The release of The Summer Getaway is right around the corner, and you're invited to my virtual book launch party. We're going to have so much fun! Just look at the door prize, this embroidered beach bag! Author Katherine Center will join me for a fascinating conversation about where we find inspiration, our writing processes and more, and then we'll do a Live Q&A to answer all your questions.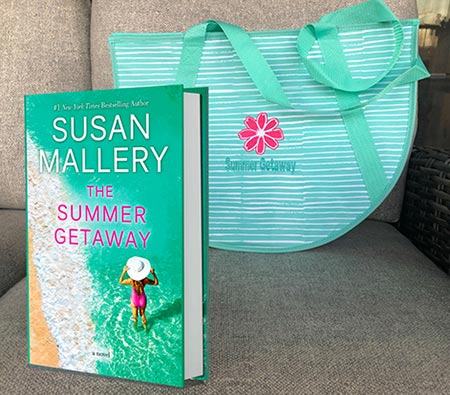 THE SUMMER GETAWAY BOOK LAUNCH PARTY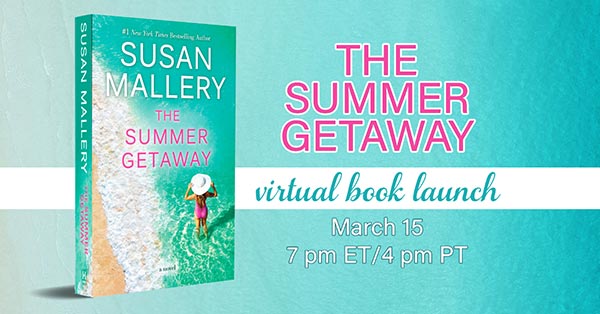 Join Susan Mallery and HQN Books for a ONE-NIGHT ONLY special virtual event for Susan's newest release THE SUMMER GETAWAY
In partnership with seven indie bookstores: Doylestown Bookshop, Left Bank Books, Writer's Block Bookstore, Bethany Beach Books, Booktowne, FoxTale Book Shoppe, and Warwick's.
Tuesday March 15, 2022 at 7:00 PM EST/6:00 PM CST/4:00 PM PST
In Conversation with Katherine Center
Tickets are available through the indie bookstore partners. They will offer a signed bookplate with purchase of THE SUMMER GETAWAY, a book club kit, a digital goodie bag, and during the event there will be a fabulous door prize raffle!
Even if you don't live near any of these bookstores, you can join in the fun. All the bookstores will be happy to ship anywhere within the US, and the ones with an asterisk will ship to other countries, as well. (Please contact the bookstore before placing an international order to verify shipping.)
GET YOUR TICKET NOW
*Bethany Beach Books – Bethany Beach, Delaware
Booktowne – Manasquan, New Jersey
Doylestown Bookshop – Doylestown, Pennsylvania
Foxtale Book Shoppe – Woodstock, Georgia
*Left Bank Books – St Louis, Missouri
Warwick's – La Jolla, California
Writer's Block Bookstore – Winter Park and Winter Garden, Florida
ABOUT THE BOOK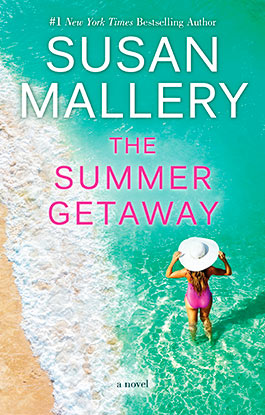 One woman discovers the beauty in chaos in this poignant and heartwarming story about the threads that hold family together from #1 New York Times bestselling author Susan Mallery.
With her divorce settlement about to run out and a mortgage she can't afford, Robyn Caldwell needs a plan for her future. She nurtured her family and neglected herself. But how's she supposed to think when her daughter has become the most demanding bride ever, her son won't even consider college, her best friend is on the brink of marital disaster and her ex is making a monumentally bad decision that could bring everything crashing down on Robyn's head? So when her great-aunt Lillian invites her to Santa Barbara for the summer, Robyn hops on the first plane.
But it's hard to run away when you're the heart of the family. One by one, everyone she left behind follows her across the country. Somehow, their baggage doesn't feel as heavy in the sun-drenched, mishmash mansion. The more time Robyn spends with free-spirited Lillian, the more she sees the appeal in taking chances—on dreams, on love, on family. Life is meant to be lived on purpose. All she has to do is muster the courage to take a chance on herself.
BUY IN PRINT: Amazon | B&N | Books a Million | Bookshop.org | Target | Walmart
BUY THE EBOOK: Kindle | Apple Books | Nook | Google Play | Kobo
GET THE AUDIOBOOK: Audible | Apple | Libro
BUY FROM AN INDIE BOOKSTORE:
*Bookstores denoted with an asterisk will ship internationally. If you're outside the US, please contact the bookstore for details on shipping to your country. It can be difficult and/or cost prohibitive right now to ship to the UK, Australia and New Zealand, so it's best to verify before placing your order.
Hope to see you soon!
---