Posted June 20, 2019
Dear Reader,
I have happy news to share—The Summer of Sunshine & Margot debuted at #15 on the New York Times bestsellers list for print and ebook fiction, and at #25 on the USA Today bestsellers list, which tracks every genre and format of book on a single list—fiction, nonfiction, hardcover, paperback, ebook… I'm thrilled, and I'm going to raise a toast to my wonderful readers tonight. Thank you!
From the bottom of my heart, thank you to every reader who has picked up The Summer of Sunshine & Margot. I can't tell you how much your enthusiasm for my books warms my heart. When I write, it's just me, sitting alone in my office (often with the pets doing their best to distract me), but in a way, my readers are always with me. I honestly do think of you often as I write. I know that every book will be somebody's favorite, and every book will touch someone at the exact moment when she needs a feel-good story. Your love for my books motivates me to keep writing. To thank you, I'm hosting a giveaway this week. More on that in a minute.
---
The Baxter Sisters have only ever had one another—until one fateful summer when Sunshine and Margot turn disastrous luck into destiny…
Etiquette coach Margot Baxter knows precisely how to manage wayward clients…until she comes face-to-exquisite-face with Bianca, an aging movie star notorious for her shock-and-awe tactics. Schooling Bianca on the fine art of behaving like a diplomat's wife is the greatest challenge of Margot's career. Soon, secrets unravel that bring them closer together and force Margot to confront the truth: Change doesn't just happen. She has to be brave enough to demand the life—and love—she's always wanted.
For years, Sunshine has been the good-time sister, abandoning jobs to chase after dreams that will never come true. No more. She refuses to be "that girl" again. This time, she'll finish college and dedicate herself to her future. And she 100 percent will not let her life get derailed by a man again…no matter how tempting that man may be.
Master storyteller Susan Mallery weaves threads of family drama, wit, heart, and a wish-you-were-there setting into one of the most satisfying books of the year!
---
SUSAN MALLERY ON TOUR
A special thanks to the readers who came out to meet me at my book signings in Cleveland, St Louis, and Denver! I had such a great time, and I came home feeling energized. I hope to meet lots more readers at these four events:
Saturday, June 22 – SEATTLE, WASHINGTON
The final stop on the The Summer of Sunshine & Margot book tour will be this Saturday at 3 pm at University Bookstore—U District in Seattle. No tickets are required. Just show up! The book will be available for purchase. You must purchase The Summer of Sunshine & Margot to get in the signing line, and I'll also be happy to sign up to two books brought from home per reader.

Saturday, October 5 – SAN ANTONIO, TEXAS

Looking for a positive and upbeat space to celebrate the things that make you feel good? You'll definitely want to get yourself and your smiles ready for Feel Good Day. On Saturday, October 5, the Feel Good Project is heading to Omni La Mansion Del Rio in San Antonio, Texas for a one-day immersive celebration of what makes us feel our best and be our best selves! I'll be joined by Robyn Carr and Brenda Jackson in a panel, which will leave you inspired and with ideas on how to invest in your passions. Learn more and get tickets at CelebrateFeelGood.com.

Saturday, October 12 – Layton, Utah
I'll be the keynote speaker at the Utah Reader Luncheon, an event whose sole purpose is to celebrate readers. Each table will be hosted by an author. Come share a meal with fellow romance lovers, get a gift bag, maybe win a prize, and have a fabulous time. Learn more and get tickets at UtahReadersLuncheon.com.

Saturday, October 26 – Boonsboro, Maryland
The final stop on my schedule this year is Turn the Page Bookstore, where I will be signing books alongside the incomparable Nora Roberts. Start making plans to see us there! Also signing will be Katherine Center, Meg Tilly, Lee Tobin McClain, Carrie Ann Ryan, Sherry Thomas, John Bede and A.B. Gibson. Learn more about Turn the Page Bookstore's signing rules HERE.
---
GIVEAWAY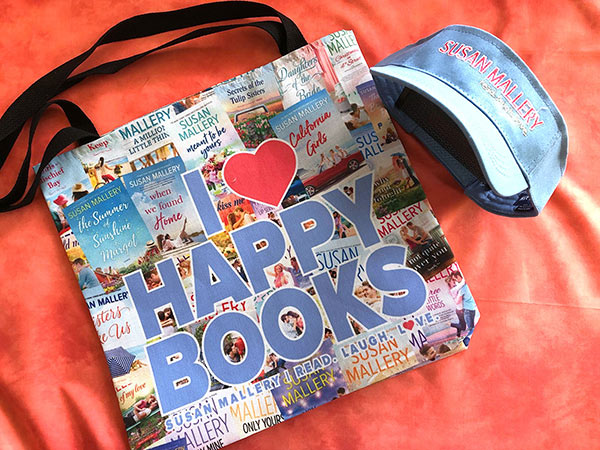 At each stop on my book tour for The Summer of Sunshine & Margot, I gave away three I <3 HAPPY BOOKS book bags filled with lots of surprise goodies. I set one raffle prize aside to do a mailing list giveaway after I got home. One reader will win the book tour raffle prize, and twenty readers will each win a Susan Mallery read. laugh. love. visor. (Spoiler alert: there is a visor in the book bag, too.)
Enter now on the Contest page at SusanMallery.com.
Good luck and once again, thank you!
---