Posted June 9, 2022
Dear Reader,
Thank you so much to every reader who have rushed out to get The Boardwalk Bookshop for your summer book bag! Your enthusiasm leaves me speechless. I'm so grateful that you love my stories, that you trust me to take you on an emotional journey that will leave you feeling good about the world. Thank you, thank you, thank you. These are just a few of the comments I've seen online with five-star reviews.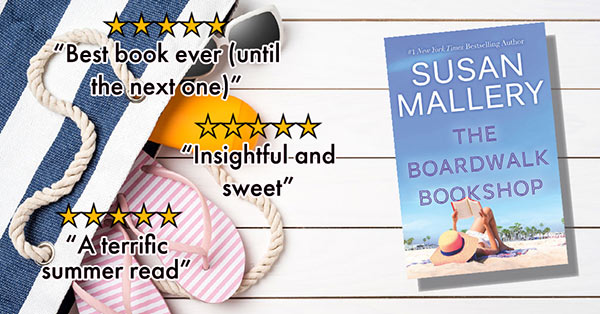 The Boardwalk Bookshop is a New York Times (#14 trade paperback, #10 combined print and ebook), USA Today (#11), Barnes & Noble and Apple Books (#9) bestseller! And it has been named one of the Best Books of the Month in Romance by the editors at Amazon.com. I'm thrilled.
I'd like to give a special hug for each of you who preordered a signed copy from Third Place Books in Seattle. Your gift with purchase has been mailed. I had a wonderful time at the book launch party! We even had a mythical Alex sighting! (Vehemently nagging me for his dinner.) Shoutout to reader Laura H for this picture!
JOIN THE CONVERSATION. GET THE BOARDWALK BOOKSHOP TODAY!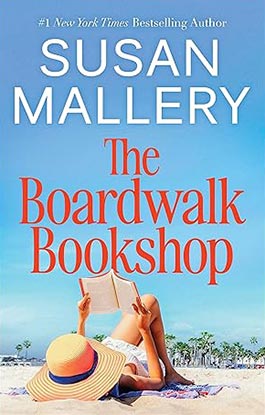 From #1 New York Times bestselling author Susan Mallery—a story of friends who become family, giving each other courage to start over…
When fate brings three strangers to a charming space for lease on the California coast, the Boardwalk Bookshop is born. Part bookstore, part gift shop, part bakery, it's a dream come true for Bree, Mikki and Ashley. But while their business is thriving, their personal lives are…not.
Bree, wounded by brilliant but cold parents and her late husband's ultimate betrayal, has sworn to protect her heart at all costs. Even from Ashley's brother, a writer and adventurer who has inspired millions. He's the first man to see past Bree's barricades to her true self, which terrifies her. Mikki has this divorce thing all figured out—somehow, she's stayed friends with her ex and her in-laws…until a new man changes how everyone looks at her, and how she sees herself. Meanwhile, Ashley discovers that the love of her life never intends to marry. Can she live without being a wife if it means she can have everything else she's ever wanted?
At sunset every Friday on the beach in front of the Boardwalk Bookshop, the three friends share a champagne toast. As their bond grows closer, they challenge one another to become the best versions of themselves in this heartachingly beautiful story of friendship, sisterhood and the transformative power of love.
Purchase a signed copy: https://www.thirdplacebooks.com/book/9780778386087
Important: In the comment field during the purchasing process, write "Signed copy, please."
BUY IN PRINT: Amazon | B&N | Books a Million | Bookshop.org | Target | Walmart
BUY THE EBOOK: Kindle | Apple Books | Nook | Google Play | Kobo
GET THE AUDIOBOOK: Audible | Apple | Libro
---