Posted June 9, 2020
Dear Reader,
Read the whole newsletter so you don't miss out on my giveaway.
I am so excited to talk to Susan Elizabeth Phillips this week—and you're invited to join us! I've been a fan of Susan's books for many years, but the first time we did an event together was a few years ago in Germany. There, we talked about our wildly different writing processes. We laughed, we called each other crazy and wrong, and we laughed some more. (She is wrong, I am right. You'll see.) This Thursday, we're getting together again, virtually this time, and you can join for free from the comfort and safety of your own home. I'd really love for you to be there. No ticket required, no purchase necessary. Big thanks to Poisoned Pen Bookstore for hosting this event, and for providing our readers with the opportunity to purchase signed copies of our latest books.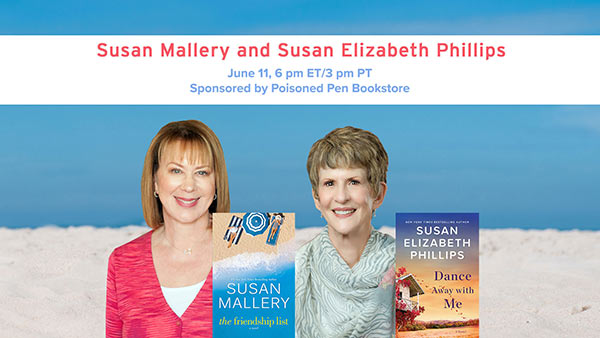 THURSDAY, JUNE 11
6 pm ET – 5 pm CT – 4 pm MT – 3 pm PT
AN EVENING WITH SUSAN MALLERY AND SUSAN ELIZABETH PHILLIPS

Sponsored by Poisoned Pen Bookstore, Arizona*

How to Join: Tune in live at https://www.facebook.com/thepoisonedpenbookstore/live! You'll be able to ask the authors questions in the comments.

• PREORDER THE FRIENDSHIP LIST: https://bit.ly/tfl-pp
• PREORDER DANCE AWAY WITH ME: https://bit.ly/dawwm-pp

*The Poisoned Pen will ship books to the Susans, so they can be signed and personalized before being shipped to you.
THE FRIENDSHIP LIST GOODIE BAG GIVEAWAY
The Friendship List is one of my favorite books that I've ever written, certainly one of the funniest. This is a feel-good read that might just break your heart a little before it puts it back together. While there are two wonderful romances in the book, at its core, it's a celebration of friendship. So I put together a goodie bag giveaway. If you win, one of your friends will win, too. Enter now at www.susanmallery.com/members-contest.php. (Please note: you will only see the entry form after you sign in with your email address.) The goodie bags don't include the book itself, but they include an extended sneak peek—the first three chapters!—plus an exclusive notepad, a bookmark, a friendship bracelet, and a regrettable tattoo (the temporary kind).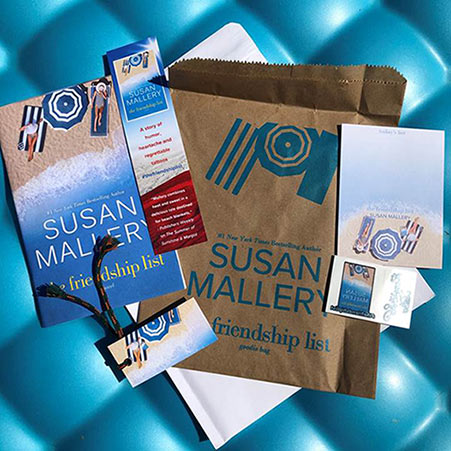 Good luck, and hope you can make it on Thursday!
---