Posted July 27, 2021
Dear Reader,
Happy mid-summer! It's been a hot one here in the Pacific Northwest. But it hasn't affected me too much—I'm an inside girl. Air conditioning is my friend!
Speaking of girls… my good little girl Kelli had a photo shoot recently. She's going to be Miss April in the 2022 calendar from Seattle Humane. She did great! She's really calming down as she grows up. I was so proud! We tried one outside with Marvin the backyard bear, but their sizes didn't quite match. Turns out, Kelli is an inside girl, too.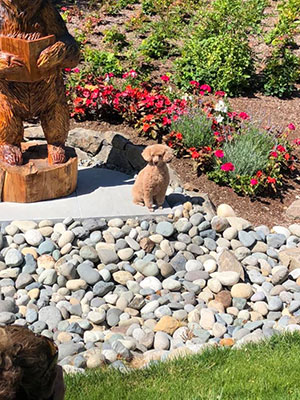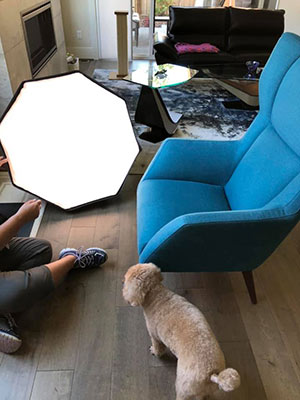 THE SUMMER OF SUNSHINE & MARGOT – now in mass market paperback!
The summer of 2019 was the summer of Sunshine & Margot, when my book of that title came out in hardcover. Now this heartfelt story of twin sisters who become the women they were always meant to be is available in mass market paperback with a fun and fresh new cover.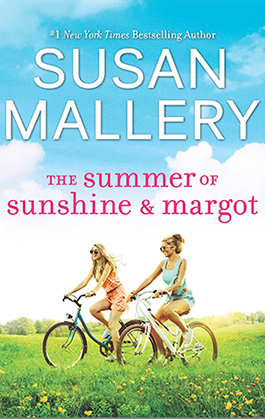 The Baxter Sisters have only ever had one another—until one fateful summer when Sunshine and Margot turn disastrous luck into destiny…
Etiquette coach Margot Baxter knows precisely how to manage wayward clients…until she comes face-to-exquisite-face with Bianca, an aging movie star notorious for her shock-and-awe tactics. Schooling Bianca on the fine art of behaving like a diplomat's wife is the greatest challenge of Margot's career. Soon, secrets unravel that bring them closer together and force Margot to confront the truth: Change doesn't just happen. She has to be brave enough to demand the life—and love—she's always wanted.
For years, Sunshine has been the good-time sister, abandoning jobs to chase after dreams that will never come true. No more. She refuses to be "that girl" again. This time, she'll finish college and dedicate herself to her future. And she 100 percent will not let her life get derailed by a man again…no matter how tempting that man may be.
Master storyteller Susan Mallery weaves threads of family drama, wit, heart, and a wish-you-were-there setting into one of the most satisfying books of the year!
ORDER THE PAPERBACK: Amazon | Barnes & Noble | BAM | Target | Bookshop
ORDER THE EBOOK: Kindle | Nook | Google Play | Apple Books | Kobo
COMING SOON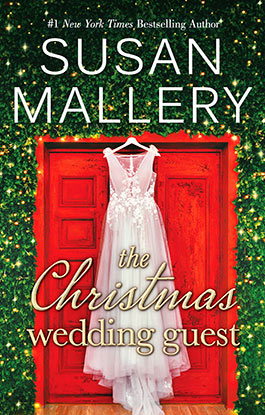 Susan Mallery, author of the Fool's Gold romances, cheerfully invites you to Wishing Tree, where Christmas comes to life…
The Somerville sisters believe in love, but they've lost faith it will happen for them. Reggie hasn't been home since the end of the world's shortest engagement. When her parents decide to renew their vows, she buffs up her twinkle to help with the Christmas wedding. Unexpectedly, Toby, her first love, is back too, and the spark between them shines as brightly as ever. In the spirit of the season, will they let go of past hurts and greet the new year together?
Done waiting for the one, Dena is pregnant and on her own—on purpose. But then a gorgeous, sad-eyed songwriter checks into a room at her inn. Micah, unable to write since he lost his wife, finds inspiration in Dena's determination to be a mom. One snowflake-speckled kiss and he's a goner. But Dena is afraid to believe that a rock star could fall for a cookie-cutter small-town girl like her.
As the Christmas wedding draws closer, these two sisters just might unwrap the most treasured gift of all…love.
PRE-ORDER THE PAPERBACK: Amazon | Barnes & Noble | BAM | Target | Bookshop
PRE-ORDER THE EBOOK: Kindle | Nook | Google Play | Apple Books | Kobo
Keep a close eye on my upcoming newsletters because I'm going to be giving away close to 5,000 Wishing Tree Christmas ornaments, to celebrate the debut of my new series. That's not a typo—we ordered five thousand ornaments! I want you to be as excited about Wishing Tree as I am.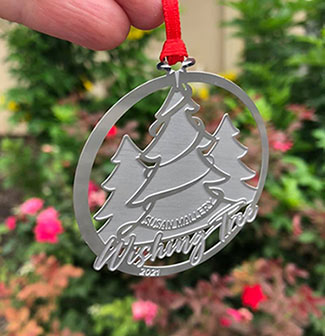 INVITATION TO AN INTIMATE EVENT – virtual event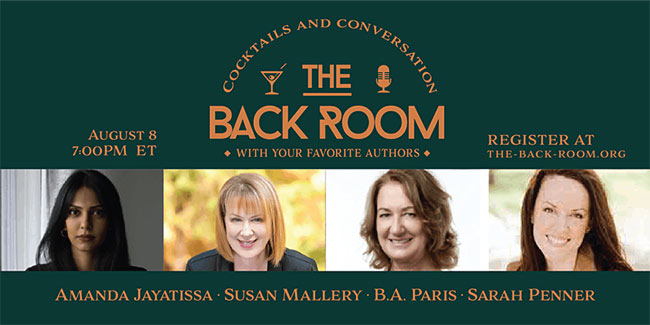 On August 8 at 7 pm Eastern/6 pm Central/4 pm Pacific, join me and authors Amanda Jayatissa, B.A. Paris, and Sarah Penner with Back Room hosts Karen Dionne and Hank Phillippi Ryan for an evening of great conversation! The Back Room starts with a group chat and then moves to breakout sessions so that every reader gets to spend time in a more intimate setting to get to know each author. Registration is free but limited, so you should register now and be sure to check in at the start time so you'll get in. Hope to see you there!
REGISTER NOW: https://the-back-room.org/august-8-7-pm-et/
---