Posted July 21, 2020
Dear Reader,
Did you have a big wedding, or something more intimate? My wedding to Mr. Mallery was the second wedding for both of us. We kept it very small and had the best. Time. Ever!! Just good friends, a great meal and everyone stayed over at the hotel. Oh, and I had super cute shoes that killed me, so once the ceremony was over, I was barefoot.
Weddings are on my mind because A Fool's Gold Wedding is out today—a brand-new Fool's Gold romance! I wrote this story to celebrate the 10th anniversary of Fool's Gold. Can you believe that Chasing Perfect came out ten years ago? Fool's Gold is still near and dear to my heart, and I was thrilled to return. I hope you will be, too. A Fool's Gold Wedding is novella-length, so under that title, it's available in ebook format. But it's also available in print as a bonus story with the tenth anniversary reissue of Chasing Perfect. I know many of my readers prefer print, and so I lobbied hard to make it available for you.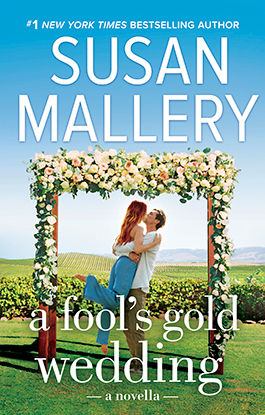 Sparks fly when the sister of the bride meets the brother of the groom in this brand-new Fool's Gold love story. . .
Abby Hendrix would do anything to help with her beloved sister's wedding, even play tour guide to the offputtingly brilliant—and unexpectedly gorgeous—brother of the groom. She's a small-town schoolteacher, he's a gifted surgeon. Nothing intimidating about that. She'll just ask him to help her plan a top-secret surprise for the wedding.
Joaquin Kincaid has always been book-smart and people-awkward. Abby's sweet and social nature triggers an unexpected yearning inside him. His whole life, he's been an outsider, while she's so popular that she's convinced an entire town to go along with her crazy idea. For the first time ever, he's met a woman who accepts him as he is, quirks and all, and he feels himself falling in love. Could Abby love him, too? Or, when she discovers the real reason he came to Fool's Gold, will he lose her forever?
BUY THE EBOOK: Kindle | Nook | Google Play | Apple Books | Kobo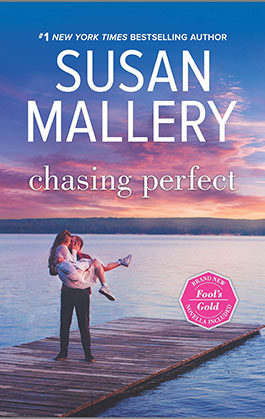 Rediscover the book that started it all…
Welcome to Fool's Gold, California, a charming community in the foothills of the Sierra Nevada. There's lots to do and plenty of people to meet, especially women. Because there's just one tiny problem in Fool's Gold: the men don't seem to stick around. Maybe it's the lure of big-city life, or maybe it's plain old bad luck, but regardless of the reason, the problem has to be fixed, fast. And Charity Jones may be just the city planner to do it.
Charity's nomadic childhood has left her itching to settle down, and she immediately falls in love with all the storybook town has to offer—everything, that is, except its sexiest and most famous resident, former world-class cyclist Josh Golden. With her long list of romantic disasters, she's not about to take a chance on another bad boy, even if everyone else thinks he's perfect just the way he is. But maybe that's just what he needs—someone who knows the value of his flaws. Someone who knows that he's just chasing perfect.
And don't miss Susan's brand-new bonus novella, A Fool's Gold Wedding, inside this book!
BUY THE PRINT BOOK: Amazon | Barnes & Noble | BAM | Indiebound | Target
THE FRIENDSHIP LIST CHALLENGE
The release of The Friendship List, my big summer beach book, is only two weeks away. The Friendship List is a true celebration of friendship. When Ellen and Unity realize they're stuck in their lives, they dare each other to shake things up in a big way. So I thought it would be fun to issue The Friendship List Challenge, daring you and your best friend with some fun challenges that I hope will help you grow even closer. Don't worry, it's nothing scary! This is just a fun way to have some girlfriend time.
Complete two or more of the challenges to get on The Friendship List Challenge Wall of Fame. Submit a story and a photo for a chance to be featured on my social media. If I feature you, I'll send you some fun swag!
Two best friends jumpstart their lives in a summer that will change them forever. . .
Single mom Ellen Fox couldn't be more content—until she overhears her son saying he can't go to his dream college because she needs him too much. If she wants him to live his best life, she has to convince him she's living hers.
So Unity Leandre, her best friend since forever, creates a list of challenges to push Ellen out of her comfort zone. Unity will complete the list, too, but not because she needs to change. What's wrong with a thirtysomething widow still sleeping in her late husband's childhood bed?
The Friendship List begins as a way to make others believe they're just fine. But somewhere between "wear three inch heels" to "have sex with a gorgeous guy," Ellen and Unity discover that life is meant to be lived with joy and abandon, in a story filled with humor, heartache and regrettable tattoos.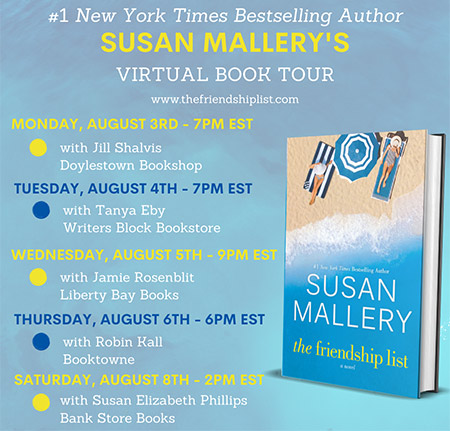 THE FRIENDSHIP LIST VIRTUAL TOUR
MONDAY, AUGUST 3 – 7 pm ET/4 pm PT
with Jill Shalvis (author), hosted by Doylestown Bookshop
TICKETS: https://www.crowdcast.io/e/lp41s04g/register
Will ship to US, Canada, UK, Australia
TUESDAY, AUGUST 4 – 7 pm ET/4 pm PT
with Tanya Eby (narrator of Susan's audiobooks), hosted by Writers Block Bookstore
TICKETS: https://www.writersblockbookstore.com/event/friendshiplist2020
Will ship to US and Canada. Will consider other countries on a case-by-case basis. Please contact store for help.
WEDNESDAY, AUGUST 5 – 9 pm ET/6 pm PT
with Jamie Rosenblit (influencer, @beautyandthebook), hosted by Liberty Bay Books
TICKETS: https://www.libertybaybooks.com/event/book-launch-party-friendship-list-author-susan-mallery-ticketed-zoom-event-buy-her-book-and-we
Will ship to US and Canada.
THURSDAY, AUGUST 6 – 6 pm ET/3 pm PT
With Robin Kall (Reading with Robin podcast), hosted by Booktowne
TICKETS: https://www.booktowne.com/event/zoom-event-susan-mallery-friendship-list-moderated-robin-kall-reading-robin
Will ship to US and Canada.
SATURDAY, AUGUST 8 – 2 pm ET/11 am PT
With Susan Elizabeth Phillips (author), hosted by Bank Square Books
TICKETS: https://www.banksquarebooks.com/susanmallery
Will ship to US, Canada and UK.
---