Posted July 10, 2019
Dear Reader,
We're deep in the heart of summer, my favorite time of year. Especially here in Seattle. There are a thousand shades of green on the trees, color everywhere you look. Of course, we still have more than our fair share of rainy days here. It's funny how much sunshine affects me even when I'm inside. I'm still a California girl at heart, I guess.
Here's a little tease for you: next year is the 10th anniversary of Fool's Gold. Chasing Perfect, Almost Perfect, Sister of the Bride and Finding Perfect came out in 2010. . . and I just might have a little surprise for you. (Did I just hear you gasp with delight?)
RETURN TO BLACKBERRY ISLAND
How Would You Like Me to Dedicate a Book to YOU?
After three Blackberry Island novels (Barefoot Season, Three Sisters, and Evening Stars), I moved to the mainland with Mischief Bay. But inspiration struck, and I'm bringing readers back to Blackberry Island in early 2020 with the publication of Sisters by Choice, the story of four cousins who were raised as close as sisters. I want to dedicate the new book to one of my wonderful readers, so I decided to look for the biggest Blackberry Island fan. Preorder the book now, then make your case on the Contest page at SusanMallery.com.
---
Cousins by chance, sisters by choice…
After her cat toy empire goes up in flames, Sophie Lane returns to Blackberry Island, determined to rebuild. Until small-town life reveals a big problem: she can't grow unless she learns to let go. If Sophie relaxes her grip even a little, she might lose everything. Or she might finally be free to reach for the happiness and love that have eluded her for so long.
Kristine has become defined by her relationship to others. She's a wife, a mom. As much as she adores her husband and sons, she wants something for herself—a sweet little bakery just off the waterfront. She knew changing the rules wouldn't be easy, but she never imagined she might have to choose between her marriage and her dreams.
Like the mainland on the horizon, Heather's goals seem beyond her grasp. Every time she manages to save for college, her mother has another crisis. Can she break free, or will she be trapped in this tiny life forever?
Told with Mallery's trademark humor and charm, Sisters by Choice is a heartfelt tale of love, family, and the friendships that see us through.
---
NEW FROM HAPPILY INC
Right now, I'm working on next year's Happily Inc romance. No title yet, but I can tell you two things that will get you excited to read it: one, it's a Christmas book (love, love, love!); and two, it's Wynn's story. I've enjoyed exploring her mysterious past and finding out what made her so reluctant to fall in love.
Speaking of Happily Inc, there's a new book coming out on October 22. Meant to Be Yours is Jasper and Renee's story. And bonus—the paperback edition will include Brittany and Cade's novella, A Very Merry Princess, in print for the first time!
In Happily Inc, love means never having to say "I do"…
Wedding coordinator Renee Grothen isn't meant for marriage. Those who can, do. Those who can't, plan. But she never could have planned on gorgeous, talented thriller writer Jasper Dembenski proposing—a fling, that is. Fun without a future. And the attraction between them is too strong for Renee to resist. Now she can have her no-wedding cake…and eat it, too.
After years in the military, Jasper is convinced he's too damaged for relationships. So a flirtation—and more—with fiery, determined Renee is way too good to pass up…until his flame becomes his muse.
Renee is an expert at averting every crisis. But is she finally ready to leap into the one thing that can never be controlled: love?
---
NOW AVAILABLE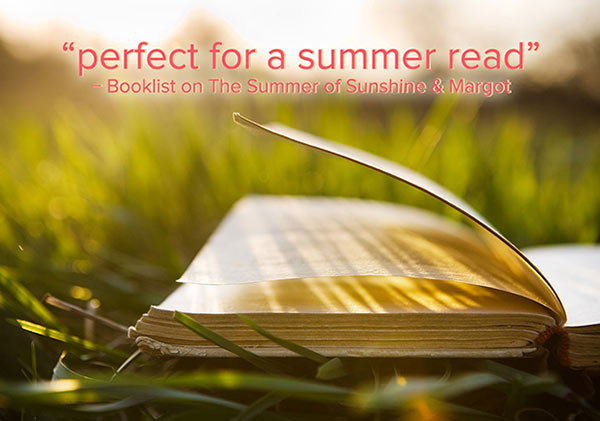 If you're looking for something to read now as you while away these sparkly summer days, may I suggest The Summer of Sunshine & Margot?
The Baxter Sisters have only ever had one another—until one fateful summer when Sunshine and Margot turn disastrous luck into destiny…
Etiquette coach Margot Baxter knows precisely how to manage wayward clients…until she comes face-to-exquisite-face with Bianca, an aging movie star notorious for her shock-and-awe tactics. Schooling Bianca on the fine art of behaving like a diplomat's wife is the greatest challenge of Margot's career. Soon, secrets unravel that bring them closer together and force Margot to confront the truth: Change doesn't just happen. She has to be brave enough to demand the life—and love—she's always wanted.
For years, Sunshine has been the good-time sister, abandoning jobs to chase after dreams that will never come true. No more. She refuses to be "that girl" again. This time, she'll finish college and dedicate herself to her future. And she 100 percent will not let her life get derailed by a man again…no matter how tempting that man may be.
Master storyteller Susan Mallery weaves threads of family drama, wit, heart, and a wish-you-were-there setting into one of the most satisfying books of the year!
---