Posted July 8, 2020
Dear Reader,
I am thrilled to announce my Virtual Book Tour for The Friendship List. So often, readers tell me they wish I would come to their town. Well, now I can do you one better than that—I'll be coming right into the living room of every reader who signs up for one of the events below via your computer or tablet. Each event will last approximately 45 minutes to one hour.
The first 50 readers who sign up for each event will receive a The Friendship List goodie bag plus a heart-shaped cork coaster. Every reader who signs up will receive a limited edition The Friendship List bookplate, autographed by me. And five lucky readers (one per event) will win a set of four California Innovations insulated totes.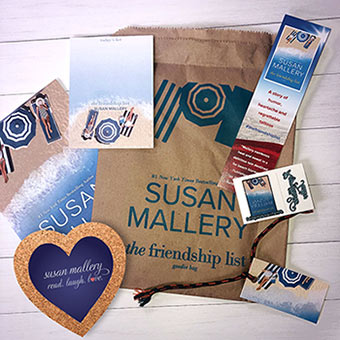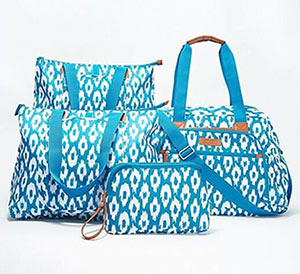 But the real prize (I hope) will be our shared experience, which I think is going to be so, so fun. I can't wait! At each event, I'll be joined by someone very special to help keep the conversations going, and to make each one a once-in-a-lifetime experience.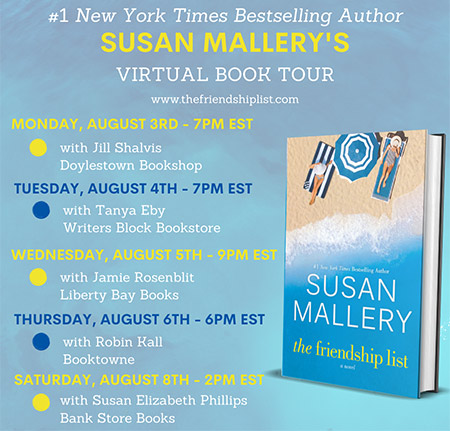 Look over this list. Choose the one that works best for you and get your ticket right away so you can get one of those goodie bags for the first 50 readers! Your ticket is to purchase a copy of The Friendship List from the fabulous independent bookstore hosting each event. I love indies, and I'm thrilled to be able to support them in this way.
THE FRIENDSHIP LIST VIRTUAL TOUR SCHEDULE
MONDAY, AUGUST 3 – 7 pm ET/4 pm PT
with Jill Shalvis (author), hosted by Doylestown Bookshop
TICKETS: https://www.crowdcast.io/e/lp41s04g/register
Will ship to US, Canada, UK, Australia
TUESDAY, AUGUST 4 – 7 pm ET/4 pm PT
with Tanya Eby (narrator of Susan's audiobooks), hosted by Writers Block Bookstore
TICKETS: https://www.writersblockbookstore.com/event/friendshiplist2020
Will ship to US and Canada. Will consider other countries on a case-by-case basis. Please contact store for help.
WEDNESDAY, AUGUST 5 – 9 pm ET/6 pm PT
with Jamie Rosenblit (influencer, @beautyandthebook), hosted by Liberty Bay Books
TICKETS: https://www.libertybaybooks.com/event/book-launch-party-friendship-list-author-susan-mallery-ticketed-zoom-event-buy-her-book-and-we
Will ship to US and Canada.
THURSDAY, AUGUST 6 – 6 pm ET/3 pm PT
With Robin Kall (Reading with Robin podcast), hosted by Booktowne
TICKETS: https://www.booktowne.com/event/zoom-event-susan-mallery-friendship-list-moderated-robin-kall-reading-robin
Will ship to US and Canada.
SATURDAY, AUGUST 8 – 2 pm ET/11 am PT
With Susan Elizabeth Phillips (author), hosted by Bank Square Books
TICKETS: https://www.banksquarebooks.com/susanmallery
Will ship to US, Canada and UK.
Hope to see you soon!
---