Posted January 27, 2021
Dear Reader,
We're almost a year into the pandemic, and it's hard. Really hard. I know how fortunate I am at how much less my life has been disrupted than others'. I don't have children to suddenly homeschool. I've been working from home since I first graduated college and started writing. And because people need happy books more than ever, I've been getting the most heartwarming letters from readers, telling me how my books have lifted their spirits and provided a much-needed escape. I can't tell you how much that means to me, truly.
One of the things I miss most is going on book tour and meeting my readers face-to-face. Last summer, I was all set for my biggest book tour yet, for The Friendship List. I was so sad when we had to cancel it.
But I discovered one big, beautiful bright spot in all this—a virtual book tour means that geography no longer separates us. You don't have to miss out just because I'm not coming to your town. In fact, this year might be the only time that a lot of you will ever have the opportunity to come to a book signing.
To celebrate the release of The Vineyard at Painted Moon on February 9, seven independent bookstores have teamed up to host me and author Katherine Center for an exclusive one-night-only event. Tickets are required, and each ticket comes with a *signed* copy of The Vineyard at Painted Moon. Just like at an in-person book signing, Katherine and I will share some insights into our writing process and the inspiration behind our latest books, and then we'll open it up to questions from you. Get your tickets now. This will be the last time I'll remind you by email.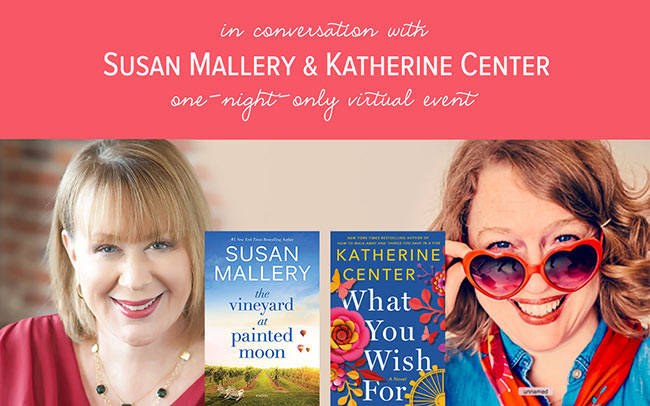 TICKETS
Bank Square Books (Mystic, CT)

Best of Books (Edmond, OK)

Bethany Beach Books (Bethany Beach, DE)

Fiction Addiction (Greenville, SC)

FoxTale Book Shoppe (Woodstock, GA)

Left Bank Books (St. Louis, MO)

Writers Block Bookstore (Winter Park, FL)
If you can't make it to the event and don't want to purchase a signed copy, then you can preorder The Vineyard at Painted Moon from your favorite bookseller or via the links below.
PRE-ORDER THE HARDBACK: Amazon | Barnes & Noble | BAM | Target | Walmart | Bookshop
PRE-ORDER THE EBOOK: Kindle | Nook | Google Play | Apple Books | Kobo
If you're not ready to buy it quite yet, add The Vineyard at Painted Moon to your Goodreads Want to Read shelf so you don't forget.
As an extra gift to my readers, I'm going to be sharing a weekly recipe + wine pairing on Facebook and Instagram beginning the week of the book's release. I thought I'd share one early with the members of my mailing list. I hope you'll enjoy it!
RECIPE: CRAB-STUFFED SALMON AND BRUSSELS SPROUTS WITH LEMON-DILL BUTTER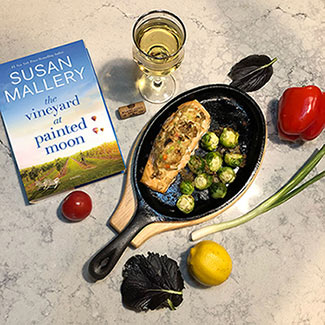 4 salmon fillets
8 oz lump crab meat
3 Tbsp mayo
1 tsp Old Bay seasoning
1 green onion, minced fine
1 Tbsp red bell pepper, minced fine
1/4 cup bread crumbs
2-1/2 tsp dill, minced (divided)
1/4 cup onion, diced
1/4 cup butter
1/4 cup lemon juice
1 lb Brussels sprouts
Salt & pepper to taste
Slice a pocket into the top of each salmon fillet. Return to refrigerator until you're ready to assemble.
Preheat the oven to 375. Mix together the crab through dill (1/2 tsp of dill). Stir well. If it's crumbly and doesn't come together well, add a little more mayo.
Melt butter over medium-low heat. Add onions and cook until translucent. Add lemon juice and simmer until reduced by half. Remove from heat and stir in 2 tsp of dill.
Fill the pockets in the salmon fillets with crab mixture, mounding until the crab mixture is evenly divided into/onto the four fillets. Put the salmon and Brussels sprouts all together on one rimmed jelly roll pan or onto four oven-safe plates. Cover everything with the lemon-dill butter. Bake for 20-25 minutes, until the salmon is cooked through and the Brussels sprouts are tender.
Pair with a chardonnay and The Vineyard at Painted Moon. Chardonnay has enough flavor to stand up to the salmon without being overpowering. If you're feeling adventurous (or like me, really, really prefer reds) then a light Pinot Noir is great with salmon. The faint sweetness of the Pinot would pair perfectly with both the salmon and the crab.
---