Posted January 16, 2019
Dear Reader,
When I was first discussing the Super Giveaway with the team at Harlequin, we were trying to decide what prize my readers would most like to win. The answer we came up with was "More Books!"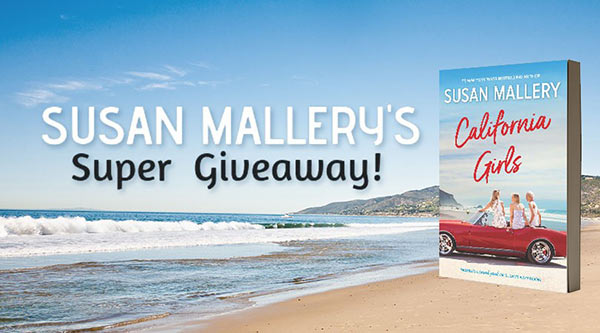 The purpose of the giveaway is to build awareness about California Girls, which comes out on February 26. And the prize is an advanced copy of The Summer of Sunshine and Margot, which doesn't come out until the end of June! Wouldn't you looooooove to be one of the 25 winners to get your hands on that book a few months early?
---
The California sunshine's not quite so bright for three sisters who get dumped in the same week…
Finola, a popular LA morning show host, is famously upbeat until she's blindsided on live TV by news that her husband is sleeping with a young pop sensation who has set their affair to music. While avoiding the tabloids and pretending she's just fine, she's crumbling inside, desperate for him to come to his senses and for life to go back to normal.
Zennie's breakup is no big loss. Although the world insists she pair up, she'd rather be surfing. So agreeing to be the surrogate for her best friend is a no-brainer—after all, she has an available womb and no other attachments to worry about. Except…when everyone else, including her big sister, thinks she's making a huge mistake, being pregnant is a lot lonelier—and more complicated—than she imagined.
Never the tallest, thinnest or prettiest sister, Ali is used to being overlooked, but when her fiancé sends his disapproving brother to call off the wedding, it's a new low. And yet Daniel continues to turn up "for support," making Ali wonder if maybe—for once—someone sees her in a way no one ever has.
But side by side by side, these sisters will start over and rebuild their lives with all the affection, charm and laugh-out-loud humor that is classic Susan Mallery.
---
The Baxter Sisters have only ever had one another—until one fateful summer when Sunshine and Margot turn disastrous luck into destiny…
Etiquette coach Margot Baxter knows precisely how to manage wayward clients…until she comes face-to-exquisite-face with Bianca, an aging movie star notorious for her shock-and-awe tactics. Schooling Bianca on the fine art of behaving like a diplomat's wife is the greatest challenge of Margot's career. Soon, secrets unravel that bring them closer together and force Margot to confront the truth: Change doesn't just happen. She has to be brave enough to demand the life—and love—she's always wanted.
For years, Sunshine has been the good-time sister, abandoning jobs to chase after dreams that will never come true. No more. She refuses to be "that girl" again. This time, she'll finish college and dedicate herself to her future. And she 100 percent will not let her life get derailed by a man again…no matter how tempting that man may be.
Master storyteller Susan Mallery weaves threads of family drama, wit, heart, and a wish-you-were-there setting into one of the most satisfying books of the year!
Good Luck!
---