Posted January 13, 2022
Dear Reader,
In a mere two months, my next book, The Summer Getaway, will be out—the story of Robyn, a mom who, as deeply as she loves her family and friends, needs an escape, just for a little bit. She needs to press reset on her life. So when her great-aunt Lillian invites her to sun-drenched Santa Barbara, Robyn hops on the first plane. But it's hard to get away when you're the heart of the family. One by one, everyone she left behind follows her across the country, bringing their problems along for her to solve.
Robyn is for all of you readers who have asked for a heroine who's a little more seasoned. She's in her 40s and has seen her share of heartache and loss. She's not just ready for the next chapter in her life—she's going to write it.
I truly believe this is one you'll want for your keeper shelves. The Summer Getaway will hit bookstore shelves on March 15.
NOMINATE YOUR FAVORITE BOOKSTORE AND YOU COULD WIN!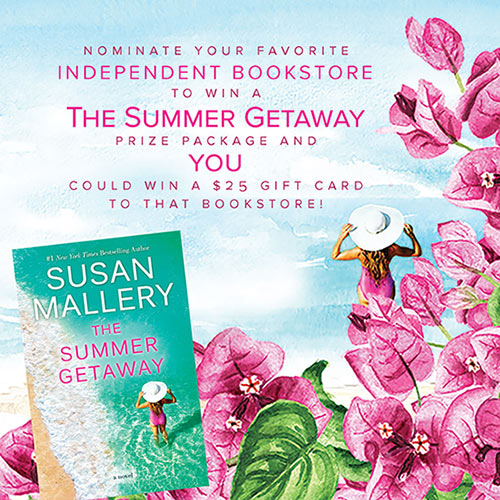 Nominate your favorite independent bookstore to win a The Summer Getaway prize package! Every reader who nominates one of the 30 bookstores that is selected will be entered in a drawing to win a $25 gift card to that store.
Submit your nomination now on the Contest page at SusanMallery.com for a chance to win.
Every great bookstore accepts preorders, so after you nominate your favorite independent bookstore, I highly encourage you to preorder The Summer Getaway from them. The only way to keep independent bookstores in business is to buy their books!
Happy reading!
---