Posted January 13, 2021
Dear Reader,
In this Newsletter:
•    The Vineyard at Painted Moon Review Crew
•    Release Day Party
JOIN MY REVIEW CREW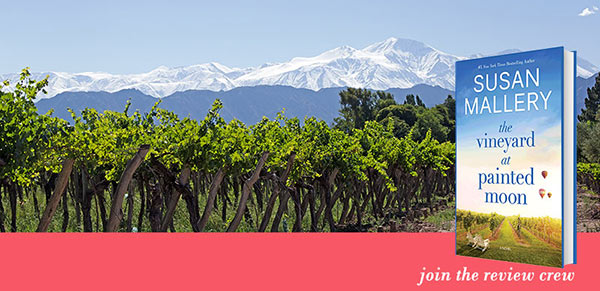 I have something kind of amazing to tell you. You know how the pandemic is affecting pretty much every aspect of our lives—well, count the Review Crew among that. Usually, we have around ten open slots for each Review Crew. But with everyone spending a lot more time at home, almost everyone met the deadline, leaving us with just one open slot on the Review Crew for The Vineyard at Painted Moon. But hey, someone's going to get that spot—might as well be you!
Hurry and sign up now on the Contest page at SusanMallery.com. The final Review Crew will be announced on Sunday.
ONE NIGHT ONLY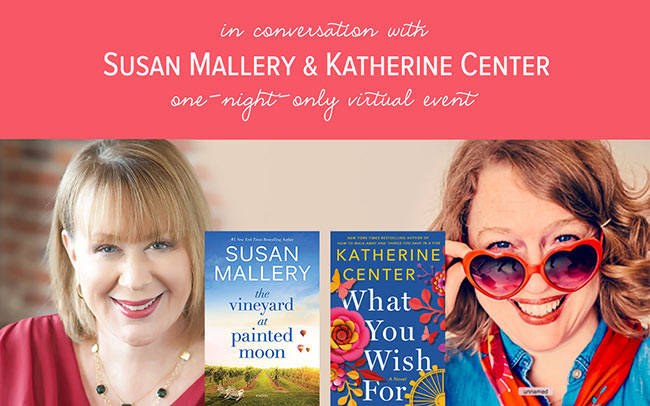 To celebrate the release of The Vineyard at Painted Moon, seven independent bookstores have teamed up to host a one-night only event with me and the delightful and charming Katherine Center. This is the first event Katherine and I have ever done together, and I can't wait! We'll talk books, writing, heartache and the awkward reality of being human.
Join us on Tuesday, February 9 at 7 pm EST – 6 pm CST – 4 pm PST from the comfort of your home.
Tickets are required, and include a signed copy of The Vineyard at Painted Moon, plus entry into a great raffle. I have seven raffle prizes, one for a customer from each of the hosting bookstores. The stores will ship or if you're in the area, you can pick them up.
RESERVE YOUR SIGNED COPY AND YOUR TICKET
Bank Square Books (Mystic, CT)

Best of Books (Edmond, OK)

Bethany Beach Books (Bethany Beach, DE)

Fiction Addiction (Greenville, SC)

FoxTale Book Shoppe (Woodstock, GA)

Left Bank Books (St. Louis, MO)

Writers Block Bookstore (Winter Park, FL)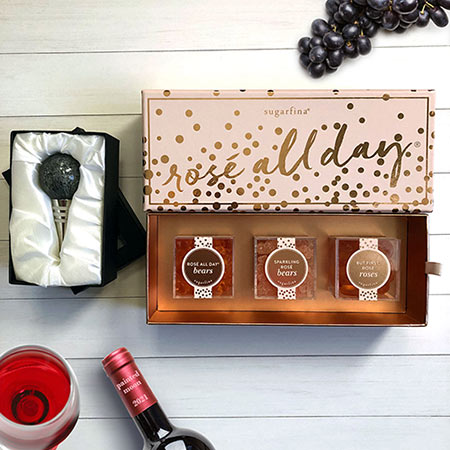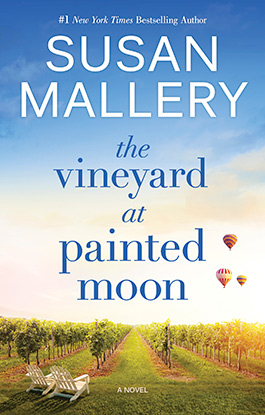 Step into the vineyard with Susan Mallery's most irresistible novel yet, as three women search for the perfect blend of love, family and wine.
Mackenzie Dienes seems to have it all—a beautiful home, close friends and a successful career as an elite winemaker with the family winery. There's just one problem—it's not her family, it's her husband's. In fact, everything in her life is tied to him—his mother is the closest thing to a mom that she's ever had, their home is on the family compound, his sister is her best friend. So when she and her husband admit their marriage is over, her pain goes beyond heartbreak. She's on the brink of losing everything. Her job, her home, her friends and, worst of all, her family.
Staying is an option. She can continue to work at the winery, be friends with her mother-in-law, hug her nieces and nephews—but as an employee, nothing more. Or she can surrender every piece of her heart in order to build a legacy of her own. If she can dare to let go of the life she thought she wanted, she might discover something even more beautiful waiting for her beneath a painted moon.
PRE-ORDER THE HARDBACK: Amazon | Barnes & Noble | BAM | Target | Walmart | Bookshop
PRE-ORDER THE EBOOK: Kindle | Nook | Google Play | Apple Books | Kobo
---