Posted January 4, 2022
Dear Reader,
As I'm writing this, Washington state is in the middle of a cold snap. We got hit by a big load of snow, and then a week of below-freezing weather. I've lived in the Seattle area for a long time, but I'm still a California girl at heart. I stayed inside as much as possible. I tried to convince Kelli to use the puppy pad, but she insisted on going outside like a real dog. The only one who really enjoyed the weather was Marvin the Backyard Bear.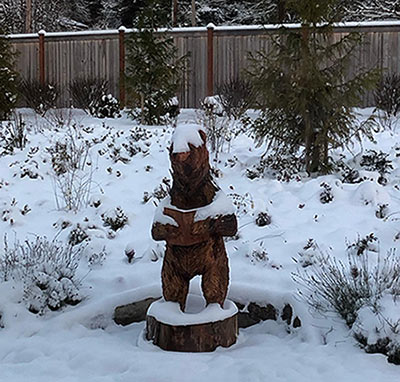 One of my readers this week, Laurie J, told me that she peeked her head outside into the cold, then hurried back inside to warm her nose in a book. I love that! I have a book out today that can warm your nose—and heart.
THE VINEYARD AT PAINTED MOON IS NOW OUT IN PAPERBACK!
The Vineyard at Painted Moon came out last year in hardcover, ebook and audiobook. If you missed it, you can grab it today in paperback. I have been stunned by the love this book has gotten from readers. Many readers have said they think it's the best book I've ever written.
4.7 out of





on Amazon
4.6 out of





at Barnes & Noble
4.12 out of





at Goodreads
4.9 out of





at Target
4.6 out of





at Walmart
4.7 out of





at Kobo
4.8 out of





at Books a Million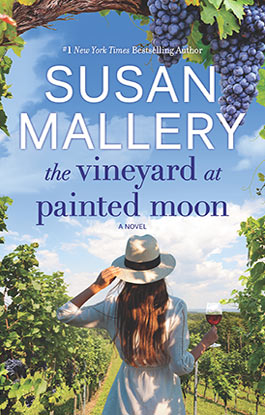 Step into the vineyard with Susan Mallery's most irresistible novel yet, as three women search for the perfect blend of love, family and wine.
Mackenzie Dienes seems to have it all—a beautiful home, close friends and a successful career as an elite winemaker with the family winery. There's just one problem—it's not her family, it's her husband's. In fact, everything in her life is tied to him—his mother is the closest thing to a mom that she's ever had, their home is on the family compound, his sister is her best friend. So when she and her husband admit their marriage is over, her pain goes beyond heartbreak. She's on the brink of losing everything. Her job, her home, her friends and, worst of all, her family.
Staying is an option. She can continue to work at the winery, be friends with her mother-in-law, hug her nieces and nephews—but as an employee, nothing more. Or she can surrender every piece of her heart in order to build a legacy of her own. If she can dare to let go of the life she thought she wanted, she might discover something even more beautiful waiting for her beneath a painted moon.
BUY THE PAPERBACK: Amazon | B&N | Books a Million | Bookshop.org | Target | Walmart
BUY THE EBOOK: Kindle | Apple Books | Nook | Google Play | Kobo
GIVEAWAY
To celebrate the paperback reissue of The Vineyard at Painted Moon, I'm giving away an artisan-made cheeseboard crafted from a recycled wine bottle, plus some of my popular cork coasters. Enter now on the Contest page at susanmallery.com!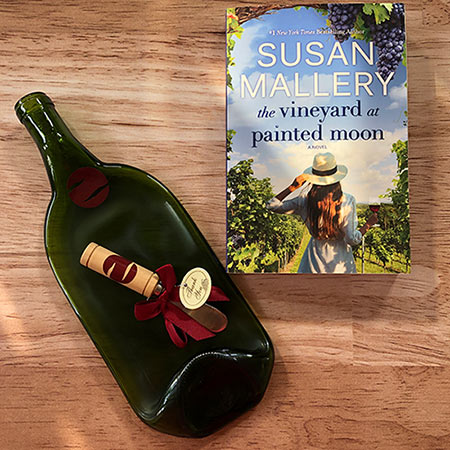 Happy reading!
---