Posted January 2, 2019
Dear Reader,
Whew! The crazy, hectic holidays are behind us. I adore the Christmas season, but I also treasure the days immediately afterward, when my world goes quiet and I have time to relax. There's nothing quite as cozy as leaning back with your feet up, and a cat purring in your lap. Fuzzy slippers optional.
I thought this might be a good time to remind you about some of the goodies available on the FREEBIES page inside the Members Only area at SusanMallery.com.
Susan Mallery Character List – All of the heroes and heroines of my books are listed in alphabetical order, so if you've ever wondered "Did you ever write a book for ____________?" now you can easily find out.
Freebies by Mail – Members can always get a free autographed bookplate or a bookmark. We add new bookmarks frequently, often for every book, so even if you've sent in for one before, you might want to do it again. (Yes, we do have bookmarks for California Girls, my next book!)
Susan Mallery Series List – This list shows all of my book series in order of publication. The most requested series is Fool's Gold, of course, and all 29 Fool's Gold stories are included in this free list.
There are lots of other fun things for you to discover, too. Happy exploring, and Happy New Year! May 2019 be a year filled with love—and of course, good books.
---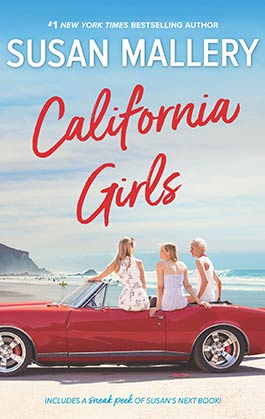 The California sunshine's not quite so bright for three sisters who get dumped in the same week…
Finola, a popular LA morning show host, is famously upbeat until she's blindsided on live TV by news that her husband is sleeping with a young pop sensation who has set their affair to music. While avoiding the tabloids and pretending she's just fine, she's crumbling inside, desperate for him to come to his senses and for life to go back to normal.
Zennie's breakup is no big loss. Although the world insists she pair up, she'd rather be surfing. So agreeing to be the surrogate for her best friend is a no-brainer—after all, she has an available womb and no other attachments to worry about. Except…when everyone else, including her big sister, thinks she's making a huge mistake, being pregnant is a lot lonelier—and more complicated—than she imagined.
Never the tallest, thinnest or prettiest sister, Ali is used to being overlooked, but when her fiancé sends his disapproving brother to call off the wedding, it's a new low. And yet Daniel continues to turn up "for support," making Ali wonder if maybe—for once—someone sees her in a way no one ever has.
But side by side by side, these sisters will start over and rebuild their lives with all the affection, charm and laugh-out-loud humor that is classic Susan Mallery.
---