Posted February 12, 2019
Dear Reader,
Happy Valentine's Day! I have a special gift for you. Read on. . .
It may not surprise you to know that I love Valentine's Day. Everything about it makes my romance-writer's heart do the happy dance.
My husband and I met in the late '90s. Long before Match.com or eHarmony, we met in an AOL chat room. I was a newly single writer, working from home. Most of my friends were also writers, also female, and scattered around the country. Where was I going to meet a guy? So even though I was super nervous, as I'm sure you can imagine, I put myself out there.
His low-key "Hi" was a refreshing start to our first conversation, after some of the creeps who had hit on me the moment I popped online. We started chatting, then after a while we moved to the phone. (Oh! My heart zinged just now when I remembered how nervous and excited I was the first time I heard his voice.)
And then finally, it was the moment of truth—time for us to meet face-to-face. I told him to meet me in the romance department at Barnes and Noble because it amused me. We clicked right away, have been together ever since, and he still makes my heart zing.
I'd love to hear your real-life love story, if you care to share! You can post it to my Facebook page. A picture to go with the story would be great, as well. I'll share a few that touch my heart to spread the happy Valentine's Day feeling with my followers. The world can always use more romance!
Speaking of which… California Girls will be out on February 26!
---
The California sunshine's not quite so bright for three sisters who get dumped in the same week…
Finola, a popular LA morning show host, is famously upbeat until she's blindsided on live TV by news that her husband is sleeping with a young pop sensation who has set their affair to music. While avoiding the tabloids and pretending she's just fine, she's crumbling inside, desperate for him to come to his senses and for life to go back to normal.
Zennie's breakup is no big loss. Although the world insists she pair up, she'd rather be surfing. So agreeing to be the surrogate for her best friend is a no-brainer—after all, she has an available womb and no other attachments to worry about. Except…when everyone else, including her big sister, thinks she's making a huge mistake, being pregnant is a lot lonelier—and more complicated—than she imagined.
Never the tallest, thinnest or prettiest sister, Ali is used to being overlooked, but when her fiancé sends his disapproving brother to call off the wedding, it's a new low. And yet Daniel continues to turn up "for support," making Ali wonder if maybe—for once—someone sees her in a way no one ever has.
But side by side by side, these sisters will start over and rebuild their lives with all the affection, charm and laugh-out-loud humor that is classic Susan Mallery.
Buy at Target for Exclusive Bonus Content!
---
A GIFT FOR YOU – WIN A SIGNED COPY OF THE SUMMER OF SUNSHINE AND MARGOT!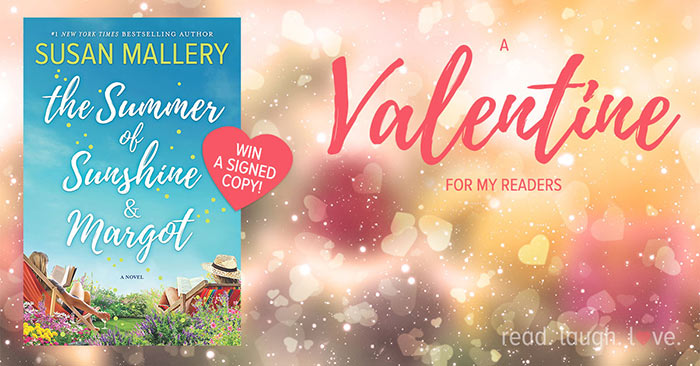 Just in time for Valentine's Day, I'm giving away a signed advanced review copy of The Summer of Sunshine and Margot, which will be out in hardcover in June. Enter on the Contest page at SusanMallery.com, under the Members tab. Good luck!
---
SUSAN MALLERY ALL ACCESS GROUP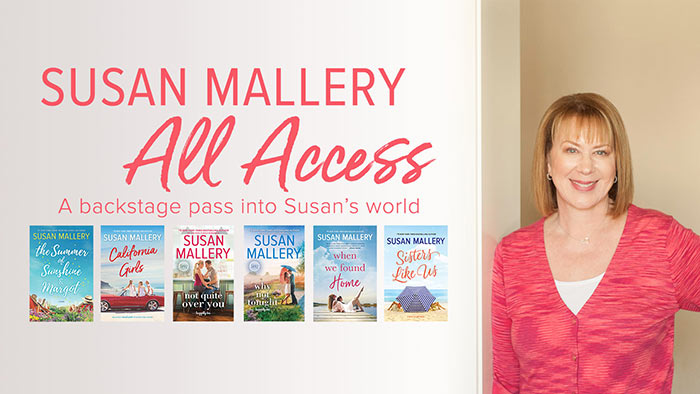 Did you know that I have a private group on Facebook called Susan Mallery All Access? Joining the group essentially gives you a backstage pass into my world. I share snippets of what I'm working on, tell you about fun promotions long before other readers find out about them, post pictures of my office, home, pets, and more. If you'd like to connect with me on a more personal level, join here: https://www.facebook.com/groups/susanmalleryallaccess
---
CHIPOTLE CHICKEN STEW
8 cups chicken broth*
Meat from one whole, cooked chicken*
3 Tbsp butter
3 Tbsp olive oil
1/3 cup flour
1 onion, chopped
1 green bell pepper, chopped
1 jalapeno pepper, seeded and minced (keep some seeds for a spicy kick)
1 chipotle pepper from a can, sliced
1 ear of corn, kernels removed
2 carrots, sliced
2 stalks celery, sliced
1 head of cauliflower, chopped
1 can of black beans, drained
¼ cup fresh parsley, minced
¼ cup fresh cilantro, minced
2 tsp salt (or more to taste)
½ tsp black pepper
1 tsp cumin seeds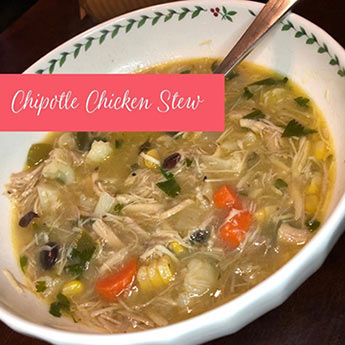 Melt butter in large soup pot. Add olive oil, onions and saute until translucent. Sprinkle flour over the onion, one half at a time, stirring well. Add about a cup of broth at a time and stir well in between. It will begin to look like a thick gravy, then like a creamy soup. After all the broth has been added, add the remaining ingredients and give it a good stir, scraping the bottom of the pot. Heat to a soft boil, then simmer until vegetables are tender, about ten minutes.
*For even more delicious deliciousness, make the broth yourself. But if you're in a hurry, you can skip this step and used the broth of your choice, plus a rotisserie chicken. To make the broth, put a whole chicken in 10 cups of water with 1 large onion, 1 carrot, 1 stalk of celery 3 cloves of garlic and 1 bay leaf. Heat to a boil, then lower heat and simmer until chicken is fall-off-the-bones tender, about 2 hours. (Or in a pressure cooker for 1 hour.) Discard vegetables, skin and bones. Strain broth and retain it and the chicken meat for the stew.
---