Posted February 9, 2021
Dear Reader,
The Vineyard at Painted Moon is out TODAY—a brand-new standalone novel that's been billed as the perfect blend of love, family and wine. I thought it would be really interesting to write about a female winemaker—still very much a male-dominated profession.
I asked myself, "How would a winemaker feel if she lost the land she loved?"
Not because of natural disaster, but because of an emotional earthquake. Generations of the Barcellona family have lived and died on the family vineyards, and Mackenzie loves the land so much that it feels like it's part of her, and she of it. Just one problem—the family is hers only through marriage. . . a marriage that's in trouble. She could stay if she's willing to be nothing more than an employee. But if she wants something of her own, she'll have to be brave enough to let go, put every part of herself on the line, and reach for her dreams.
The Vineyard at Painted Moon is the story of Mackenzie's search for happiness. With some spectacular scenery. Oh, and wine. Lots and lots of wine.
Cheers!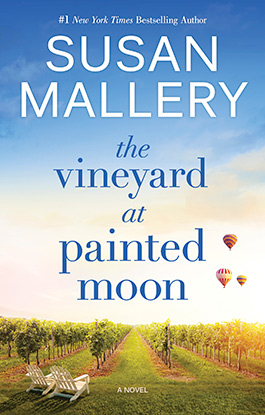 Step into the vineyard with Susan Mallery's most irresistible novel yet, as three women search for the perfect blend of love, family and wine.
Mackenzie Dienes seems to have it all—a beautiful home, close friends and a successful career as an elite winemaker with the family winery. There's just one problem—it's not her family, it's her husband's. In fact, everything in her life is tied to him—his mother is the closest thing to a mom that she's ever had, their home is on the family compound, his sister is her best friend. So when she and her husband admit their marriage is over, her pain goes beyond heartbreak. She's on the brink of losing everything. Her job, her home, her friends and, worst of all, her family.
Staying is an option. She can continue to work at the winery, be friends with her mother-in-law, hug her nieces and nephews—but as an employee, nothing more. Or she can surrender every piece of her heart in order to build a legacy of her own. If she can dare to let go of the life she thought she wanted, she might discover something even more beautiful waiting for her beneath a painted moon.
GET THE HARDBACK: Amazon | Barnes & Noble | BAM | Target | Walmart | Bookshop
GET THE EBOOK: Kindle | Nook | Google Play | Apple Books | Kobo
JOIN MY BOOK CLUB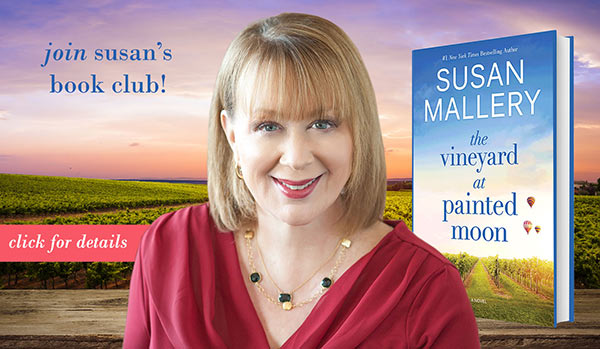 I love connecting with my readers in personal and meaningful ways. To that end, I will be hosting a free virtual book club discussion about The Vineyard at Painted Moon on Saturday, March 13 at 3 pm EST/12 pm PST. The book club will be hosted via Zoom, so you can join by computer, tablet, or phone (including land lines). This interactive discussion is intended for people who have finished reading The Vineyard at Painted Moon, so it will contain spoilers. That gives you just over a month to read the book.
I hope you'll join me. I'll share some insights into my writing process and what I was thinking and feeling as I created these characters and messed with their lives. I'll also answer your questions, so as you're reading, if you think of something you want to ask me, jot down a note.
DETAILS/SIGN UP FOR A REMINDER: https://paintedmoonwinery.susanmallery.com/book-club-signup.html
I look forward to talking with you! And I hope you'll love reading The Vineyard at Painted Moon as much as I loved writing it.
---