Posted February 2, 2022
Dear Reader,
In January, I invited you to nominate your favorite independent bookstore for a chance to win a gift card to that bookstore. (So fun, right? Each of the selected bookstores will win, too—I'll be sending each of them a The Summer Getaway prize package, which will include signed bookplates.) Check below to see whether your favorite bookstore was selected and whether you won a gift card!
*Bookstores denoted with an asterisk will ship internationally. If you're outside the US, please contact the bookstore for details on shipping to your country. It can be difficult and/or cost prohibitive right now to ship to the UK, Australia and New Zealand, so it's best to verify before placing your order.
WINNING READERS
Anna Wittmann
Carol Thomas
Catherine Ojalvo
Clarissa Pena
Dawn Peugh
Debra Cipriani
DeeAnn Kraft
Diana Kaye
Irene Justice
Janice Swain
Jessica Greene
Juli Hall
Julie Price
Kate Kristan
Kathy Foss
Kim Cabanting
Linda Swick
Lynn Brooks
Marie Reyes
Melanie Hester
Melissa Graff
Melissa Kearney
Patti O'Neil
Rebecca Murray
Roslyn Long
Sharon Granger
Terri Bravo
Terri Shimrock
Vicki Freeman
Wava Valliere
Many independent bookstores will ship, so even if you don't have one in your town, you can support an indie by preordering The Summer Getaway from one of the bookstores listed above—and get a signed, limited edition bookplate.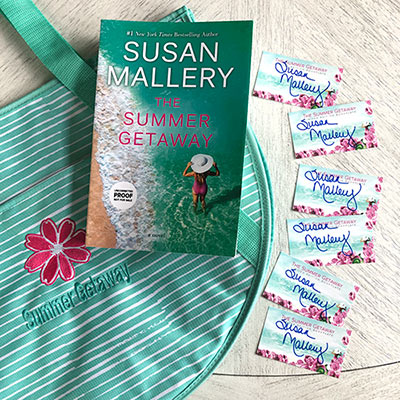 ABOUT THE SUMMER GETAWAY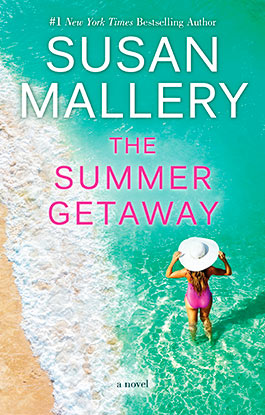 One woman discovers the beauty in chaos in this poignant and heartwarming story about the threads that hold family together from #1 New York Times bestselling author Susan Mallery.
With her divorce settlement about to run out and a mortgage she can't afford, Robyn Caldwell needs a plan for her future. She nurtured her family and neglected herself. But how's she supposed to think when her daughter has become the most demanding bride ever, her son won't even consider college, her best friend is on the brink of marital disaster and her ex is making a monumentally bad decision that could bring everything crashing down on Robyn's head? So when her great-aunt Lillian invites her to Santa Barbara for the summer, Robyn hops on the first plane.
But it's hard to run away when you're the heart of the family. One by one, everyone she left behind follows her across the country. Somehow, their baggage doesn't feel as heavy in the sun-drenched, mishmash mansion. The more time Robyn spends with free-spirited Lillian, the more she sees the appeal in taking chances—on dreams, on love, on family. Life is meant to be lived on purpose. All she has to do is muster the courage to take a chance on herself.
BUY IN PRINT: Amazon | B&N | Books a Million | Bookshop.org | Target | Walmart
BUY THE EBOOK: Kindle | Apple Books | Nook | Google Play | Kobo
GET A FREE THE SUMMER GETAWAY BOOKMARK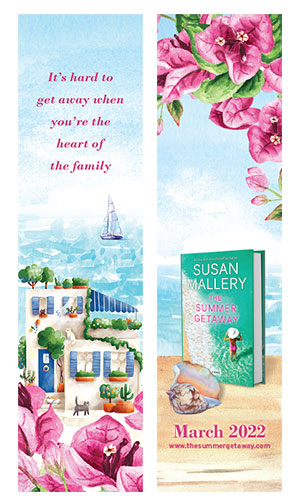 If you'd like a The Summer Getaway bookmark, send a self-addressed, stamped* envelope to the address below. The bookmark is 2 x 8 inches, so make sure your envelope is sized appropriately.
Susan Mallery-bookmark
PO Box 2102
Georgetown TX 78627
*The US Postal service requires US postage. Readers outside of the US might be able to purchase US postage from third-party sellers on websites like Amazon or eBay. You can look for international forever stamps, which will continue to work for a regular letter even if the rates change. Otherwise, you'll find a free PDF download of the bookmark that you can have printed locally, available on the FREEBIES page of my website.
---