Posted December 29, 2020
Dear Reader,
We're almost to the end of a year that has felt like ten. As I reflect on 2020, one of the things I'm most grateful for is you, my readers. Your friendship through the pandemic has been a real bright spot for me. I'm always looking for ways to thank you. Frequently, I hold contests, but even when there are hundreds of winners, that still leaves thousands of you without a prize. So I also like to find gifts that I can share with all of my readers, leaving out no one. Today, I have a fun one for you.
Before I tell you about it, I should let you know quickly that Sisters by Choice is out today in mass market paperback. It came out earlier in 2020 in trade paperback, ebook and audiobook. The mass market paperback has a gorgeous cover, too—I don't know which one I like better! This is a story that stuck with me long after I wrote the last page, and I hope it will for you, too.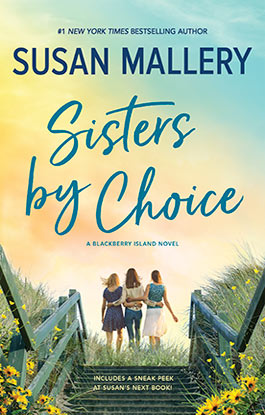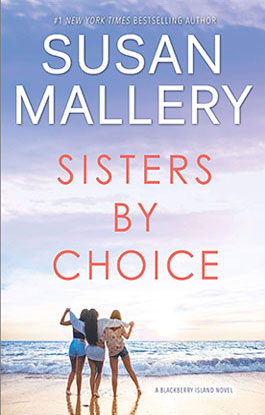 Cousins by chance, sisters by choice…
After her cat toy empire goes up in flames, Sophie Lane returns to Blackberry Island, determined to rebuild. Until small-town life reveals a big problem: she can't grow unless she learns to let go. If Sophie relaxes her grip even a little, she might lose everything. Or she might finally be free to reach for the happiness and love that have eluded her for so long.
Kristine has become defined by her relationship to others. She's a wife, a mom. As much as she adores her husband and sons, she wants something for herself—a sweet little bakery just off the waterfront. She knew changing the rules wouldn't be easy, but she never imagined she might have to choose between her marriage and her dreams.
Like the mainland on the horizon, Heather's goals seem beyond her grasp. Every time she manages to save for college, her mother has another crisis. Can she break free, or will she be trapped in this tiny life forever?
Told with Mallery's trademark humor and charm, Sisters by Choice is a heartfelt tale of love, family, and the friendships that see us through.
BUY THE MASS MARKET PAPERBACK: Amazon | Barnes & Noble | BAM | Bookshop | Target | Walmart
BUY THE EBOOK: Kindle | Nook | Google Play | Apple Books | Kobo
BUY THE AUDIOBOOK: Audible | Apple Books
A GIFT FOR YOU
In honor of the upcoming release of The Vineyard at Painted Moon, we've created a beautiful new bookmark as a freebie for my readers.


To claim your free The Vineyard at Painted Moon bookmark, send a self-addressed, stamped envelope to the address below*. The bookmark is approximately 2 x 8 inches, so make sure your envelope is sized accordingly. The bookmarks will be mailed back to you the first week of February, to remind you to get the book when it comes out on February 9. I'm thinking of hosting a couple of book club discussions in March, so you'll want to read it early. Stay tuned for more details.
Susan Mallery-bookmark
PO BOX 2102
Georgetown TX 78627
*The US Postal Service will only accept US stamps. If you live outside of the US and don't have access to US postage, you can visit the FREEBIES page at SusanMallery.com to get a downloadable PDF of the bookmark that you can print at home or at a local print shop in your town.
GET A SIGNED COPY OF THE VINEYARD AT PAINTED MOON
Seven independent bookstores are offering an exclusive signed edition of The Vineyard at Painted Moon, and each comes with a ticket for a one-night only release-day virtual event, plus entry in a raffle with one prize per bookstore. I'll be in conversation with the delightful Katherine Center, bestselling author of What You Wish For and How to Walk Away.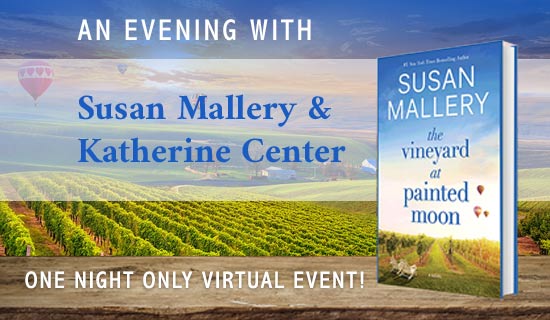 RESERVE YOUR SPOT—AND YOUR SIGNED COPY—NOW
February 9, 2021
@ 7 pm EST/6 pm CST/4 pm PST
TICKETS

Bank Square Books (Mystic, CT)

Best of Books (Edmond, OK)

Bethany Beach Books (Bethany Beach, DE)

Fiction Addiction (Greenville, SC)

FoxTale Book Shoppe (Woodstock, GA)

Left Bank Books (St. Louis, MO)

Writers Block Bookstore (Winter Park, FL)

You can also preorder the book from these retailers, but only by ordering from the indie bookstores listed above will you get a signed copy and a ticket for the February 9 virtual event.
PRE-ORDER THE HARDBACK: Amazon | Barnes & Noble | BAM | Target | Walmart | Bookshop
PRE-ORDER THE EBOOK: Kindle | Nook | Google Play | Apple Books | Kobo
Wishing you a safe, happy and healthy New Year!
---